It's All That But No Chips
The Hearts Wand is not an ordinary glass toy. Even for someone who owns multiple glass dildos, this toy brings something new to the table with its uniquely shaped head and romantic design. When the benefits of Pyrex glass are added to the mix, the Hearts Wand becomes a must-buy. Use it for temperature play, vaginal thrusting, anal, or surprisingly, to make a cool little (short-term) imprint.
Published:
Pros:
*Beautiful.
*Unique head shape.
*Easy to clean.
Cons:
*May be too simple for some.
*Storage bag.
An Intro to Hearts
The Hearts Wand is all that and a bag of chips...minus the chips (hello, glass!)! When I decided to review yet another glass toy, I spent some time and attention assessing whether this toy was really that different from the ones that came before it. I discovered that there are two things that make this toy really exciting for me, regardless of all of the other glass toys in my closet.
1. I love the red design over the clear shaft. It's gorgeous, and it says "I love you," while including hearts as well. One of the best lessons of life is to learn to love yourself. Check mark! In addition, am I the only one who enjoys viewing these glass toys from the angle a partner would see them from? Look up through the base of this glass toy, and it is gorgeous!
Alternative view: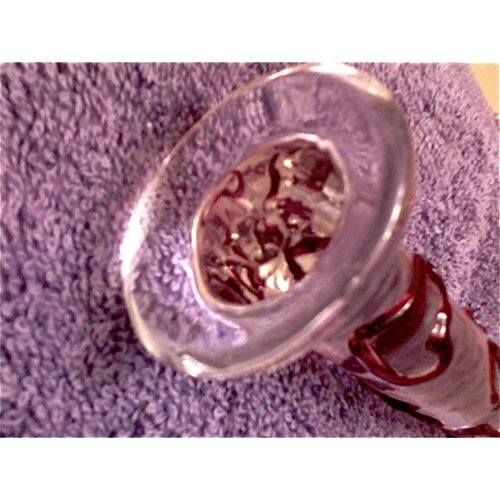 2. The head of this is shaped rather uniquely in relation to other toys.
The head: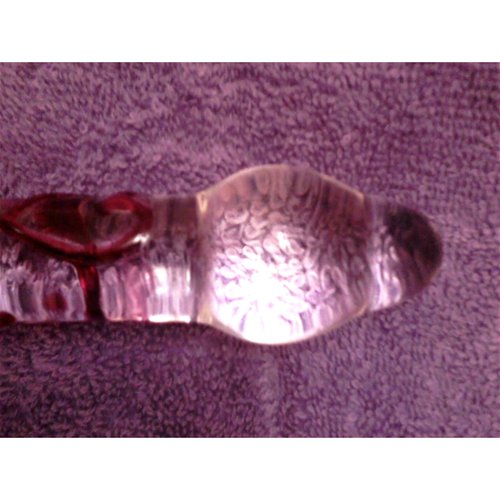 All that Pyrex Glass Info
-Glass is great for temperature play. I usually chill it in the fridge and warm it in a bowl of warm water. Don't go from one extreme temperature to the next. I know that if you overheat this toy, you may have the urge to cool it quickly...just don't. Speaking of overheating, check your toy to make sure it isn't too hot before attempting to insert.
-If this toy does get dropped and breaks, it will break into chunks instead of shards. That's one of the benefits of this particular type of glass.
-Smooth, non porous, compatible with all lubes, can be sterilized, hypoallergenic and free of phthalates
-Be careful when thrusting. The weight and firmness of glass can be a bully to the cervix.
-Check for chips before use.
-Use lubricant in moderation (if needed at all).
-No smell, no taste.
-Clean with soap and water, toy wipes, toy cleaner, 10% bleach solution, put it on the top rack in a dishwasher, or go for the full sterilization.
What is it Good For?...Most of Everything
-The Hearts Wand can be used anally thanks to a flared base.
-Good for both beginners and glass lovers.
-Great for collectors based on the design.
-Conscientious Thrusting (watch the cervix).
-Temperature Play.
-Perhaps a little spanking.
Really?
Here is where we talk about that stupid little red velvet bag that seems to get cheaper by the minute. Okay, I appreciate that the Hearts Want was wrapped in bubble wrap prior to being packed in this thin little bag. However, my red bag actually had a few small holes in the bottom of it (a new experience for me). The last thing I want is to grab this bag and have the toy fall out of these cheap little thing. If you love your glass toys, you may want to invest in some of the new padded bags offered on Eden. I believe they come in three sizes.
Dimensions/Size/Feel
The texture on the Hearts Wand isn't very raised, and it doesn't cover the entire toy. The head is word-free. Many of the glass toys that I've had with nubs have much more of a raised texture, so perhaps if you don't enjoy the nubs, you'll enjoy this toy instead. If you do enjoy the more pronounced nubs, you may be unimpressed with the texture.
As listed on Eden's product page:
Color:
Clear / Red
Length:
7 1/2"
Insertable length:
7"
Circumference:
4 1/2"
Diameter:
1 3/8"
Weight:
10.5 oz
In my experience, unless you are a size queen, this insertable length is slightly above average. The circumference is in relation to the widest part of the head, but the head is in fact tapered. The tapering is almost similar to a snowman if you put his head on his bottom with no middle.
Size Comparison: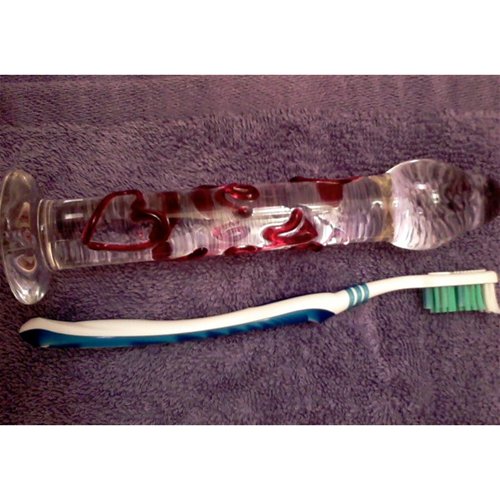 Why 4 Stars?
While the Hearts Wand impresses me in a lot of ways, it's missing something. The Hearts Wand is just not very useful where the G-spot is concerned due to the lack of a curve. I would guess that this would also make it a little sad for P-spot stimulation. I have glass dildos that I prefer over the Hearts Wand, and I think that many others may find this to be true as well. Still, for the quality, the price, etc., the pros far outweigh the cons. I'd add this to my collection again, and it still gets used regularly.
Experience
As of late, I have become very interested in spanking fantasies, but I have never considered the use of an actual toy rather than a paddle. That was until I happened to roll the Hearts Wand over my skin. It left a light impression that lasted about 30 seconds, so I pressed a little harder. This time, the heart impression was still noticeable after a few minutes (keep in mind I'm horribly pale). I wondered if being spanked with this wand would leave an impression, and so I asked a friend for a little help. Unfortunately, the head hits before any of the rest of the wand does, so no impression is left. However, I still rather enjoy being in doggie style...partner takes a few thrusts, toy takes a few thrusts, and then *smack* on my cheek.
Follow-up commentary
26 days after original review
There is actually a newer glass dildo that reminds me so much of the Hearts Wand. It's called the Red Sweetheart, and it's more decorated than the Hearts Wand. I prefer simplicity. However, both are beautiful pieces, especially if you have a visual collection. They would look especially fantastic when laid side-by-side.

That being said, the Hearts Wand still makes plenty of appearances for me. Red is my favorite color, and something about it is just passionate enough to get me in the mood even if I'm having an "I'm so bloated...there's no way" kind of a day. I can even imagine gifting this item to some of my friends come Valentine's or Sweetest Day.
This content is the opinion of the submitting contributor and is not endorsed by EdenFantasys.com

Thank you for viewing
Hearts wand
– dildo sex toy review page!