WHK GmbH Glass probe - Glass probe from WHK GmbH

Product Details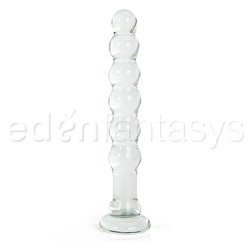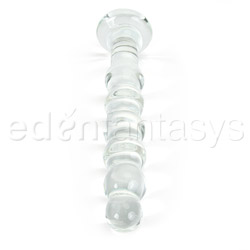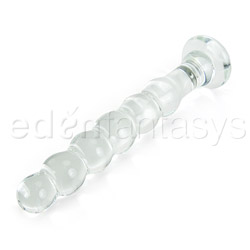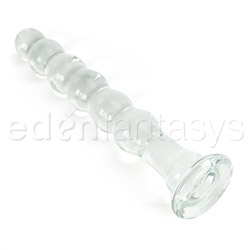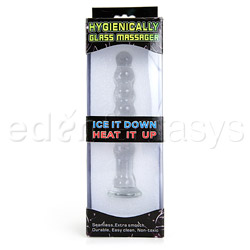 Summary:
Glass toys are a delight to own and this beauty is no exception. With the added sensations it delivers by way of the contoured bulb design, it will have you smiling all day and coming back for more.
Pros:
Sensation packed stimulation. Very easy to clean, very easy to use ... just thrust and moan.
Cons:
No storage pouch. Not a girthy toy.
Best use:
This is one dildo that is built to last and will bring intense pleasure rather quickly due to the six beautifully rounded bulbs down the shaft of this toy. It can be used vaginally or anally and is tapered starting with a smaller bulb at the tip and gradually increasing in size as you work your way down the shaft.

The base is flared and can be stood on it's end so it is totally safe for anal use. It's not overly wide in girth so if using vaginally it creates great sensations. It's not curved but it does hit the g-spot at the right angle. It's heavy, so speed and control are easily maintained. The best thing about this toy is it is compatible with water based, silicone and oil lubes, very easy to insert and very little lube required.
Material / Texture:

It is a high quality tempered glass toy so it has no give whatsoever. If you are new to glass toys, take your time and learn what feels right for you. If using with a partner, make sure you go at a slow pace as it's not great when you hit your cervix from over eager thrusting. If you are one of those people who enjoy hot and cold sensations, you can heat this wee beauty up under hot water or pop it in the fridge or freezer for a chilling experience. It does warm to body temperature rather quickly.

Material:

Tempered glass

Material safety

Texture:

Smooth

Safety features:

Food-grade material / Hypo-allergenic / Latex free / Non-porous / Phthalates free

Design / Shape / Size:

This dildo feels beautiful to hold, no obvious seams and the shaft consists of six smooth bulbs which taper from the smallest diameter at the tip to larger 1 1/8" at the lowest bulb. It's a nice insertable length of 6 ¾" and has a ample flared base which makes it totally safe for anal play. Glass is superior to most dildo materials and is nonporous, and hypoallergenic which means lubricants will last longer and not absorb into the material.

Color:

Clear

Length:

7 3/4"

Insertable length:

6 3/4"

Circumference:

3 3/4"

Diameter:

1 1/8"

Weight:

1 lb

Performance:

Vaginally, it's not overly girthy but the shape can produce some intense sensations when thrusting which makes up for the lack of thickness; angled right you can stimulate your g-spot with it but go carefully as it's not going to bend. Anally, the bulbs give an added sensation that is much more intense than a straight toy with no added lumps and bumps. For anal play, total thumbs up. Because it's glass, that means you can use it in the shower and bath, and clean it while you're in there after use.

Care and Maintenance:

Clean up is a breeze with this toy. Because it is a highly durable glass you can boil it, pop it in the top shelf of a dishwasher without soap, or simply clean with hot soapy water, or clean it with a 10% bleach solution or use a toy cleaner. Being able to sterilize it means it can be shared between partners and used vaginally or anally. Store it somewhere safe when not in use, even if it is a durable strong tempered glass toy, dropping it on a hard tiled surface or the likes can risk breakage so look after your new found friend.

Care and cleaning:

Bleachable / Boilable / Dishwasher safe / Microwave safe

Packaging:

The dildo arrived in a strong cardboard box with a clear front, so you could see it before you even opened the package. Encased in a nice wallop of Styrofoam, there is very little risk of it being broken in transit even from the roughest of handling. It does not, however, come with a storage pouch - so will need somewhere safe to store it. There are no instructions on care or use that come with the dildo.

Personal comments:

Probing entertainment? ... most definitely.

Experience:

For a first glass toy, I was well impressed and had an awesome g-spot orgasm the first time I used it. It's not curved though so trying to find the ever allusive g-spot was a wee bit of a mission and I did have to go slow with thrusting. It's not my most favorite vaginal dildo but the bulbs make for some interesting sensations. An anal orgasm followed suit, because it's tapered and starts of small it's very easy to insert with lube anally and the sensations are freakin amazing. I also tried popping the end of the Hitachi on the probe while using vaginally and the vibrations were great. It's an all around good toy and becoming one of my favorite toys to use. It's so damn easy to clean that it's not a chore playing with this toy at all. The only disappointing thing was not having anything to store it in, I kind of expected any glass toy would have an accompanying storage pouch but alas with this one, not so.