Pipedream Icicles No. 21 - Dildo from Pipedream

Product Details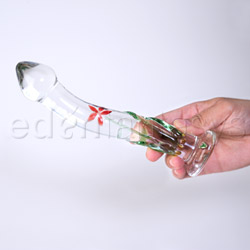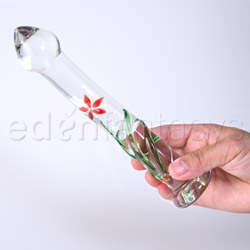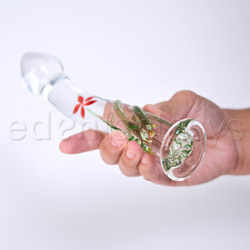 Summary:
The Icicles No. 21 from Pipedream is a beautiful, charming work of glass with fun texture and and wonderful curve. Like the first daisy of spring, its appearance is cheerful and promising of pleasures to come. The No. 21 is great for temperature play, or you may simply want to indulge in its potential as a g-spotter. Its flared base is great for holding onto while thrusting, as well as ideal for slipping into a harness to share with a willing partner.
Pros:
All the benefits of glass (hygienic, temperature play possible, etc.) and a beautiful raised design.
Cons:
Does not come with pouch, curve may not be prominent enough for all g-spots.
Material / Texture:

Glass is one of the most hygienic materials sex toys can be made of. It is rigid, easy to clean, and feels divine with just a small amount of lube. The surface of the No. 21 is utterly smooth except for where it raises slightly over the red daisy design. This added texture is gentle, just enough to add excitement without becoming uncomfortable to those who dislike extreme texture. Those who crave ridges and bumps, however, may find their satisfaction elsewhere.

Material:

Borosilicate glass

Material safety

Texture:

Ribbed / Smooth

Safety features:

Food-grade material / Hypo-allergenic / Latex free / Non-porous / Phthalates free

Design / Shape / Size:

The No. 21 has a subtle wave of a curve, with g-spot potential. The glass is crystal clear except for where a raised design of a red daisy blooms from near the base of the shaft. The colors are vibrant and cheerful, and seem to be "inside" the glass, so the notion of paint on the surface of the glass not be a concern at all.

The rest of the shaft is slender to average in girth until it bulges into a bulbous head at the very top. The head is wonderful for massaging the vaginal entrance as well as for applying firm pressure during G-spotting. While the length of the shaft should be sufficient for most users, the girth may be a disappointment to size queens. The curve does, however, contribute to a feeling of slightly increased girth than the actual diameter of the toy, so please take that into account.

The bottom of the dildo is flared. This provides a good grip for thrusting or, if you have a partner who wants to try the No. 21 with you, a good base to strap into a harness.

Despite the positively adorable daisy adorning the shaft, the No. 21 is certainly phallic in shape. It may get past airline security (though I recommend a well-cushioned bag to protect it from the jostles of traveling), but it probably will not fool your friends and family.

Color:

Clear

Length:

8 1/2"

Insertable length:

8"

Circumference:

5"

Diameter:

1 1/2"

Weight:

6 oz

Performance:

In use, the No. 21 performed as well as I expected to...and I have high expectations for my toys! With just a dab of water-based lube (my personal favorite is Maximus), I was well on my way down the slippery slope of elation. The texture is detectable but not distracting. It is also not as predictable as nubs or ribs. The curve of the toy was a little strange for me, but once I got used to it, it was only a matter of adjusting the angle of the toy to find the spots I wanted to reach. I was able to locate my G-spot with it, though it was not as easy as it is with my tried and true G-spotters.

The No. 21 did the trick, and is now my second favorite glass dildo in our personal arsenal. I'm a fan of bulges rather than waves when it comes to dildos, but that's a personal preference. In terms of craftsmanship and design, the No. 21 is flawless.

Care and Maintenance:

Glass is ridiculously easy to clean up and care for. After every use, give it a good scrub down with soap and warm water, and make sure to clean around the raised design. I'd also recommend a similar cleaning prior to your first use, and a quick rinse before subsequent uses, just to be on the safe side.

Glass is great for temperature play, but be careful to not go from one extreme to another, i.e. from the freezer to boiling water, or the toy could break. Check the No. 21 before every use for fracture or other damage. If detected, discard the toy for your personal safety. This dildo does not come with a padded storage pouch, but the purchase of one to store your toy in is highly recommended, though not necessary.

All lubes are compatible with the No. 21.

Care and cleaning:

Bleachable / Boilable / Dishwasher safe / Microwave safe

Packaging:

The new series of Icicles glass dildos from Pipedream all come in sturdy cardboard boxes. While there are no naked writhing bodies featured in the box's design, there is a photograph of the product itself on the outside of the packaging, so while the box is tasteful, it is not the most secretive. The front flap of the box also swings open to show the actual toy through a plastic window. This is much fancier than the packaging for the Icicles I encountered a few years ago, which were in plain plastic packaging. Personally, I'm glad for it. The Icicles line is wonderful (I own the No. 21 and No. 2), and the new packaging reflects their quality far better than the former version did.