Pipedream Icicles No. 22 - Dildo from Pipedream

Product Details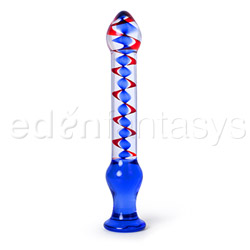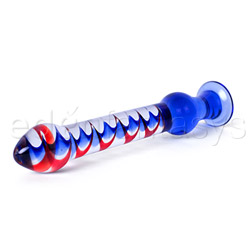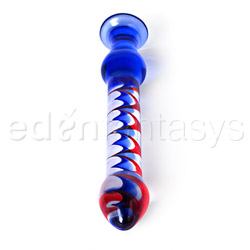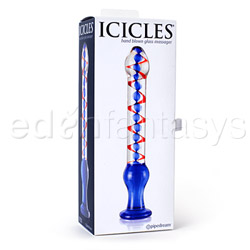 Summary:
A wonderfully well-rounded Pyrex toy that will give you varied sensations any way you want them. The designs in the glass are beautiful and entrancing, and the base serves as an excellent handle for use during partnered play.
Pros:
A wonderful all around-dildo, good for anal play, vaginal play, spot massage and temperature play.
Cons:
Texture addicts may not be completely satisfied.
Material / Texture:

Icicles No. 22 is made with smooth, cool, Pyrex glass. The surface is not at all textured, so it is glassy smooth and ridiculously slick. It's a pleasant weight in hand - over half a pound but not quite three quarters of a pound - the perfect amount to feel a bit of weight and heft if you should choose so do so by letting the end dangle almost freely during penetration, but not so heavy that wrist fatigue will be a real concern.

Being made of Pyrex glass, Icicles No. 22 is completely non-porous and thus can be sanitized using your method of choice. It is also universally lube compatible so go crazy with your silicone or water based lube for vaginal play, or oil based lube for anal play.

Material:

Borosilicate glass

Material safety

Texture:

Smooth

Safety features:

Food-grade material / Hypo-allergenic / Latex free / Non-porous / Phthalates free

Design / Shape / Size:

Icicles No. 22 is beautiful. Its base - which is flared for safe anal play - is a fetching shade of blue and features a bulbous swelling prior to the terminal flare. This makes complete insertion into the anus deliciously stimulating, if you're so inclined, and otherwise acts as an extra fixture to grab onto if things have gotten rather slippery during your play session. Icicles No. 22 also features a bulbous head, which is a scant-yet-significant 1.5 inches in diameter and leads the way to a beautifully decorated shaft (which is only 1.25 inches across) that is about 3 inches long. The head and shaft feature a gorgeous double helix of red and blue swirls - the red a wide spiral, the blue a thin corkscrew. It's mesmerizing to behold, especially if you spin it around and around, and it looks just as fabulous delving into a willing orifice of a fortunate partner.

Color:

Blue / Clear / Red

Length:

8 3/4"

Insertable length:

6 1/4"

Circumference:

4 1/2"

Diameter:

1 1/2"

Weight:

0.75 lb

Performance:

Icicles No. 22 is a lovely toy to use - a real pleasure, actually. If you wish to feel g-spot stimulation (or p-spot!), you just have to angle it in the correct direction and the bulbous head will apply the firm pleasure you so crave. Conversely, if you're not feeling like an intense spot-focused massage, you can angle it so that it doesn't really press up against that hot spot so firmly; or you can insert the toy to past the blub and just play with in-and-out motion along the shaft. If you wish to play with g/p-spot stimulation and like the feeling of very firm pressure, you can position Icicles No. 22 as deeply or shallowly as you personally need and lets its weight pull it down to really get some firm pressure.

As an anal toy, Icicles No. 22 feel fabulous when drawn in and out of a nicely relaxed anus, using strokes as deep or as shallow as you like because you have a significant amount of length to play with. It's always nice to have options. Being Purex glass, Icicles No. 22 allows a range of sensations at different temperatures - simply run it under hot or cold water (or use a handy-dandy hot water bottle and or cold pack) to enjoy.

Care and Maintenance:

Pyrex toys can be cleaned for personal use using warm water and soap, taking care (of course) in order to avoid falls and slams against surfaces. If you wish to use Icicles No. 22 between anal and vaginal use, or after sharing with a friend, it can be sanitized by a soak in 10% bleach (or boiling) for 10 minutes. You may also have it take a run through your dishwasher on "sanitize" (just don't use detergent), or you can condom it up. The toy will be very hot after boiling, if that is your preferred method for sanitizing, so give it a good fifteen minutes before carefully and tentatively handling it with your bare hands.

Storage of any glass toy should be done in a well padded container. Options include a plush storage bag, a soft towel folded a few times and stuck in a zip-lock bag, or the packaging that comes with they toy. And, it's best not to toss your glass toys somewhere where they could clang into one another, or with any other hard-surfaced sex toys. If your Icicles No. 22 ever takes a chip, you'll have to retire it for good, so just take the proper care when cleaning, using and storing.

Care and cleaning:

Bleachable / Boilable / Dishwasher safe / Soap and water

Packaging:

The Icicles No. 22 comes encased in a form fitting plastic-foam cushion that has a bit of give to pad the toy, but enough rigidity to completely protect it from bonks and dings during shipping or storage. Its a little large - if you're storage limited you'd be better off with a padded bag; on the other hand, the foam is not a very green product as it is not made of a traditionally recyclable material.