Pipedream Icicles No. 24 - Dildo from Pipedream

Product Details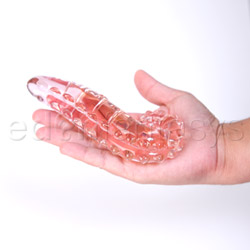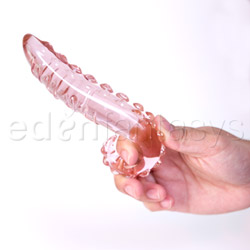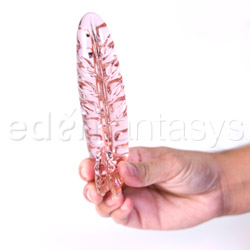 Summary:
The Icicles No. 24, whether you think it's an octopus tentacle, serpent's tongue or squid penis, is a blast. It has varied and multiple textures, can be used facing up or down, has a curved handle that is easy to hold onto which also provides clitoral stimulation if angled right and is a temperature/sensation player's dream come true. Moderately girthy this should be okay for most levels of users. Truly a multi-purpose tool that is gorgeous to look at and exquisite to feel.
Pros:
Amazing shape, insane texture, fantastically whimsical.
Cons:
May be too textured for some.
Best use:
The Icicles No. 24 is truly a multi-purpose glass dildo. Definitely not for beginners, the texture is intense but even those not normally fond of texture may find it to be quite a bit of fun. Excellent for vaginal penetration, this toy is also fairly anal safe and amazing for clitoral stimulation or even all over body massage and teasing.

Temperature play lovers can rejoice because this one really holds temperatures well and, combined with the texture, can really be a delight used just about anywhere on the body.

It is a firm, unyielding toy so caution should be used, especially when a partner is driving, not to thrust and press too hard or deep.

Shaped like a tentacle, octopus penis, ridged serpent's tongue... whatever your imagination can come up with, this one is the stuff fantasies and dreams are made of.
Material / Texture:

Any glass toy has some of the same characteristics; they are firm, with no bend or give, hold temperatures well, are non porous and easy to clean and care for, can be shared, have no scent or taste and generally provide excellent G or P-spot stimulation.

This particular glass toy is also loaded with texture. Every inch of the No. 24 has some sort of texture on it, from the extreme nubby bumps on the top side and up the curve of the handle to the flatter horizontal and vertical lining along the bottom side. There are deep grooves and highly raised textures as well as more subtle, less intense textures, but you're not going to avoid the texture so be prepared.

The No. 24 is sleek, slick and slides liquid-like along the body, despite the texture, with absolutely no drag or tug against the skin.

I would absolutely say this is more for advanced users due to this intense texturing but, because there are so many ways to use and enjoy it, I believe even beginner users could find a way to make it work for them.

Material:

Borosilicate glass

Material safety

Texture:

Nubbed / Ribbed

Safety features:

Food-grade material / Hypo-allergenic / Latex free / Non-porous / Phthalates free

Design / Shape / Size:

The shape of the Icicles No. 24 is nothing short of amazing. Is it a tongue? A tentacle? It's definitely whimsical and fantastic, with a slightly pointed tip reminiscent of a pointed tongue that flattens out to a shape more oval than round, making the 1.5 inch diameter seem different than that of more standard but similarly sized dildos. It is wider across than up and down so it gives more sideways stretch than up and down.

The Icicles No. 24 has a curved "tail" that works really well as a handle. You can insert the toy (it is just over 6 inches long with an insertable length of 4.5 inches) either rightside up or upside down. Inserted with the circle of the tail held downward, you have an uptilted, lightly curved tip that is excellent for pinpoint g-spot (or p-spot) stimulation and the full, intense texture of the raised nubs on the front side of the vagina. There is a deep groove down the center of the dildo making the nubs stand out even more providing a whole lot of stimulation to the front vaginal wall.

Inserted with the circle of the tail held upward, you get the bulged bottom side pressing up to massage the g-spot very, very nicely, with a less intense texture hitting that front sensitive vaginal wall. You also get the curl of the handle, also textured with raised nubs, bumping and sliding against the clitoris if angled up and inserted fully, making for mindblowing sensations just about everywhere.

I find that fast thrusting with this doesn't work well for me. The texture is just too intense if you're fully sliding it in and out with each thrust. Short, rubbing thrusts seem to work best, making the most of the texture and giving you the ability to really focus on the g-spot, no matter which way you have inserted it.

Because of the shape of the tip and the curvature of the toy, you can also get a-spot stimulation from this one.

The texture also provides amazing clitoral stimulation. A drop or two of lube and you can run this across clit, labia and tease yourself (or your partner) with varied sensations depending upon which area of the toy you use.

It truly is designed to impart multiple sensations. No matter what you enjoy or what level user you are you're likely to find something about this one to love.

Color:

Pink

Length:

6 1/4"

Insertable length:

4 1/2"

Circumference:

4 1/2"

Diameter:

1 1/2"

Weight:

10 oz

Performance:

The Icicles No. 24 performs admirably.

The glass is flawless and a gorgeous, light but deep pink. The textures vary all over the surface of the toy, meaning you can create a plethora of sensations simply by switching up how you use it. The design makes it intuitive and easy to use, with curves and bulges in all the right places.

It performs well as a clit stimulator, a g-spot massager, a p-spot toy, or even as a massage wand. I've found that rubbing it along the body - feet, legs, butt, breasts, anywhere - feels good and varying amounts of pressure can give you a tickling massage or a lovely deep tissue massage.

You can warm this toy up or cool it down - just remember to do so safely and never use extreme temperatures that may be unsafe for tender tissues. Experimenting with different temperatures in conjunction with the different textures makes this one able to give so many different experiences it's unbelievable.

Care and Maintenance:

Like all glass, this one is non porous and santizable. Clean with soap and water, toy cleaning spray, a mild (10%) bleach solution, alcohol, by boiling for a few minutes or even by putting it in the dishwasher on the top shelf with no soap.

Store in a padded bag (it doesn't come with one) or the original packaging, which is a box with a foam insert to hold it in place. You can also wrap it in a piece of cloth or a sock or something if you're putting it in a drawer. Just be sure to protect it from banging around.

Check your glass for chips or cracks before each use.

You can use any lube with this one but I prefer silicone. It gives amazing glide with only a pea sized drop and lasts as long as you do, with no stickiness or drying up.

Use caution if you take this in the tub or shower as it can get slippery and may break if you drop it against a hard tub or bathroom floor.

Care and cleaning:

Dishwasher safe / Microwave safe