Diamond Lovetoys La noche - Dildo from Diamond Lovetoys

Product Details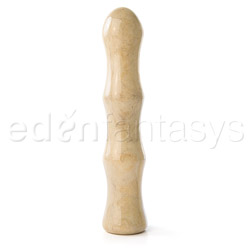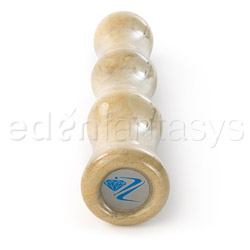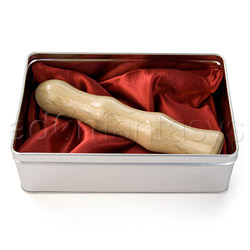 Summary:
La Noche is an excellently designed toy made from a material we don't see much of. Stone is firm and ungiving, making it superb for g-spot massage, especially if you need firm pressure. It retains temperature fairly well,making it nice for temperature play. The ridges are gentle and stimulating but shouldn't be too much for even the novice to texture. An excellent dildo all around, good for any user from novice to advanced.
Pros:
Firm, gently ridged, unique material, body safe urethane coating, girthy but not huge.
Cons:
Not enough of a flare to make it anal safe, which is a shame as this would make a superb anal toy.
Best use:
The La Noche stone dildo is an exceptionally firm toy with noticeable yet gentle ridges, excellent for vaginal penetration. Unfortunately, due to the lack of flared base, it is not recommended for anal use.

The sealed stone is smooth to the touch, almost slick as you run a finger across it making it a wonderful toy for nearly any level of user. It's texture is mild and, while it can be easily felt, it's not obtrusive or painful in any way.

It is a bit on the girthy side at 1.5 inches in diameter, and firm materials often make toys seem larger than they are so use common sense before purchasing if you prefer smaller, more slender toys.
Material / Texture:

The La Noches is a sandstone dildo, coated with a body safe urethane that makes it unbelievably slick and smooth to the touch. It is completely firm with no bend, give or squeeze anywhere, much like ceramic or glass.

The shaft of the La Noche is straight, with no curves, though it is very gently ridged. The ridges, while they appear as if they will be highly noticeable, are quite mild in use. Because they are spaced along the shaft and flare up to their thickest diameter they feel more like gentle swells than actual ridges or bumps. They are certainly stimulating but should be easy for any user to accommodate and may be too mild for texture lovers.

This stone dildo is heavy, with a shipping weight of a pound so use your best judgment if you have problems with hands or arms that would make thrusting a heavy toy difficult for you.

Material:

Stone

Material safety

Texture:

Smooth

Safety features:

Hypo-allergenic / Latex free / Phthalates free

Design / Shape / Size:

The design of La Noche is impressive. It measures in at 1.5 inches at it's widest points (the swells of the ridges) with a length of 7.5 inches.

The stone looks much like marble or granite, though from what info I can gather it is sandstone. It's coated with a deep, shiny urethane of some sort that is body safe and non porous. It gives off almost a wet look, like a buffed and shined wood floor...

The gentle swells/ridges of the toy appear as if they would be very noticeable but, in use, are mild and unlikely to be painful for anyone. The head starts out with a slight point, bulges, then tapers in, only to bulge out again in your first ridge. This is repeated for one more ridge and then the shaft ends on a slight flare (not enough to be safe for anal use) and has a flat bottom.

The bottom is flat enough that you can stand this dildo up on it and has a urethane seal, inside which you can see the Diamond Lovetoys logo. It appears this toy is either hollow (though with very thick walls) or has some sort of firm core surrounded by the stone as the urethane plug/seal is quite deep.

Of all the ridged Diamond Lovetoys stone dildos available, this one seems the most gentle to me and should be a good match for just about anyone.

Discretion would be dependent upon who is looking at it. I think it looks like a dildo. Someone else might think it looks like a paperweight.

Travel with it should be done cautiously as it is heavy; use a padded bag or wrap it in something if you're tucking it in your suitcase or carry on.

Color:

Beige

Length:

7 1/2"

Insertable length:

6 1/2"

Circumference:

4 3/4"

Diameter:

1 1/2"

Weight:

1 lb

Performance:

La Noche preformed admirably, enabling me to get g-spot stimulation because of it's firmness and thickish head despite it's lack of a curve. The ridges were very gentle, not at all painful or even distracting. Thrusting was easy and stimulating but not overly so.

Because the Noche is firm, however, use caution as it's very easy to bang your cervix or bruise yourself if you become too vigorous.

Care and Maintenance:

Because La Noche is coated with a non porous, body safe urethane it is compatible with all lubes; oil, silicone or water based. Clean up is easy; boil, bleach, dish-wash or wash with soap and water, toy wipes, or toy cleaner if sanitizing isn't necessary for you. (ie you're not sharing between people or orifices)

Storage is easy as La Noche comes in a discreet tin with a satin bean bag type cushion for it to rest on. You can also store it in a padded bag or amongst other toys as the material should not react with any other material.

Packaging:

La Noche comes in a tin with a beanbag type cushion for the dildo to rest on. The tin does have a Diamond Lovetoys sticker on it but that sticker is easily removable, making storing it in the tin super discreet.

Not luxury packaging, for sure, but it's industrial look suits the fact that this dildo is stone very nicely.