Duncan Charles Designs Pleasure - Dildo from Duncan Charles Designs

Product Details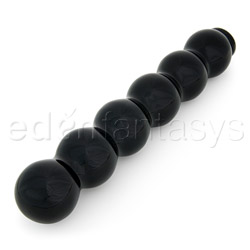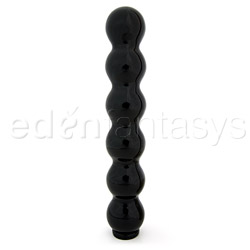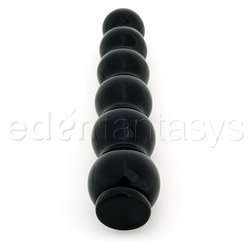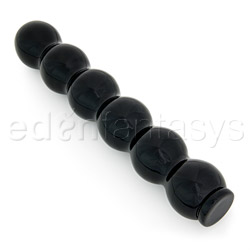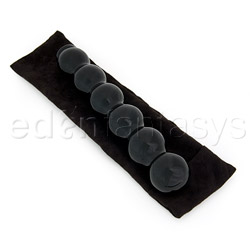 Summary:
The Pleasure is a smooth, seriously bulbed ceramic dildo. While slightly larger than many beginner toys, the glazed surface means it needs very little lube for a great deal of play. Glazed in dramatic black or red, the non-phallic design is simple and attractive. The lightweight material makes it easy on the wrists even with extended use, and the design is both easy to hold onto in the heat of the moment, and a sheer delight to use.
Pros:
Ceramic, easy to clean and sterilize, can be shared, easy to grip, recyclable packaging.
Cons:
Bag isn't padded, small color selection.
Best use:
The Pleasure is a lovely ceramic dildo by Duncan Charles Designs. Its deceptively simple design makes it a smooth, sensuous toy, especially for those who love that first pop of insertion again, and again, and again. More than hard enough for those who enjoy firm g-spot stimulation, the Pleasure glides where it is desired. It may be used vaginally or anally but, it lacks a flanged base so, care must be taken to keep a firm grip on the last two bulbs. In a pinch, it also makes a nice massage wand, helping you work out the kinks from your sexual over-exertions.
Material / Texture:

The Pleasure is made of ceramic, which has been finished with a food-safe glaze. The glazed ceramic is just as non-porous and durable as a glass dildo, but it makes the toy significantly lighter than a similarly sized glass or aluminum toy; it is even lighter than some dense silicone toys of similar size. The weight is easy on the wrists without making it feel flimsy. The fired glaze is hard, smooth, and reflective, much like glass. It has ever so slightly more drag than a glass toy, making it a good option who enjoy a little more friction than smooth glass can provide. Ceramic absorbs and holds heat well, so it performs beautifully when heated before use; unfortunately, this means that the flip side is that on summer days it won't stay chilly long.

Material:

Ceramic

Material safety

Texture:

Smooth

Safety features:

Food-grade material / Hypo-allergenic / Latex free / Non-porous / Phthalates free

Design / Shape / Size:

At first glance, the Pleasure looks like a stack of bubbles, piled one on top of another. The grooves between each bulge are deep, making it easy to keep your grip on even when things get slippery. They also make each bubble very prominent and defined as they penetrate. The bubbles, which are uniform in size, peak at 1 1/4" in diameter, with the grooves slimming in to 7/8".

At the bottom of the Pleasure, the final bubble is capped with a flat disk. While at first this seems to break the curvaceous line of the toy, it is very useful: it ends up where your finger rests on the base when using the toy alone. This makes thrusting more stable, because the finger slips around much less on a flat surface than it would on a sphere.

Because of its non-phallic appearance, the Pleasure can easily be passed off as an elaborate massage wand or stood on its base as a decorative piece. While its ceramic build will let it pass through airport scanners, it may not be the best travel companion because it is, after all, ceramic. If your bag gets tossed around, there is a very real possibility that you will open your bag to find your ceramic dildo in pieces.

Length:

8 1/4"

Insertable length:

7"

Circumference:

4"

Diameter:

1 1/2"

Width:

1 1/2"

The set includes:

Black leather storage pouch

Weight:

9 oz

Performance:

The Pleasure doesn't have any fancy, high-tech bells and whistles, but it doesn't need them: it lets the smooth curves and hard, warm ceramic do the talking. Those who enjoy firm stimulation will find that the Pleasure delivers firm in spades; those who enjoy elegant shapes with minimal texture will find this sleek toy to be exactly what its name promises. The deep grooves and end disk make it very easy to hold onto, even when slick with lube in use or soap in cleaning.

Special Features:

Dishwasher safe
Hand-painted
Handmade
Hypoallergenic
Massaging
Waterproof

Care and Maintenance:

This ceramic toy is very easy to clean and care for, and with proper care should last a lifetime. As with glass, be careful not to drop the Pleasure, and be careful when heating or cooling the ceramic. Always warm or cool it slowly in a bowl of water; boiling or freezing can cause cracking of your lovely toy.

Cleaning the Pleasure is simple. Ye olde soap and water work wonders, and toy cleaners and wipes also get it clean without much fuss. While the grooves are deeper than those found in many toys of similar design, they are still nice and open which makes them easy to clean. Because it is non-porous, ceramic can be disinfected with bleach. It should not, however, be boiled.

Care and cleaning:

Dishwasher safe

Packaging:

The Pleasure arrives in simple, recyclable packaging: a plain white paperboard box, with the Pleasure wrapped in bubble-wrap. A paper insert is slipped in beside the dildo, detailing proper care of a ceramic toy. With the dildo comes a suede pouch for storage. While the pouch is nice and keeps the Pleasure from rubbing against other toys, it isn't padded to give protection from harder jolts - say, when a toy drawer is pulled open quickly in the heat of the moment.