Hardwood dildos Handcrafted wooden dildo #230 - Double ended dildo from Hardwood dildos

Handcrafted wooden dildo #230 videos
Product Details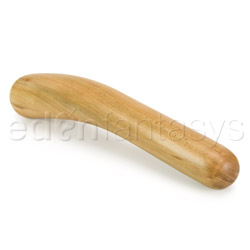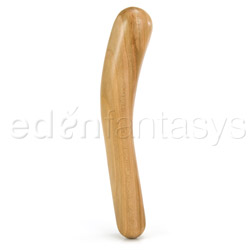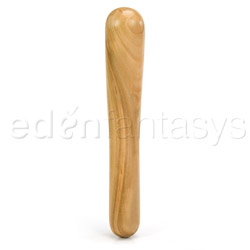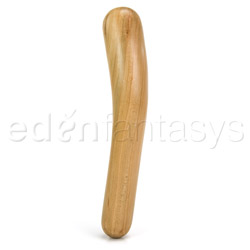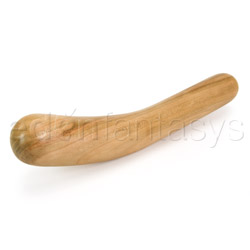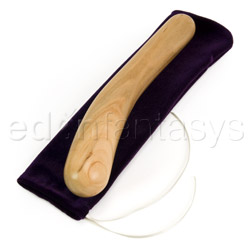 Summary:
Owning a dildo that is hand crafted is something precious and enjoyable. Especially when this dildo is eco-friendly, and a beautiful piece of craftsmanship. If you appreciate nature, promote green living and you prefer using toys that are 100% safe, then this is the perfect addition to your toybox - with this wee beauty, there's nothing quite like an 'ecogasm'.
Pros:
Eco-friendly, hand crafted and beautiful to look at. 100% safe to use. Two sizes in one dildo.
Cons:
If you like girthy, weighty toys then you may not be impressed with this.
Material / Texture:

This little eco-friendly bundle of fun is made of a beautiful Mahogany wood. There was no significant smell, although if you hold it closely to your nose there is a deep, rich smell of wood, not overpowering nor bad. For nature lovers, it's quite a comforting earthy smell. There is no significant taste I could notice and the patterning of the rings in the wood look absolutely divine. It is one of those toys you could happily mount on your mantle piece as a piece of fine hand crafted art and no one would be the wiser. You could always say it's an ancient cavegirl's club, hehe.

Material:

Wood

Material safety

Texture:

Smooth

Safety features:

Food-grade material / Latex free / Phthalates free

Design / Shape / Size:

A nice 8 1/4" in length, insertable length of 6 1/2" makes this a toy suitable for g-spot and vaginal stimulation, there is enough length to get a decent thrusting motion happening (be careful you don't hit your cervix too hard) and because of the curved end your g-spot gets stimulated as well. This one has one smaller end 1 1/8 inches in diameter, that tapers out to a medium sized girth of 1 3/8" at the other end which is wonderful because you end up with a two in one dildo for those who enjoy experimenting with various size differences. The curve enables g-spot stimulation without trying to hold it at a weird angle.

Length:

8 1/4"

Insertable length:

6 1/2"

Circumference:

3 1/2" / 4 1/2"

Diameter:

1 1/8" / 1 3/8"

Weight:

0.2 lb

Performance:

It is extremely lightweight, surprisingly so, which makes for nice prolonged play and less chance of you gaining a tired hand from holding a heavy weight. It has a beautiful smooth finish with no odd lumps or seams, and I needed a very tiny amount of lube to use it.

If you are concerned about using products that contain phthalates, then you do not have to worry at all. This dildo offers an alternative to the standard options out there, less chance of it breaking if you drop it like the glass counterparts. It can be used in a harness as a strap on as long as you have an adjustable ring. It did stimulate my g-spot well and as far as dildos go, the larger end was much more satisfying than the smaller end. It took a few plays to work out what felt right and the added bonus of placing the Hitachi on the end of it while inserted gave some interesting vibrations. I normally do prefer more solid, weighty wooden toys but this was still a pleasure to play with. It would have been nice to have some added bumps on this for better g-spot play but I really can't complain.

Care and Maintenance:

The varnish is durable and is not affected by oil or water-based lubricants. No stains or other toxic products are used on these toys. You can wash with mild soap and water, and dry with a clean cloth, after each use. And use the storage pouch as with any varnish you can scrape and scratch it so having the storage pouch is excellent for looking after that finish and protecting a dildo that will last a number of years with simple, good care.

As with any sex toy, use condoms or wash between partners if it's being shared. It is NOT safe to boil or put in a dishwasher, so you will need to use condoms if you want to share your dildo or use it for anal play. It's safe to lick, suck, and fuck and compatible with both water-based and silicone-based lubricants.

Care and cleaning:

Bleachable

Packaging:

The Hardwood #230 dildo arrives packaged in a simple plastic bag and is accompanied by a beautiful, deep purple velvet pouch for storage purposes. It does not however come with instructions on use nor care but the Hardwood Dildos site has all the basic information available. It is good to see the eco-conscious move as to not using large amounts of unnecessary packaging and using only what is necessary, nothing more.

Personal comments:

After hunting for a little information on this toy, I am really pleased there is an option available to sex toy lovers to have a natural dildo that is hand crafted by a manufacturer that is careful to minimize his impact on natural resources by only making the dildos out of wood gifted to him by friends or offcuts from various other projects. This itself is quite a unique approach and something you can be proud to support when obtaining one of these toys.