Pipedream Icicles No. 10 - Double ended dildo from Pipedream

Product Details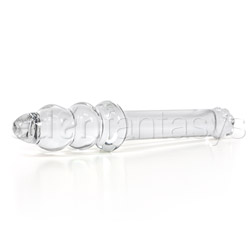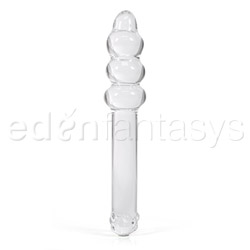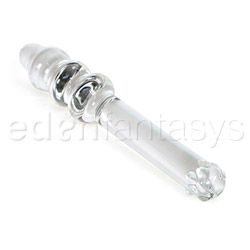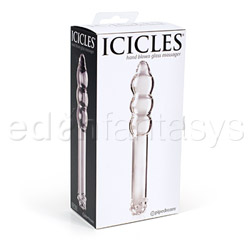 Summary:
Double your pleasure with this double ended glass dildo from Icicles. It offers a simple, transparent design that is great for beginners as well as experienced glass toy users. Suitable for either vaginal or anal play, it's a nice addition to your toy box.
Pros:
Versatile, easy to use.
Cons:
May be too small for some, no color.
Best use:
Icicles #10 is a simple, yet versatile and effective, glass toy. The dual ends offers two distinct sensations. The straight end is smooth and narrow, with a cluster of nubs at the tip. The bulbous side offers interesting texture and more girth. With either end, you can thrust it slowly or quickly. Twist and twirl or rock your body on it. Use it alone or give your partner the reins.
The straight end is suitable for anal, since the bulbed end flares out, preventing it from slipping into the butt. The small circumference might appeal to both beginner and advanced anal players.
It is great for temperature play. Cool it in the refrigerator or in a glass of ice water. It can be heated in a glass of hot water or by wrapping it in a heating pad or electric blanket. Choose whichever you like or alternate the sensations.
Glass can also be used to massage the bodies. The bulbous end provides delicious sensations to the back and legs and inner thighs. Starting with a massage is a good way to rev things up.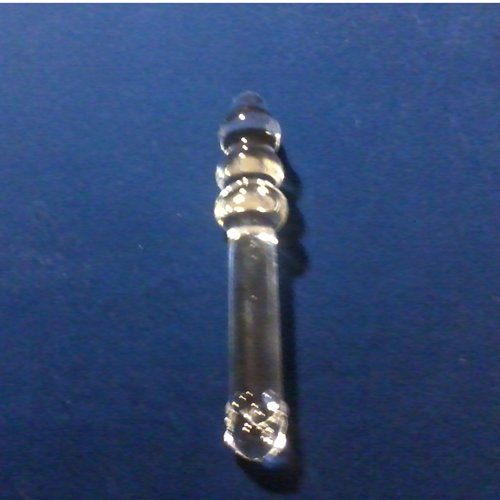 Material / Texture:

Icicles #10 is made from Borosilicate Glass, which is more commonly known as Pyrex Glass. It is a very strong glass that is resistant to breaking. If it breaks it is likely to break in chunks instead of shattering. Just don't tempt fate by dropping it or bumping hard against a hard surface. Glass rates a 10/10 on Eden's safety scale. It is nonporous, hypoallergenic, and phthalate free. It's one of the safest materials for bodies.

Glass is, of course, very rigid with no give whatsoever. Hard materials like this feel bigger than what they actually are. Since this is on the small size, it shouldn't pose a problem for most women.

The nubs provide some texture. They produce a nice sensation when rubbed directly on the clitoris and vulva. They are felt at the entrance of the vagina, but not so much when fully inserted. This end inserted feels smooth and rigid. Its small diameter makes it easy to move around in pleasant ways. It doesn't have a curve for easy G-spot stimulation, but it's easy to maneuver to get that stimulation. The bulbous end offers more girth, and a nice texture that is not overwhelming.

Material:

Borosilicate glass

Material safety

Texture:

Bulged / Nubbed

Safety features:

Food-grade material / Hypo-allergenic / Latex free / Non-porous / Phthalates free

Design / Shape / Size:

It's both simple and elegant in design. The entire dildo is transparent. Light bounces off of it, but there are no colors on it. Many glass pieces look more like works of art than sex toys, and this is no exception.

The bulbous end reminds me of a triple decker ice cream cone with a cherry on top. The bulbs sit right on top of each other with a smaller bulb at the top. This end is 3 inches long and 4 inches around. It offers a nice amount of texture for those who like it.

The straight end features a small, nubbed cap at the bottom. Fifteen nubs grace the end in three even rows. The measurements for this end are flipped around at 4 inches long and 3 inches around. Its small size make this a good choice for beginners to glass. It's not intimidating and very easy to use.


Color:

Clear

Length:

7"

Insertable length:

4"

Circumference:

4 1/4"

Diameter:

1 1/4"

Weight:

1 lb

Performance:

This is an effective glass dildo. I think it is particularly well suited for those new to glass. Its smaller size and minimal texture make it a great introduction to glass. Experienced users may appreciate it for its ease of use. It doesn't have enough girth to satisfy size queens, but all others may enjoy it.

Its small size makes either end easy to insert. The nubbed end is particularly easy. Lube may not be needed at all. If lube is desired, any type of lube is compatible with glass. It does get slippery with lube (and natural fluids), so keep a good grip on it.

Although it doesn't have a curve, the straight end can find the G-spot. The rigidness of the glass allows for pressure on just the right spot. It's the best end for targeting the G-spot. The nubs provide additional stimulation, especially when used externally. Alternating external stimulation with thrusting is very effective.

The bulbous end is geared towards texture and a more filling experience. At 4 inches around, it is still on the small to moderate size. Gliding it in and out produces a popping sensation which is quite nice.

Care and Maintenance:

Caring for glass is very easy. You can wash it with soap and water, a 10% bleach solution, or a toy cleaner. It can be boiled or put in the dishwasher. It can be completely sterilized, making it a very safe toy.

The glass is strong, but of course could break if dropped. Be careful when using or cleaning. It can get very slippery with lube and soap. With basic safety precautions it should last a very long time.

Care and cleaning:

Bleachable / Boilable / Dishwasher safe / Soap and water

Packaging:

This arrived in an attractive box. The face is a flat that opens, revealing a cutout box displaying the product. Inside, the dildo is encased in molded Styrofoam. There is not a storage pouch, but the box should suffice for storage, at least for a while. Eventually the Styrofoam may break. Alternate protective storage will be needed then. A padded storage pouch or even a thick sock would work nicely.



Personal comments:

I thought I would like the bulbous end of this the best. It was nice, but surprisingly the straight end was much better. Even though there is no curve, the straight end easily hit my G-spot. The small circumference made it easy to manipulate in a variety of ways. I love the simplicity of this dildo.

Here is a comparison picture with glass toys of about the same size and design. They are the Wave Wand, Icicles #10, Pink Passion Wand, and Crystal Premium Glass Kegel Small.