Pipedream Icicles No. 31 - Double ended dildo from Pipedream

Product Details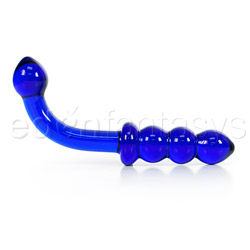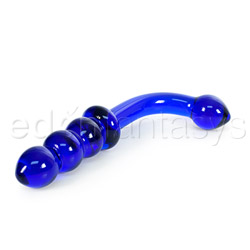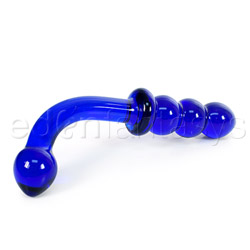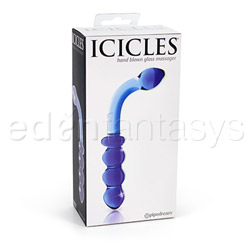 Summary:
This double-sided glass dildo is a pleasure to look at and a pleasure to use. It has some versatility, in that it can be used alone or with a partner, and as either a G-spot, vaginal or anal toy. The shape and size are good for beginners and more experienced users. On the downside, it looks like a lot of other glass toys out there, and it's hard to tell if the G-spot bend is right for your body until you try it.
Pros:
Pretty; easy to clean, store and use; nice shape; holds heat and cold well.
Cons:
Similar to other toys on the market.
Best use:
This double-ended glass dildo could be used any number of ways -- clearly, the bent end is designed for G-spot stimulation, while the bubbled end could be used as a dildo for either vaginal or anal play (the last, of course, provided that someone with non-slippery hands is holding the bent end of the toy for safety reasons). Either end is definitely large enough for a partner to hold on to.

It isn't overly large (about an inch in diameter), but it does have a very sharp G-spot bend. Because it's glass and has no give, this means you'll want to test it out carefully and with lots of lube to make sure it works with the shape of your body.

I don't know if I'd recommend a glass toy if this is your first G-spot experience, because there really is no give, and most of us have to angle and finagle G-spot toys a bit to get them to work properly. But if you have some experience or are willing to go very slowly, then this toy is definitely a nice one.
Material / Texture:

The material is smooth glass, very dark blue and very pretty to look at. The perfect smoothness of the blown glass makes it a pleasure to hold, and it keeps both the hot and cold temperatures for a fairly long time, even while inside your body.

The bubbles at the straight end are lightly curved, just enough to provide good sensation for both anal and vaginal play without being too much. The curved end does have a rather wicked angle, so it's good to use lube and have your body prepared. The ends have a small amount of point to them, but I didn't find it to be uncomfortable or painful.

Material:

Borosilicate glass

Material safety

Texture:

Smooth

Safety features:

Food-grade material / Hypo-allergenic / Latex free / Non-porous / Phthalates free

Design / Shape / Size:

I noticed a lot of people wondering if it was comparable to the Bent Graduate, because they found the shape of the BG didn't work for them. I wish I could answer that question. Unfortunately, I've never used the Bent Graduate, so I don't know how it compares to this dildo. The Icicles dildo is slightly longer overall and yet has a shorter insertable length, which leads me to believe that this might have a sharper bend to its G-spot side. The ends also seem to be slightly less pointed; however, this observation is only based on images of the Bent Graduate, and the fact that I didn't experience any of the uncomfortable points noted by uses of the BG.

Color:

Blue

Length:

7"

Insertable length:

3 1/2"

Circumference:

3 3/4"

Diameter:

1"

Weight:

0.5 lb

Performance:

At its best, this toy is easy to use, has good handholds no matter which side you're using, is easy to insert and remove, and is easy to care for (provided you don't drop it or smash it into equally hard materials).

At its worst, this toy is sharply angled and looks like a lot of other toys on the market.

Care and Maintenance:

As with all glass toys, this is exceptionally easy to care for. Wash it with soap and warm water or throw it in the dishwasher (I recommend the top rack, but that's where I put all my toys, just to be safe).

It doesn't come with a very good storage system, however, unless you're going to keep it in its original packaging (which is basically a box with a Styrofoam insert that houses the toy). Thus, you'll want to invest in a nice cushioned bag (or an extra sock) just to make sure it doesn't get smashed into anything.

Care and cleaning:

Bleachable / Boilable / Dishwasher safe / Microwave safe / Soap and water