Fun Factory Sonic - Double ended dildo from Fun Factory

Product Details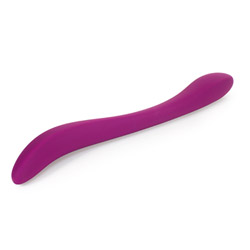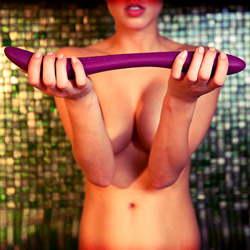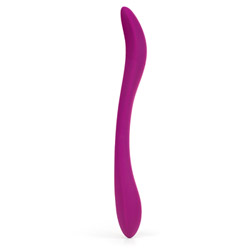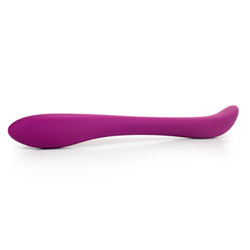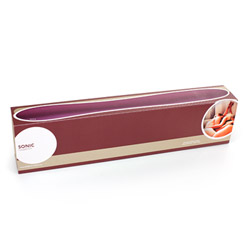 Summary:
Fun Factory has heeded the call for a luxurious, silicone, double ended dildo. Sonic is sleek, bold, and designed to satisfy. The unique ends allow for both pleasurable solo play and simultaneous partner play. If interested in double ended dildos, this could be the star in your collection.
Pros:
Silicone, can be sterilized and shared, dual penetration, colors, sleek design.
Cons:
May not be best for beginners, slight learning curve for some uses.
Material / Texture:

The Sonic is made of 100% high grade silicone. It is hypoallergenic, non porous and able to be sterilized. The silicone has a velvety feel and is smooth with some drag. For a slick glide, water based lubricants can be used. The texture is beginner friendly overall. Sonic does have some rounded edges on the sides of the toy. These can be felt but are not extreme. Sonic is not realistic and does not resemble a penis, except for its phallic shape. This is a good option for those who want more artistic or futuristic toys.

The silicone is firm, but can be squeezed to a degree. The ends of the toy are more firm and can give consistent pressure for thrusting. The middle of the toy is the most flexible, allowing the toy to be folded in half with a bit of effort. This means one person can use both ends of the toy at the same time, but it will take some maneuvering. There is no overt smell or taste to Sonic.

Material:

Silicone

Material safety

Texture:

Smooth

Safety features:

Hypo-allergenic / Latex free / Non-porous / Phthalates free

Design / Shape / Size:

Sonic's design is Fun Factory's take on abstract art. It is wider at the ends and thinnest in the middle. The toy is not symmetric, so each side is different in terms of size and design. The smaller end is beginner friendly or a good choice for intermediate anal players. The larger end is better for intermediate users or advanced anal players.

Sonic is not just phallic. The rounded edges on the sides add both design flare and feeling. They can be felt during insertion. Both ends also flare to a wider point and then taper to the neck of the toy. Each end of the toy is not uniformly round; it looks more like flattened cylinders. Sonic is long enough to use with another partner. Sonic is not very discreet in appearance. When traveling, it is best to wrap it in a cloth to keep the silicone protected.

Length:

15 3/4"

Circumference:

4 1/4" / 5 1/2"

Diameter:

1 3/4" / 1 3/8"

Weight:

1.3 lb

Performance:

Sonic functions best as a multi-use, sharable dildo. It can be sterilized between partners or after anal play. Dual penetration requires some maneuvering and patience, but can be done. While the toy can be folded in half, it has to be held with force so it does not spring back flat. Unless you insert both ends of the toy deep enough, it will be hard to hold both ends of the toy inside one person.

Sonic allows dildo lovers to have the choice of two different dildos, since both ends are different, or the smaller end of Sonic can be a warmup for the larger end. It can be used in the shower or bath. With some angling, it is also possible to use Sonic for G-spot or P-spot stimulation. Sonic can also allow female partners to use the toy for simultaneous vaginal penetration. Being a double ended dildo, Sonic is not designed, nor intended, for harness use.

Care and Maintenance:

Sonic can be washed with soap and water or toy cleaner. To sterilize, it can be boiled, placed in the top rack of a dishwasher, or wiped with a 10 percent bleach solution. While silicone, Sonic does not collect as much lint as the average silicone toy. Only used water based lubricants with Sonic to protect its silicone.

Once dry, Sonic can be stored in the box it came with or wrapped in a cloth to keep it from direct contact with other toys. It is larger than the average toy, so Sonic might be easiest to store in a larger box or dresser drawer.

Care and cleaning:

Bleachable / Boilable / Dishwasher safe / Soap and water

Packaging:

The packaging of the toy is a large, laminated, card-stock box. It has an outer sleeve of the same material that slides out of the box. The box opens easily at the top to reveal the toy. While large, the box can be used for storage. The box could even hold lube or wet wipes in addition to the toy. The packaging is not very discreet, since it has a female couple on the box and Fun Factory's logo on it. The picture is tasteful, though.

The packaging also contains a small instruction booklet showing how to care for Sonic in pictures (for example, a picture of a behind to show the toy can be used anally). It also has an insert advertising other Fun Factory products. This toy can be gifted with its packaging.

Experience:

Other than a few glass toys, Sonic is my first experience with double ended dildos. Searching Eden before hand, I knew there weren't many high end double ended dildos. Most of them were either made of jelly or rubber. Sonic is a great choice for those who want a safe dildo to last them a long time.

I will admit, Sonic can also provide fun that is in no way sexual. You can hold it with one hand in the center and turn it about. The wiggling is satisfying. Or you can hold it by one hand and "helicopter" it. You can play tug-o-war with it on wheeled chairs. You can also hit your partner with it. If using it to hit someone, be aware that it can hurt if you're not gentle enough!

Sexually, Sonic is very fun to play with. For dual penetration, I like to recruit help from my partner to help me hold the ends in. I find it easier to insert the first end in anally and wait until I'm comfortable before inserting the other end. Everyone will probably find a way that works best for them, though.