California Exotic Dr. Laura Berman Kona - G-spot dildo from California Exotic

Dr. Laura Berman Kona videos
Product Details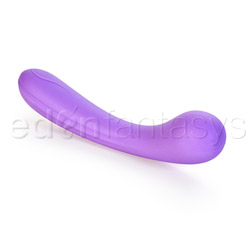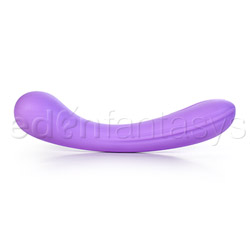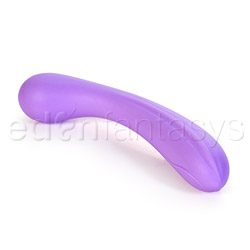 Summary:
The Kona can be used to exercise kegels, for thrusting and for some g-spot action. This gorgeous purple silicone toy is designed with an incredibly stimulating curve and lovely bulbed end that help me strengthen my vaginal muscles and get my rocks off. Kona is a total keeper and won me over right away.
Pros:
Beginner friendly
Silicone
Awesome design
Versatile
Cons:
May be too lightweight for some
Best use:
Kona is described as a vaginal stimulator or exerciser. I have never had a vaginal exerciser before and let me say that I am in love with this one. It is definitely perfect as a first exerciser. While I do see how this could be used for kegels and strengthening the love muscle, and use it as such, it does work well as an awesome double ended dildo too. It could be used in solo or partner play but I prefer to use my Kona alone. It would be ideal for beginners due to the average size and girth, light weight and lack of texture. Kona is also ideal for any user looking for a light-weight silicone dildo/vaginal exerciser.
Despite the fact that the material is able to be sterilized, I would not use this anally simply because there is no flared base. Adventurer though I may be, I don't want to chance losing this in my bum.
There are two useable ends as previously mentioned and I found several uses for both ends, I will go into further details on this later. I have found that G-spot stimulation, thrusting, slow rocking, clamping down and practicing kegels and slow rotaion are all possible with the Kona. It is very versatile and recommend that every girl pick one of these babies up.
KONA IN ALL HER GLORY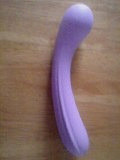 Material / Texture:

The Kona by California Exotics is one of the toys in Dr. Laura Berman's Intimate Basics line. It is made from pure silicone, which gets a safety rating of 10 on Eden's material safety scale. Silicone is completely non porous, which means this toy can be sterilized and will not harbor any nasties. That being said, the attractive light purple silicone itself has an incredibly smooth, luxurious feel to it. This mildly velvety texture does have a bit of drag so you will likely need lube, (Remember: water based only kids!) or be very wet naturally.

The Kona is firm, yet very flexible. It is firm enough to put fairly firm pressure on the G-spot but does flex nearly in half in the middle.

FLEXIBILITY


There is little to no texture on the Kona. There are very subtle ridges on either side on one end of the toy, which can be considered texture, but I find that they add nothing to thrusting. They do, however, provide excellent grip when using the bulbed end.

RIDGES ON THE THRUSTING END


There was also no odor or taste to the Kona at all upon removal from the package. I did still wash it before use however, as I recommend anyone do whenever they first get a new toy.

Material:

Silicone

Material safety

Texture:

Smooth

Safety features:

Food-grade material / Hypo-allergenic / Latex free / Non-porous / Phthalates free

Design / Shape / Size:

The Kona was designed beautifully by a woman with women in mind. There are two ends, a bulbed end and an end that I find is best used for thrusting. Each end has a fairly pronounced curve, though I find the bulbed end has a curve that is a tiny bit more pronounced and this is the end I use mostly for g-spotting and kegels.

CURVE


The Kona is very light weight, weighing in at only 0.3 lbs. It is 7" in length, 5 of these inches are insertable. The diameter of the Kona varies throughout the entire toy. The largest diameter is the bulbed end which is at 1 1/2". The Kona is not meant to be filling, though it is meant to be felt and clamped down on by your vaginal muscles. I feel that the size of the Kona is perfect for many uses and a wondeful choice for anyone looking to try vaginal exercisers.

SIZE


This toy is not very realistic looking, though it is not very discreet either. It will be obvious that this is an adult toy meant for insertion, though if your kids find it they may not make that connection. It is travel friendly I feel because there is no motor to worry about randomly turning on in your luggage and it is fairly small.

Color:

Purple

Length:

7"

Insertable length:

5"

Circumference:

4 1/2"

Diameter:

1 1/2"

Weight:

0.3 lb

Performance:

I will say it again, I love my Kona. There are many ways I use this. Lets begin with the bulbed end. I use this end to stimulate my g-spot and since the silicone is firm this works incredibly well. I also like to have the bulbed end inserted and pull on it with my vaginal muscles fully clamped around it so that it does not come out. I find that this is more of a challenge when stimulating my clit with my hand, a bullet or whatever. It also makes for a hell of an orgasm when used like this. Slow rocking motions with this end also feel incredible.

The other end with the ridges, which I have dubbed the thrusting end, I use simply for thrusting. I will use this end coupled with clitoral stimulation for a warm up, then I switch to the bulbed end. I like both sides, they both have their uses but I do certainly play favorites and the bulbed end is the winner.

BULBED END


This does work well for the uses I mentioned, and as far as kegels go the only way I really use this is by clamping down on it during masturbation. I feel this is the best way to go about getting the most out of this vaginal exerciser. It is not something to have in when you are out and about.

Care and Maintenance:

Nothing could be simpler to care for than a non-porous toy with no motor. The silicone is non-porous so it can be sterilized in several ways. You can put it in the top shelf of the dishwasher, boil it in water or wipe it down with a 10% bleach solution. It can be washed in the sink with soap and water. There are only a few thing to remember with silicone toys. No silicone lubes, water based only and store it away from other silicone toys because it can degrade the material over time if they are in contact too long. I store mine in a pouch, and I do recommend storing it in a pouch, box or plastic bag since it is a tad bit of a lint and hair magnet.

Care and cleaning:

Bleachable / Boilable / Dishwasher safe / Soap and water

Packaging:

The package this came in is clear plastic with a plastic insert that the Kona rests in. This would work for storage, though most would prefer to store it in something else I think. The packaging is in no way discreet. Not only can you see the toy but it says KONA Vaginal Stimulator on the front. There is California Exotics information on one side of the package and some info about Dr. Laura Berman, her credentials and some accomplishments on the other. The back of the package describes the toy, material and what you can do with it. Informative packaging, just blatantly obvious. It would be easy enough to wrap as a gift but you would want to make sure the recipient of this gift opens it in private and not in front of Grandma.

FRONT OF PACKAGE


BACK OF PACKAGE


Personal comments:

When I first got this I instantly thought of Lelo's ella with a more rounded design. Both are silicone and comparable in size with the exact same weight. I do think of my Kona as more of an awesome dildo than a vaginal exerciser. I do feel that the bulb on this does make a moderate vaginal workout possible though.