Pipedream Basix slim - Realistic dildo from Pipedream

Product Details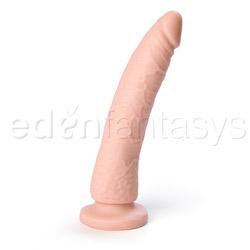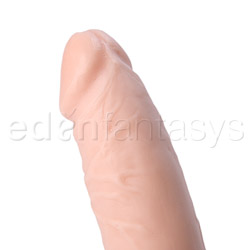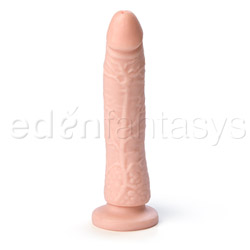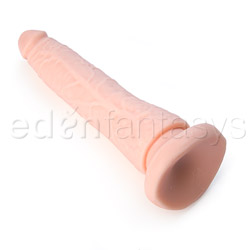 Summary:
The Slim 7 combines a winning mix of size and firmness with a powerful suction cup and harness compatibility. It's a good choice for those looking for a moderately sized dildo. Those put off by fragrances however may not appreciate this toy's mildly fruity scent.
Pros:
Strong suction cup, good combination of firmness and size, harness compatible.
Material / Texture:

Slim 7 is made from rubber, but it doesn't smell like rubber. It has a somewhat fruity scent. At first its odor seemed mild, but after leaving it sit out for an hour in a small room its scent could be detected from several feet away. This is after washing it thoroughly first. Those sensitive to scents may be bothered by this toy.

However, rubber products do lose their scent over time. Washing it before use can temporarily reduce the scent.

Slim 7 has small veins on the top surface which do provide some texture. The entire toy is soft, so the texture shouldn't be enough to bother anyone.

It is latex free, phthalates free, hypoallergenic, environmentally safe and made from non-toxic, materials using American-made rubber.

Material:

Rubber

Material safety

Texture:

Veined

Safety features:

Hypo-allergenic / Latex free / Phthalates free

Design / Shape / Size:

Slim 7 is a long slender dildo. Its circumference around the middle of its shaft is four and a half inches, and at the base near the suction cup is five and a half inches. It's the right size for those looking for a moderately sized or slim dildo.

This toy has a suction cup which actually maintains quite a good suction. When adhered to a tile shower wall and slapped repeatedly so it swings back and forth hitting the wall on one side, then the other, the suction doesn't loosen. If you like suction cups on your dildos, you'll be pleased with the strength of the suction cup on this toy.

It looks somewhat realistic, although probably any man with a penis this long wouldn't be so slim near the tip or have such a tiny head. The head on this dildo is freakishly small - only 3 and three quarters inches. The tip curves a bit to one side and there is a gentle upward curving of the shaft.

The top of the shaft has small veins. There are also slightly raised bumps near the base. But Basix 7 Slim is moderately soft, so the texture they provide is subtle. You may well not feel it at all. It's about the firmness of a semi-erect penis. It's not as soft as Mr. Softee but also not as firm as a fully erect penis.

Between the shaft and the suction cup is a deep indentation. This probably is to allow it to better fit in a harness.

Color:

Beige

Length:

8"

Insertable length:

7"

Circumference:

5"

Diameter:

1 1/2"

Harness compatibility:

O-ring compatible

Weight:

8 oz

Performance:

It's surprising that a dildo with the aesthetic and olfactory issues that Slim 7 has feels so nice, but it does. I have to admit that I was completely surprised by how good it feels. It seems to have managed to package just the right level of firmness and size together.

Even though I'm usually drawn to much larger dildos, this one works for me just the way it is.

Be careful to soak it in warm water first, otherwise it will feel cold and it won't warm up quickly. You'll want to take that scent reduction step anyway.

If you're bothered by the material or scent of this toy, covering it with a condom is helpful and increases the toy's safety.

Care and Maintenance:

Rubber is a porous material, so you will want to be careful to thoroughly wash this toy before and after use. To prevent its scent from filling part of the room it's in, you'll want to store it in a plastic bag or use some other scent reducing container. Its surface isn't sticky but it's difficult to put it in a plastic bag if any part of it touches the bag before it's completely inside. It wants to adhere to the bag, making putting it fully inside a plastic bag a challenge.

Since Slim 7 is porous, it cannot be sterilized, so be sure to cover it with a condom when sharing with a partner or when using it in more than one orifice.

There is a slimy aspect to the surface of this toy. It's not actually slimy, but when you hold it in your hand, it has a strange feel as though it is. Maybe some material or plasticizer does leach out of it as it's handled or used. After it is washed, even if plenty of soap and water are used, you will need to wash your hands thoroughly again afterward. Any touching of your hands to the toy will leave the sickly fruity smell of the toy on your hands. The packaging does state that it's made from hypoallergenic, non-toxic materials so there is not likely to be a safety issue from whatever causes the scent.

This is indeed the unfortunate drawback of this product. It may be a good idea to always keep it covered with a condom.

Any lube is safe to use with this toy.

Packaging:

It comes in a simple clamshell package that opens easily. A small glossy card inside the package lists all the product information.