Fleshlight Fleshlight Freaks Drac dildo - Realistic dildo from Fleshlight

Fleshlight Freaks Drac dildo videos
Product Details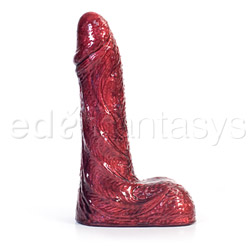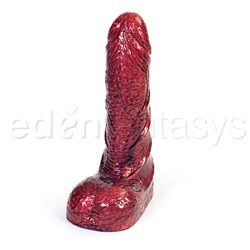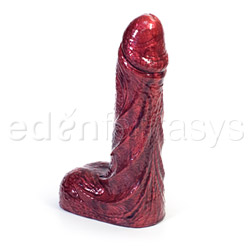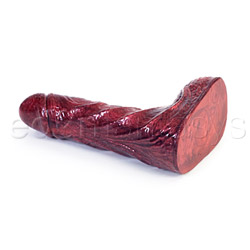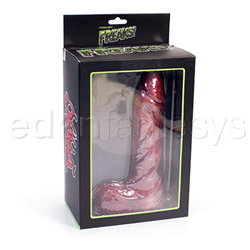 Summary:
I grew up on horror movies, and I fully admit to being 16 and going into a tizzy over a certain actor's portrayal of Drac (whose initials are GO). This toy doesn't disappoint with its bloody red color and bat-wing like ridges. It's simply stunning, and if I had one permanently attached, I think I'd want it to look like this (well, without the bumpy skin condition).
Pros:
Great design, aesthetically pleasing.
Cons:
Bumps and ridges are tricky to clean.
Best use:
I have to chuckle at the companies that write "for external use only" on packaging of sex toys to cover their own butts: so as far as Fleshlight is concerned, it's to put on your shelf and look at. As far as everyone else is concerned, it's a fabulous, shimmery, red, medical grade silicone Dracula cock. It's perfect for role play or alone time, and since Drac has a big ol' basket on his Easter bunny(i.e. large "balls"), it's perfect for use with a harness and suitable for anal.
Material / Texture:

The medical grade silicone is firm, yet yielding. It has some squish to it, but it's definitely turgid. Because I'm me, and admittedly a bit of an odd ball, I spent about 20 minutes with Drac just stroking it and admiring all the textures. Most notable is the bat-wing like ridges that wrap around the shaft; not quite as apparent in the pictures are the multitude of bumps all over the toy. Now, were I to encounter an actual human penis with this amount of bumps and ripples, I'd refer them to a dermatologist, perhaps, and an infectious disease specialist, since obviously something is amiss; however, in the context of this toy, it works, it fits, and hell, all those bumps feel damn pleasant.

Material:

Silicone

Material safety

Texture:

Veined

Safety features:

Food-grade material / Hypo-allergenic / Latex free / Non-porous / Phthalates free

Design / Shape / Size:

Drac can be considered a big boy, at 6" insertable and 5 3/4" circumference. He's girthy and a little weighty at a pound and a half, but more than makes up for it with his charm. The bumps and ridges hold on to lube, making him a joy to slide along your skin, and the slight up-curve on the shaft is great for g- or p-spotting.

Color:

Burgundy

Length:

7 1/2"

Insertable length:

6"

Circumference:

5 3/4"

Diameter:

2"

Weight:

1.5 lb

Performance:

I certainly wasn't let down by Drac. It's a little too firm for aggressive vaginal thrusting, and its length can bump your cervix (or at least it did mine) uncomfortably. If you plan on using it for anal fun, you may want to condom it first, partly because silicone clings to butt smell, and partly because all those bumps, ridges, nooks, and crannies are a pain in the ass to clean. The metallic shimmer in the silicone shows off the detail of the ridges, bumps, and the gorgeous glimmering burgundy color, I feel it's extremely aesthetically pleasing. Obviously, I don't read directions well..."external use only" - HA!

Special Features:

Flared base
Premium
Realistic design
Waterproof

Care and Maintenance:

Because it's high grade silicone you should avoid silicone lube, or lube with silicone derivatives; when in doubt, spot test. Clean with soap and water, toy cleaner, top rack of the dishwasher, 10 minute boil, or wipe down with a 10% bleach solution. It's a bit of a lint magnet, so you may want to invest in a toy bag or box. I have a hair-brained idea to build it a little satin lined coffin, but again, I'm admittedly an odd-ball.

Care and cleaning:

Bleachable / Boilable / Dishwasher safe / Soap and water