New Sensations Shane Diesel realistic cock - Realistic dildo from New Sensations

Product Details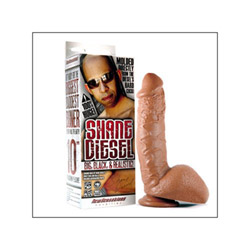 Summary:
This huge, realistic UR3 dildo is a replica of Shane Diesel's cock that may shock even the most advanced users. It is best for those who know they enjoy larger toys or for those who enjoy a challenge. Overall this toy was too large for me to enjoy as much as I had hoped, but it does provide a very full feeling that is nice (every once in a while) with clitoral stimulation.
Pros:
Provides feeling of fullness; Looks very real
Cons:
Very large; Material requires a lot of care
Best use:
This enormous realistic dildo, made from UR3 material,is a replica of the actual cock of the porn star Shane Diesel. It is complete with balls and a suction cup. This cock is for advanced users who really want a challenge! Make sure that you pay attention to the measurements on this one!
I was hardly able to use this toy due to the size and found that my body could only handle the head and maybe the first 2 inches of the shaft. It is best for providing a feeling of fullness and due to the size the head may be able to stimulate the g-spot or p-spot for some users.
Material / Texture:

This realistic dildo is made from Ultra Realistic 3.0 (UR3) material, also known as cyberskin. This material only rates a 2 on Eden's safety scale and it is recommended that a condom be used with this no matter if you are sharing or not (you will need a magnum and it may not cover the entire shaft).
The first thing that I noticed about this dildo was the smell. Before I got it completely out of the package I was able to smell a sweet rubbery smell. The smell has not completely gone away, however this is not something that I can leave out in the open for long periods of time. I decided I would not taste it because the smell made this seem like a bad idea. The material is pretty firm for a realistic toy of this large size and as soon as I squeezed it I wished it was a bit squishier. In my opinion it does not feel very realistic. The entire shaft of this toy is covered in veins. Due to the size I really couldn't tell if they provided extra stimulation because I felt stretched and was not able to thrust with this.

Material:

TPR

Material safety

Texture:

Veined

Safety features:

Hypo-allergenic / Latex free / Phthalates free

Design / Shape / Size:

Shane Diesel is HUGE : 10 inches in total length, with 7 1/2 insertable; 2 1/8 inches in diameter with a 7 inch circumference. This means that the insertable length of this toy is only slightly larger than how big it is around. This is not for the faint of heart and I would even say that because of the size and material, most people will find this one to be a challenge to insert. The largest toy I own is the Vixskin Johnny and this dildo makes Johnny want to run and hide under the bed! I am barely able to insert 2-3 inches of this one, and this is only because the head is slightly thinner than the shaft. In addition to the length and width of this dildo, it weighs a whopping 32 oz! The first time that I tested the suction cup I was surprised that it held. I have knocked this over on my table and it made a lot of noise. The weight also makes it hard to hold during use because if you are only inserting a small portion then the majority of the toy is in your hands and that makes it hard to keep the inserted part from falling out.
Unless this one is in Shane Diesel's hand during a porno then this is anything but discreet. The size makes this one hard to travel with and I would be afraid of everything in my luggage smelling like the material.

Color:

Chocolate

Length:

10"

Insertable length:

7 1/2"

Circumference:

7"

Diameter:

2 1/8"

Weight:

32 oz

Performance:

When I received this toy and held it in my hand, I knew my vagina was experiencing extreme anxiety! I wondered to myself "If I can barely wrap my hand around this, how am I going to get it inside of me?" I do not want to bash a toy simply because I found it WAY too large for my body, but I was not able to have a very fun experience while using this one the first few times. After a few failed attempts I was able to kind of enjoy the feeling of fullness that Shane provides. However, I am not really able to thrust with the toy and because of the size it can be hard to keep in place while stimulating my clitoris.
As mentioned before, the suction cup works extremely well as I tested it suction power on various places in my apartment. I have yet to use the suction cup during use because I have to be in a certain position simply to get this inside of me.

Special Features:

Free samples
Realistic design
Suction cup
Waterproof

Care and Maintenance:

This material is very porous and requires more care than any of my other toys. A condom should be worn during use to prevent germs from settling into the material as UR3 can't be sterilized. It should be cleaned before and after each use with soap and water or with a toy cleaner. Information on this material also suggests dusting it with cornstarch after each use to keep the material in good condition. This toy should be stored away from direct sunlight and in a place that is not much warmer than room temperature. Since I am unable to use this toy that often I thankfully do not need to go through this process on a regular basis, but these steps are important for preserving this material.
I store my toy in the original packaging in my closet since this is the easiest place for me to hide this very realistic toy.
Water based lubes are the only type recommended for use with UR3 toys.

Packaging:

This realistic dildo comes packaged in a cardboard box with pictures of the toy and writing that includes the words "big", "realistic" and "cock" so it is not discreet at all. There are also a few lines of instructions about care. Inside of the box there is an autographed picture of Shane Diesel with his enormous hard cock in his hand. In the box, the dildo also comes in a plastic bag. I use the plastic bag and the box to store this toy because I do not have another place to put it and helps make sure that my apartment does not smell like the UR3 material.

Personal comments:

I have used this a few times and many of the times were painful and I just gave up. Then one day I found that I enjoy this toy a lot more when I turn it so that the balls are sideways. This makes it so I can take more of it in and even do some very shallow thrusting. I am not sure if it is my body shape that makes it so using Shane is uncomfortable or if maybe I need to warm up for a longer period of time. I think those who love VERY large cocks will enjoy this dildo a lot more than I do. I plan on giving it a few more tries in the future.