Pipedream Fetish Fantasy Elite 4.5" dildo - Dildo from Pipedream

Fetish Fantasy Elite 4.5" dildo videos
Product Details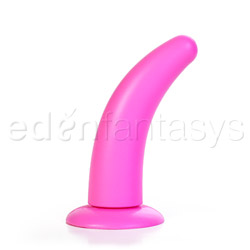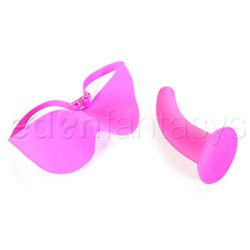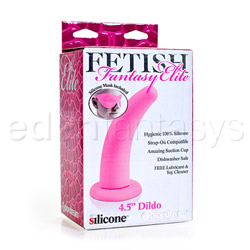 Summary:
Though this toy is shockingly pink I won't hold it against Pipedream! This dildo does exactly what it is supposed to do, and does it well. The blindfold was a pleasant surprise and fits without binding, pulling hair, or hurting the face. It won't block all traces of light but you won't be able to see through ill fitting gaps in the nose piece. The dildo is on the shorter side but is firm, flexible and easy to control both in a harness and out of one. Definitely a kit worth having!
Pros:
High quality materials, great blindfold, cleaner and lube included.
Cons:
Could be offered in more color choices.
Material / Texture:

The Fetish Fantasy Elite is crafted of food-grade silicone that is hypo-allergenic, latex free, non-porous and phthalates free. What is incredibly neat is the blindfold is made of the same material! Neither product has an appreciable odor beyond a light and slightly sweet chemical smell. It is so light you really have to put it under the nose and inhale deeply.

The dildo is smooth matte silicone and has a heavy amount of drag. It will require proper lubrication for most users to prevent irritating sensitive tissues. There are no textures to this toy but it does become incredibly slick with just a touch of lube. it gradually swells to its full girth and has a pronounced curve making finding and exploiting all the special points along the vagina much easier. It is made of firm silicone that has just a touch of give. This means the user will be able to apply firm pressure to whatever areas welcome such attention but it is not going to cause undue bruising of the vagina like firmer materials can. The dildo will, unfortunately, pick up lint and dust so a quick rinse before use is a good idea.

This isn't a toy that screams 'beginner' or 'advanced user' - it is a simple toy that can be used and appreciated by most users regardless of their experience level.

The blindfold is soft and made of the same matte silicone as the dildo but the effect is velvety on the skin. It does a great job of blocking sight but the user will still be able to see ambient light which is great for more sensitive users. It fits a variety of faces and head sizes as it is fully adjustable. It puts the bulk of pressure on the brow ridge where it is comfortable instead of across the eye sockets where it can cause headaches.

I have not noticed the blindfold picking up lint and dust like the dildo does but a quick rinse and dry will remove any eye irritants that might be on the surface of the fabric.

Material:

Silicone

Material safety

Texture:

Smooth

Safety features:

Food-grade material / Hypo-allergenic / Latex free / Non-porous / Phthalates free

Design / Shape / Size:

This isn't an overly large dildo but it does have a bit of girth to it. It measures approximately 5.25 inches in total length with a girth of 4.75 inches at its widest point. Now only about 4.50 inches are insertable if held in the hand, but you can get just a tad bit more if you use a harness. It is a bit on the short side for me, personally, but it makes an interesting change. Sometimes I appreciate a shorter toy, especially when I am playing with my G spot. The curve of the toy makes applying pressure to the G spot a cinch and the round base makes rotating the toy easy.

The design makes it damn near perfect for the gentleman who has an easily felt and reached P spot. The toy gradually increases in girth and the blunt tip of the toy can provide firm pressure. I would caution anyone using this as an anal insertable toy to be extra careful or use it with a harness to prevent it from being sucked into the anus. It's a fairly remote possibility but it could still happen.

For the vagina this dildo is amazing! The blunted, round tip doesn't strike the cervix or back wall of the vagina with enough force to bruise even with vigorous thrusting. It can be used with or without a harness equally well.

This is a great size for most users though it is a bit short for the size queens among us. Overall it is a great little addition to almost every toy box.

Another great feature of the toy is the shape and design of the base of the dildo. It is slightly concave which provides a great suction cup like surface. It will stick to any flat surface such as a shower wall, bathtub side, wall or table. The suction is good enough to allow a pretty vigorous thrusting but won't leave marks on walls or tables. There is no need to wet the surface of the suction cup to achieve good adhesion.

The toy is pink, very pink! The blindfold is also pink which is great for a guy who doesn't have masculinity issues or for gender play/humiliation. Though I am not really fond of pink toys I can't really complain about this set because it works very well for what it was designed to do. The dildo is perfect for play in whatever fashion I am interested in that day and the blindfold is comfortable and blocks vision without hurting my face or giving me unwanted glimpses through ill fitting eye holes.

This is not a realistic toy but it is not exactly travel friendly either; it looks like a silicone dildo! It is small enough to fit easily in a sock drawer tucked away out of sight. It is small enough to travel in amongst your underwear practically undetected.

The blindfold is generic enough to be explained away as a simple eye mask. Speaking of which, if you chill it slightly it works amazingly well as a cold mask for under eye puffiness from fatigue or crying as well as for mild headaches due to stuffiness. It could be heated to body temperature easily by running it under warm water for a hot eye mask if you prefer.

Color:

Pink

Length:

5 1/4"

Insertable length:

4 1/2"

Circumference:

4 3/4"

Diameter:

1 1/2"

Harness compatibility:

O-ring compatible

The set includes:

Dildo
eye mask
lubricant and toy cleaner

Weight:

0.4 lb

Performance:

I found that I was able to apply quite a lot of pressure to my G spot and move the toy easily in the small circles my spot loves. The amount of control this dildo allows, for me, was amazing. The pronounced curve looks great in a harness and handles even better.

I love this eye mask for sleeping in as well as relaxing in a bath tub. It really was a high point for the kit.

Included with this kit are two 1 fl. ounce clear plastic bottles. One is toy cleaner that is formulated to be gentle but thorough on silicone toys. It is anti-bacterial and has no smell whatsoever! The other bottle is a small sample of Moist water based lube. The lube is slick, lasts for a good long time without needing to be reapplied and doesn't dry sticky or flaky. It washes cleanly away with warm water and soap.

Special Features:

Free samples
Premium
Waterproof

Care and Maintenance:

Warm water and soap are all you should ever need for both the dildo and the blindfold. Pipedream, however, is a thoughtful company and provides a small bottle of cleaner with the toys. They advise simply wiping the toy and blindfold with the cleaner and rinsing with warm water. You can boil, dishwasher clean or spray with a 10% bleach and water solution if you prefer.

This dildo does pick up flurf so storing it in a lint free bag or wrapped in a lint free cloth will cut down on the fuzz but a simple rinse before use works as well. I don't recommend storing this toy in direct sunlight though if it should develop a light odor boiling it for a few minutes and letting it dry in the sun can solve the issue.

This is a 100% silicone toy so water based lube is the recommended product but it is good high quality silicone and will probably not interact with the average silicone based lube. To be 100% sure simply spot test a small inconspicuous area of the toy if you simply MUST use silicone based lube.

Care and cleaning:

Bleachable / Boilable / Dishwasher safe / Soap and water

Packaging:

The entire kit comes packaged in a medium weight cardboard box that is recyclable or can be used to store the entire kit. It is not overly large and is very pretty. It has a prominent picture of the dildo as well as a person modeling the blindfold on the front of the box but it's not lurid or pornographic by any means.

Personal comments:

Though I don't normally pick dildos I really liked this one. It isn't large and doesn't have any bells and whistles but it does its job very well. The blindfold was a nice surprise and I use it most of all. All in all I would highly recommend this kit to anyone regardless of their level of experience.