Pipedream Fetish Fantasy Elite 6" curved dildo - Dildo from Pipedream

Fetish Fantasy Elite 6" curved dildo videos
Product Details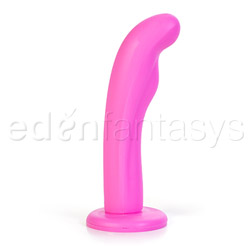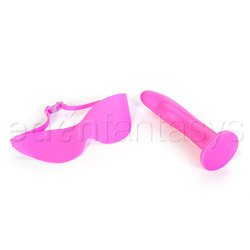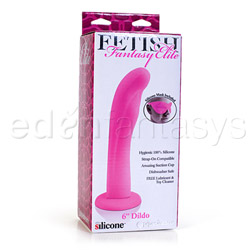 Summary:
Made of medical grade silicone, this is a high quality toy with multiple uses. It can be used vaginally, anally, in a harness, or suctioned somewhere for play. It almost feels like getting multiple toys in one box. Add to that the generous samples of lube and toy cleaner and the mask and you're in for a lot of fun. If you can take the girth and length, consider this toy!
Pros:
Strong suction cup, O-ring compatible, high quality silicone, free mask & samples.
Cons:
Lint magnet, lot of drag, may be too girthy for some.
Material / Texture:

I did not notice any odor when taking this out of the box for the first time. It is made of medical-grade elite silicone that is hypo-allergenic, latex free,non-porous and phthalates free. While it is somewhat flexible and can bend to a 10-15 degree angle, it will not hold that position when you stop putting pressure on it.

It is very soft to the touch but it has a lot of drag. You will definitely need to use lubrication with it. Make sure that the lubrication you choose is water based.

It has a noticeable ridge down either side and a bulge that starts about 1" down from the top and goes for another 2", which is the widest point of the dildo.

Material:

Silicone

Material safety

Texture:

Smooth

Safety features:

Food-grade material / Hypo-allergenic / Latex free / Non-porous / Phthalates free

Design / Shape / Size:

The design is definitely interesting due to the way the dildo gets wider partway down the shaft and because of the ridges on the side. I would not recommend this to beginners due to the larger 1.5" girth and because of the side ridges and design. I do not think it is great for hitting everyone's G-spot because you will need to have a G-spot that is shallow.

Due to its size and design it is definitely not for beginning users.

Since it is a bright pink and clearly a penis-shaped dildo, I would not recommend this for airline travel unless you want to put it in your checked luggage. I would recommend putting it in a toy bag to make it a bit more discreet while you travel.

Color:

Pink

Length:

6 3/4"

Insertable length:

6 1/4"

Circumference:

4 3/4"

Diameter:

1 1/2"

Harness compatibility:

O-ring compatible

Weight:

0.75 lb

Performance:

This dildo worked well when it was placed in harness. It fit the O-ring and was solid enough that it worked the way it was designed. It did hang down but sat at the angle it was supposed to work.

The suction cup is very strong and does a great job of holding onto shower tiles or the tub. It wound not come loose on its own and we had to pry it loose after use.

There is a slight curve at the tip of the dildo that might be for G-spotting. It seems like it would be best for someone who has a shallow G-spot because it is so close to the tip of the dildo.

The dildo definitely has drag to it and will require lubricant to use comfortably.

Care and Maintenance:

This dildo is very easy to care for. Because it is high quality silicone, it is bleachable, boilable, and dishwasher safe. If you choose, you can also just clean it with a toy cleaner or with soap and water.

Once again, I want to note that you should only use water based lubricants with this toy.

Pipedream has provided generous samples of both lubricant and toy cleaner in travel size 1 ounce bottles. You will find them in the box with the dildo.

Do not store this with other silicone toys.

Care and cleaning:

Bleachable / Boilable / Dishwasher safe / Soap and water

Packaging:

Pipedream has packaged this dildo in a very informative, yet non-discreet box. The front of the box shows the dildo at almost full size. It includes a picture of someone wearing the same free silicone mask that is enclosed and gives information about the product.

The back of the box shows a picture of the dildo suctioned to the wall of a shower and also shows someone wearing it with a Fetish Fantasy Elite harness which is also made by Pipedream. There is also a picture of the lube sample and toy cleaner sample on the back of the box to show that you are getting a 1 ounce supply of each.

If you wanted to give this as a gift, particularly to a newbie, this box would be appropriate. However, I would not gift it to someone in front of a group of people.

Personal comments:

I would like to point out that this dildo does not come alone. Pipedream has also included a silicone mask and 2 samples of lube and toy cleaner.

Both of the samples are a generous 1 ounce travel size bottle and not a little tiny packet with perhaps one application that you get from other companies. I was very impressed to see how large the samples are.

The silicone mask is 18" long but the back is adjustable on either end and you could probably make it as small as 11" or so. The part that covers the eye is 3" long. It completely covers the eyes and all you can see is pink. My husband wears size 8 hats and it felt tight to him. I would recommend this mask for small to average size heads. The mask is comfortable to wear.