Topco Grrl toyz silicone strap-on dong - Dildo from Topco

Grrl toyz silicone strap-on dong videos
Product Details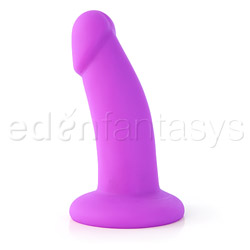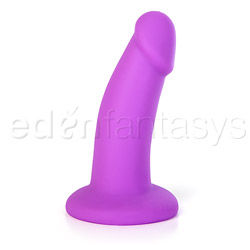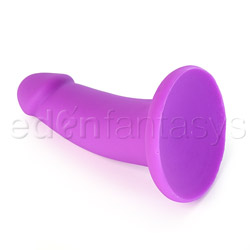 Summary:
The Lilac is a well constructed, silicone, harness compatible dildo with a wonderful texture, a great suction cup and a gentle curve that makes it suitable for G-spot or p-spot stimulation. This would be a good choice for those looking for a quality toy of a modest size.
Pros:
Platinum cured silicone, velvety smooth feel, gentle curve, strong suction cup.
Cons:
Doesn't provide intense sensations.
Best use:
The Grrl Toyz Lilac is a smaller toy that is curved and firm enough for G-spot or p-spot use but also works well for thrusting. It's a harness compatible toy made from the highest quality silicone.

I thought that given its smaller size and the fact that its curved that it could work well as an aid to learning to deep throat, but its actually too firm for that purpose. Note that its a good idea to cover toys that will be shared with others or used in more than one orifice with a condom.
Material / Texture:

This toy is made from 100% platinum cured medical grade silicone. It has no scent or taste. Its fairly firm, but still a little soft and pliable. It's soft enough that when you squeeze it, it lengthens somewhat.

It has a very enjoyable velvety feel when you run your hand over it. There are no veins on it - great for those who don't like texture. The head is nicely raised to make reaching G-spots easier.

Material:

Silicone

Material safety

Texture:

Velvety

Safety features:

Food-grade material / Hypo-allergenic / Latex free / Non-porous / Phthalates free

Design / Shape / Size:

The Lilac tapers from 4 5/8 inches in circumference at the head to almost 5 1/2 inches at the base. My Lilac has less magenta and more pink than the product picture.

It has a powerful suction cup. While it won't support my entire weight when stuck to the shower wall, I can hold it and lean away on one foot with no hint of the suction weakening.

The package insert states that it fits any universal harness.

The base is flared so it would work well for anal play. I don't do anal, but because of its smaller size and gentle curve, I think it would work well as a p-spot toy.

It is also waterproof, phthalates-free and latex free. It can be frozen or microwaved to add temperature sensation to your play.

Editor's Note: Microwaving any sex toy for temperature play can be dangerous and is not recommended. While silicone can withstand high heat, you risk serious burns by heating it up in a microwave where you cannot regulate temperature. Instead, placing the toy in a bowl of warm will produce a predictable and safe temperature.

Color:

Purple

Length:

6"

Insertable length:

5 1/4"

Circumference:

5 1/4"

Diameter:

1 5/8"

Harness compatibility:

O-ring compatible

Weight:

10 oz

Performance:

I'm not sure exactly why this toy didn't do it for me. Even when I am successful with it, the sensations aren't as intense as with other toys. It's nicely designed. It's easy to hold, even when covered in lube. It has a wonderful smooth feel against your hand. It's not THAT small, even though I tend to prefer toys that are a little larger than this one. Ella is much smaller and her size presents no problem. Yet all I can point to as the cause of its lackluster performance is its size.

A man this size would be fine, but Lilac doesn't have that advantage of a male body attached to it, nor the realistic feel. And yet, I still think its well designed and would work well for those who prefer toys this size.

Perhaps its size will make it less intimidating for those new to sex toys.

It's not long (about 5 inches) so you can thrust vigorously or use it with a partner without worrying about bumping against your cervix.

Lilac has one property that I've not observed in other toys. When you close and open your hand around her, you'll notice the incredible static electricity that this toy generates. Do this with the lights off and you'll see green sparks fly out of it. I experimented with this in the dark for quite a while after I noticed this. It's great fun having a lightening storm in your hand. Its power to make my fine hair fly toward the ceiling is greater than what balloons can achieve.

Special Features:

Bendable
Flared base
Harness compatible
Suction cup
Waterproof

Care and Maintenance:

It's made of durable, nonporous, hygienic silicone so only water-based lubricants should be used with it. It can be sterilized, if needed, by boiling or in the top rack of the dishwasher. I don't share toys so I find that washing with soap and water then drying is sufficient for this toy. The instructions state to wash with liquid soap, dry with a cotton towel and allow to air dry thoroughly.

Care and cleaning:

Boilable / Microwave safe

Packaging:

It comes packaged in an easy to open clamshell package with a glossy insert describing the toy, its properties and other toys in the same product line.

Instructions on how to care for it are included, along with a URL for additional information.

Personal comments:

I debated for quite a while about how to rate Lilac. I would give it 3 stars for myself, but I think my toy size preferences aren't the same as others and its perhaps unfair to penalize Lilac for this. The fact that she gives such a fun electric light show tips the scales and sways me to give her 4 stars.