Wet For Her Toy Five small - Dildo from Wet For Her

Product Details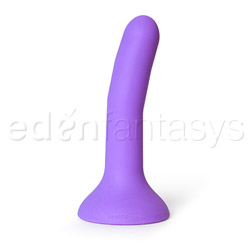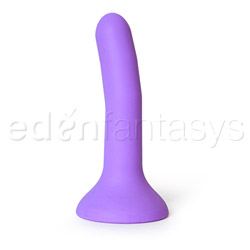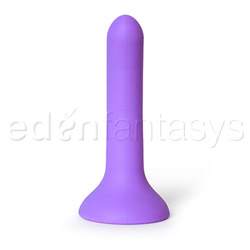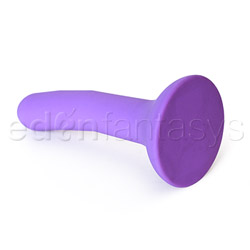 Summary:
If you're searching for that perfect, high grade toy to add to your collection for harness play---this is it! This is by far the best non-realistic dildo I have ever had and you can tell that a lot of thought went into the creation of this product. It's so simple to use and the opportunities for play are endless.
Pros:
High grade material, sleek, easy to use, universal size for harness play.
Material / Texture:

Can you believe it? It's FDA (Food and Drug Administration) approved! This is medical grade silicone! Translation? It just doesn't get any better than this. The silicone on this dildo is so smooth to the touch, it really is almost like satin. I haven't experienced a moment of drag while using this toy and no lubricant was required for vaginal penetration. A small drop was all that was needed for use as an anal plug. I prefer to use Sliquid Sassy when a lubricant is required, but you can use any water based lube.

There's no taste or smell to speak of and it's going to last a very, very long time. The texture is perfect for everyone! Boy, girl---it doesn't matter and it comes in three hot colors! I have the violet, but would have had a difficult time picking between the three had this not been the color chosen for me. The violet reminds me of colorful purple candies on Easter Sunday, just a nice pastel purple.

Material:

Silicone

Material safety

Texture:

Smooth

Safety features:

Food-grade material / Hypo-allergenic / Latex free / Non-porous / Phthalates free

Design / Shape / Size:

Again, it's perfection.

Total Length: 6 inches
Insertable Length: 5 inches
Total Diameter: 1 inch
Circumference: 3.5 inches

There is the tiniest bend in the dead center of the shaft that creates a barely noticeable angle to the dildo. This angle is the difference between ease of penetration or having some difficulty during penetration. Not so much on the vaginal aspect, but definitely when it comes to anal play.

Length:

5 3/4"

Insertable length:

4 3/4"

Circumference:

3 1/2"

Diameter:

1"

Harness compatibility:

O-ring compatible

Weight:

0.4 lb

Performance:

I have a few dildos in my collection; several of them are VixSkin or Tantus and 99% of them are realistic in design. This posed a problem when it came to anal exploration with my partner because they were not up to tackling dildos of such girth. This is where the Five comes into play---it's the first and only dildo both of us have been able to take anally and actually receive pleasure from it.

The base isn't very thick, but it is extremely sturdy and keeps the distance between you, the dildo, and the harness to a bare minimum allowing for a more realistic feel for the person thrusting while allowing them to be physically closer to their partner.

The length is perfect for shallow thrusting and keeps the tip away from the cervix or from going too deep during anal sex, as that can sometimes be just as painful as hitting the cervix. Yet, you still manage to hit all of the right spots, including the g-spot if you are positioned just so.

Care and Maintenance:

Because this is 100%, high-grade silicone you can sterilize this in a number of fashions. You can boil it, you can soak it in a bleach and water solution (which I personally don't recommend) or use a toy cleaner. Plain old soap and water does the trick too. That's the beauty about non-porous toys. There's nowhere for bacteria to hide. The original package can be used for storage or you can put it with the rest of your collection. It's a pretty solid silicone and is single-density so you don't have to baby it like you would a dual-density dildo.

Care and cleaning:

Bleachable / Boilable / Dishwasher safe / Soap and water

Packaging:

The packaging is a white box with blue printing that has this symbol: on the front with a clear window showing the dildo.

On the back there is a black and white picture of two women standing while embracing, one woman has her hand on the right buttocks cheek of the other and both are wearing bras and panties. In white type is the following:

Toy Five: Jules
• Specifically designed as a non-phallic alternative
• Available in Small and Medium, both ideal for use with a harness
• Uniquely curved shaft effortlessly accesses the G-spot
• Crafted out of the highest quality medical grade silicone
• Body safe and waterproof

On the side in English, French and Spanish, it says:
"Designed by women for women. Wet For Her offers non-phallic pleasure products specifically created for those identify [sic] as lesbian, bi-sexual and/or queer. Committed to using only ultra-premium materials, Wet for Her believes that safe and sanitary play is essential to healthy sexuality."