Booty Parlor Don't stop massage oil - Oil from Booty Parlor

Product Details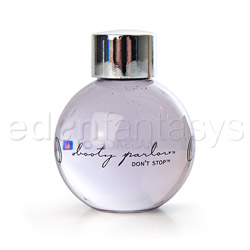 Summary:
This is an extremely light oil with a pleasant fragrance. It is easily absorbed into the skin and will not hold up for sustained massage.
Pros:
Light oil with pleasant fragrance.
Cons:
Poor bottle design.
Best use:
The "Don't Stop" Massage oil is clearly sold as a product to be used by couples. The packaging says," Right there. Just a little bit lower. Don't Stop, please. Don't stow with just a massage" and "Pamper your lucky lover all over, and don't stop." I found the best use of this oil to be as a gentle oil to pamper your own skin. The design of the bottle and the oil itself make it difficult to use as a true massage oil with a partner.

I enjoyed using it alone in the shower against my skin as more of a moisturizer. It appears to be so thin that it washes off primarily with water.
Texture / Consistency / Thickness / Viscosity:

This oil is extremely thin. It has a texture was only slightly thicker than water. It feels very light and soft against the skin. The oil feels great rubbed into skin, but it is absorbed into the very quickly. We found that it was difficult to coat both sides of the back with one handful of oil.

Base:

Oil

Ingredients:

ppg-15, stearly ether, helianthus annuus, seed oil, peg 40 sorbitan peroleate, rosa canina fruit oil, kernel oil, ethyl macadamiate

Color:

Clear

Taste / Aroma:

The aroma in this is composed of a blend of plums, raspberries, jasmine, sandalwood and cedar. If fragrances in oil are anything like that in wine, what this really means is that the same elements that are predominate in the when you smell cedar or jasmine are also present here. What you actually will recognize will depend on how sensitive and well refined your on nose is to the scent elements.

The scent to be both light and delightful, but also something elusive and unidentifiable. It was one of the most pleasant aspects of this oil!

Flavor:

Undefined

Fragrance:

Cedarwood / Jasmine / Plum / Raspberry kiss / Sandalwood

Performance:

The makers of "Don't Stop" massage oil spent some time designing the bottle, and then stopped. The bottle looks good. It's a hard plastic that is clear and mimics glass. However, it is difficult to hold one handed. When the lid is removed the opening for the oil is the full size of the lid. In other words, you can stick an entire finger in the bottle. The oil is very thin, only slightly thicker than water. When you try to pour a small amount of oil from this bottle, it's guaranteed to overflow either your hand or the side of the bottle.

The oil is thin and quickly absorbed into the skin. This oil would work primarily to warm up the skin, but would be absorbed before it would be useful at all for a massage.

Packaging:

Special Features:

The product advertises "warming". We didn't notice this.

Other