Best use:
Marilyn here is used for Kegel exercises.
Now for those of you, (like me) who had never used a Kegel exerciser before may be looking at this thinking, "What the heck is this?" Or you might just be admiring how pretty it is.
This little lady came with no inserts with with information on how to use a Kegel exerciser nor did the box give any hints.
After doing some research & trying it out myself, however, I now know how to use this.
This is used standing up. You insert it (if more comfortable, you can insert it laying down, just make sure you'll be comfortable getting up) and the point is to contract your Kegel muscles to hold it in.
The two balls you see are made of steel and are quite weighted so it is definitely a good work out.
The two balls have different weights so you can choose which side you want to use for more or less weight.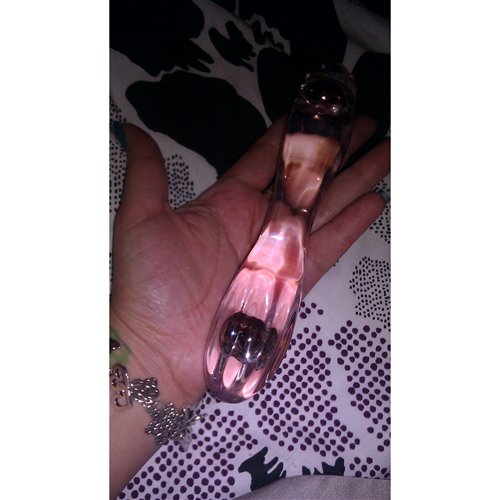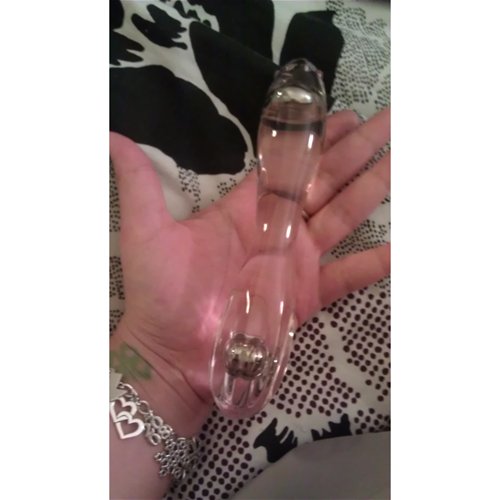 Material / Texture:

So you're probably wondering, "What exactly is resin?" It's actually a very neat material that comes across as a hybrid of plastic & glass.
When you look at it and feel it, it feels like glass, but when tapped, it sounds like a plastic.

So you get the smoothness and luster of glass, and the un-shatterability of plastic!

Both ends have a texture of their own, which you can use for some fun during/after your exercises.

One side is kinda grooved or ribbed.



While the other has little nubs or balls that stick out.




Being that this is resin, the surface is completely smooth making cleaning a breeze as there is nothing to catch any bodily fluids.

Marilyn has no smell or taste.

I don't use any lubrication with my toys, but Marilyn's material makes her safe for use with any lube you have!

Material:
Resin
Texture:
Smooth
Safety features:
Phthalates free

Material:

Resin

Texture:

Smooth

Safety features:

Phthalates free

Design / Shape / Size:

Marilyn 7" long, with an insertable length of 6", circumference of 4 1/2" and diameter of 1 1/4".

The toy plus steel balls weigh 1 lb. Which when you pick it up, you'll be quite amazed.


Marilyn is designed with a sort of "hourglass" design, with 2 wide tips & a slimmer middle.
Her length is roughly that of my hand, maybe about an inch longer and is not really ideal for travel; not if you're looking for discretion. No travel bag is given, and it's pretty obvious what this little lady is at first glance.




Color:

Clear

Length:

7"

Insertable length:

6"

Circumference:

4 1/2"

Diameter:

1 1/4"

Weight:

7 oz

Performance:

Marilyn does precisely what she was made to do: use weights to exercise your Kegel muscles which, in the long run, is going to make your sexual experiences more pleasurable.
The weighted balls definitely add a good challenge and will help you have more control over your muscles and make them stronger.

Care and Maintenance:

Marilyn is so easy to take care of and clean! Yay! Since she is made of resin, there is no material/substance you should fear will break down your toy.

She can be cleaned with warm water & soap or your favorite toy cleaner and can be stored anywhere.

She'll get along with other toys and will do them no harm in storage.

Care and cleaning:

Soap and water

Packaging:

Marilyn's package is not discreet, but works just fine. Once you open the box, Marilyn herself is wrapped in plastic bubble wrap for safe keeping in-transit.




Though the back of the box has some literature, there is no instructions on how to use this.




Personal comments:

It's important to make sure you do some reading on how to properly do Kegel exercises when you're considering getting this toy if you're not already familiar with them.
Although I've stated how to do it, it is a good idea to get yourself more familiar with the process.

As I stated, the toy comes with no instructions.