It's A Workout!
As this does work for exercise I don't receive any pleasure while using it, It doesn't have the portability like the use of kegel balls. It does give you a workout and if you don't have any issues with allergies you just may want to give it a try.
Published:
Pros:
Works the PC muscle
Inexpensive
Cons:
Lack of instructions
Lack of Material Information
Not a pleasurable experience to use
Marilyn from the Dr. Berman line produced by California Exotics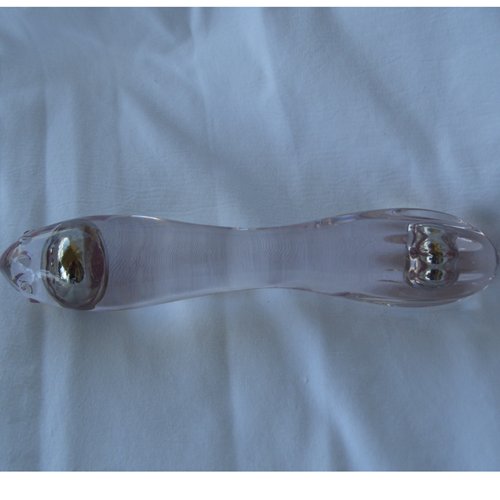 Marilyn is a barbell type of Kegel exerciser. You exercise your pelvic floor muscle so that you can increase the muscle strength so that it will decrease the incidences of coughing and sneezing and peeing. You also exercise that muscle to help increase the sensations of your orgasms. It can help to strengthen your pelvic floor to increase sexual pleasure for your partner and they are many, many more reasons to do them. There are different types of pelvic floor exercisers', you have the ball type that you clench your muscles to prevent the balls from coming out, then there is this type, the barbell.
The barbell type of exerciser is meant to be used while lying down or standing up. You insert the toy and try to move it back and forth with your muscle contractions. This is much harder to do while you are standing. You try to keep the exerciser in place without letting it drop out of you. Sound easy right? Well see this one is weighted to help kick those exercises up. It is 7 ounces. Sounds like it's not that heavy, but when you are standing up clenching your muscles and releasing them this really can be a work out.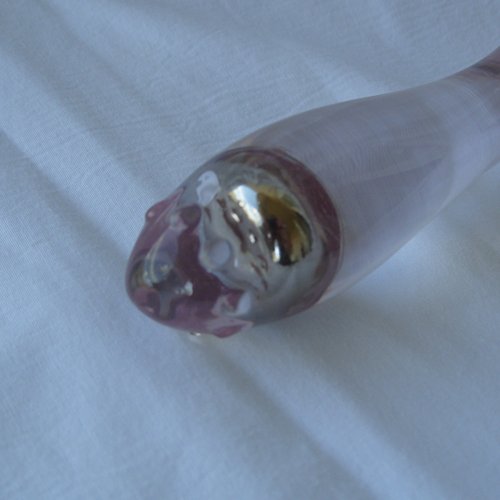 The Marilyn doesn't come with any instructions so I had to figure out this use on my own and from looking at the internet. I really had not had this type of exerciser previously. I am much more proficient with the balls, I really feel that this type of exerciser does give you a better work out but it is not portable which means you can not wear it to the grocery store like you can your little balls. This one is great for those who are scared of balls going missing. Trust me, I am a nurse, the balls cannot go missing.
I would not use this one anally as I have no idea if it can transmit bacteria and it has no flared base so it can go missing. This is also not a thrusting type of toy, you could injure your cervix since it is so solid.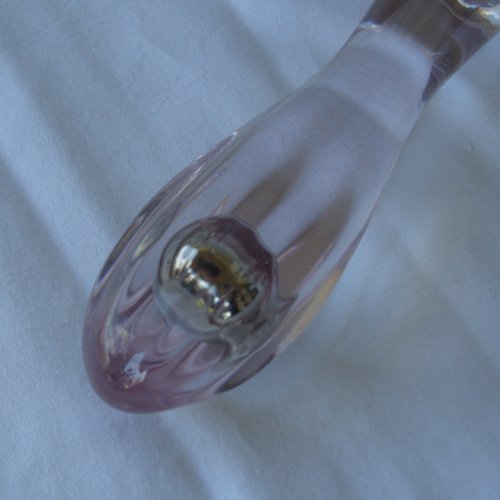 Material/Texture
The Marilyn is made from a resin, there are not many toys made from this and information is limited. On the packaging it does state that it is phthalates free. I don't know about how porous it is or if it has any latex in it. It is very hard to find this info. It feels and sounds like plastic when you play with it and tap it. It seems to be quite strong but I would bet that if I slammed it to the ground that I could chip it. It is completely clear and you can see through it. Eden doesn't give the Resin a rating at this time. One end of Marilyn has grooves on it and the other end has 8 raised nubs. I really cannot tell any difference in the ends with use.
Size/Shape/Design
The total length of Marilyn is 7 inches long, it has a barbell type of shape. On it's ends it has a diameter of 1 ¼ inch and in the center it is almost 1 inch diameter. Each of the ends have a steel ball in place to add to the weight. It weights 7 ounces to increase the work of your pc muscle.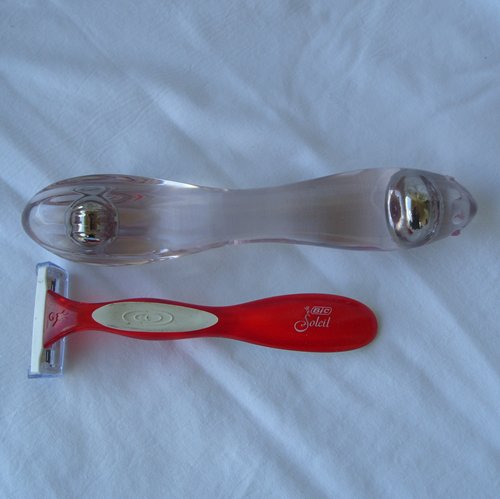 Care/Maintenance
I would say to clean this one up with your antibacterial soaps and water or toy sprays and wipes. I would not suggest the dishwasher or boiling because I don't know if it would melt or not. There really aren't any special storage requirements, I do keep it in a baggy to keep it from my other toys because I don't know how it could affect my silicone toys. I use water based lubes with it since that is what I use with most all of my toys.
Packaging
Marilyn comes in a purple colored box from Cal exotics. There really isn't any instructions for use and there is no information on the resin components. They really should have included this info. The box does state that it is phthalates free.
Experience
I feel bad that I don't have more information on the use of Resin in sex toys and I really couldn't come up with anything solid to pass on. I also was not impressed with the lack of instructions. Not everyone has experience with kegal toys and this could really be a turn off for some newbie's. I felt that this one really does give you a good workout. I don't like how it is not portable such as the balls that I have gotten so used to. I actually still use my balls and every once in a while I dig this one out. It is not my favorite but I have seen and used worse. I am so happy with the increasing the tone of my pc muscle because it really does make a difference in bladder control and orgasms. I do not receive any pleasure from using this device, it is more of doing my exersizes.
Follow-up commentary
3 months after original review
I honestly haven't used this one at all, I do prefer doing my Kegel's with the ball type of toys. I really wouldn't suggest this one.
This content is the opinion of the submitting contributor and is not endorsed by EdenFantasys.com

Thank you for viewing
Dr. Laura Berman Marilyn
– vaginal exerciser review page!