Icon Brands Fashionistas riding crop - Crop from Icon Brands

Fashionistas riding crop videos
Product Details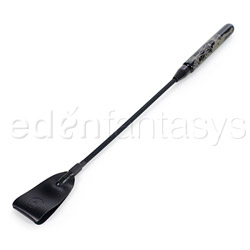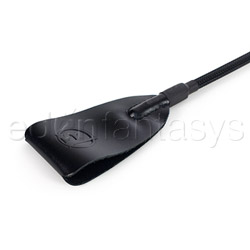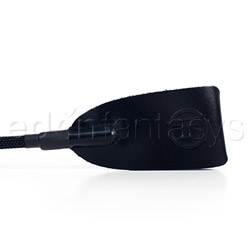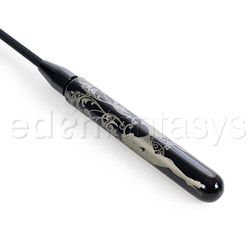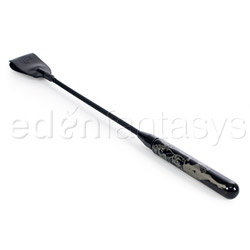 Summary:
The Fashionistas crop is a pretty impressive riding crop. It looks beautiful and is gender-neutral. I really like the fairy design on the glass handle. The handle of the crop doubles as a dildo, which definitely adds to the crop. I feel the crop is pretty well made and is very sturdy.
Pros:
looks great, quality, multi-functional, part of a line with other products
Best use:
The Fashionistas riding crop is a pretty unique crop. The handle is made of tempered glass and can be used as a dildo. This crop is great for both light play and some serious punishment. Just by simply adjusting your strength behind each swing, you can vary the amount of pain inflicted from a light swat to a stinging blow.

Since the crop kind of has a 2 in 1 feature, I think this would work better for a couple or partners. The way that the leather crop tip is formed makes this toy a bit gentler than other crops, which beginners may prefer. The gender neutral design of the Fashionistas riding crop makes it great for use by anyone. It should be fairly easy to match this up with other bondage gear because of the simple design.
Design / Craftsmanship / Size / Material / Features:

The handle of the crop is made of tempered glass. The glass is black with silver etchings of fairies and a floral design. It measures about 5 inches long and 2 1/2 inches in circumference. The handle is smooth except for where the etchings are. The etchings have a slightly rougher texture. I noticed only one small flaw in my handle, which was a small bump underneath one of the etched fairies. There are no seams or sharp spots on my handle. Even though the handle can be used as a dildo, it does not have any curves or anything to it for stimulation.

The stem feels like it is a thin flexible rod, possibly either metal or plastic. This is covered with a mesh of what feels like plastic. When the crop is waved the stem flexes and bends easily rather than holding straight. If the stem held straight I would be concerned that it may snap if the crop is used often.

The tip of the crop is a folded over piece of black leather that forms a loop. The leather has the Fashionistas logo imprinted on it. Where the two ends of the leather meet they are stitched together with black thread and wrapped with a cover on the stem. The leather does not have any scent to it. It is folded smooth side out with the rougher unlined side on the inside.

The whole crop measures approximately 19 inches long, which is about as long as another crop I own. For the most part the crop is also pretty light weight. It does feel a bit heavier than other crops just because the handle is made of heavy solid glass.

I think the craftsmanship behind the Fashionistas riding crop is great. The materials are put together very well and seem like they will last a very long time. I like how they not only made the handle functional as a dildo, they also made it very pretty.

Material:

Leather

/

Tempered glass

Material safety

Color:

Black

Length:

18 1/2"

Width:

1 3/4"

Weight:

0.6 lb

Performance:

The feel of this crop is great. The heavier handle and lighter tip seem to make it easier to swing it rapidly. The light, thin leather doesn't block air flow very much at all, making swings much faster and more effortless. When this swings through the air, it makes a pretty light whoosh.

My fiance and I aren't really into BDSM at all, though I do like having this around in case I want to swat him. I mostly use it for gentle taps. However, just a few hard swings leaves skin very red and stinging.

If you choose to insert the handle of this, I suggest using a bit of water based lube with it. Glass is a very unforgiving, yet body safe material. If you notice any cracks or chips in the glass, do not insert the handle as you'll most likely end up with some bad cuts.

Care and Maintenance:

There are a few things that should be done to care for this crop. Since the handle is nonporous glass, it can be wiped down with a toy wipe or washed with some antibacterial soap and warm water to clean it off. For the tip of the crop, you'll want to wipe it gently with a damp cloth. Make sure you wipe it dry with another cloth right away. I suggest conditioning the leather as well, following the instructions on the leather conditioner packaging. This keeps the leather supple and in good condition.

For storage, you'll want somewhere dark and dry to keep the leather in its best condition. If you don't want to store it in the box, you can always just bubble wrap the handle before putting it away. I'd make sure not to put it somewhere where it could fall down and break.

Packaging:

The crop comes packaged in a plastic box with a clear cut out on the front. The box is nicely designed and matches the look of the crop. On the back are some photos of other items in this line: bunny tail butt plugs, nipple suckers, a whip, and a paddle. The box states this crop is phthalates free and made of real leather.

I think the box is good for gifting. It's classy looking and doesn't have naked women all over it. It's not discreet about what's inside the box, though.

As far as storage, I wouldn't recommend the box. It's much larger than the crop and takes up quite a bit of room. It can be recycled.

Personal comments:

I personally am not interested in using the handle of this as a dildo. I don't find it appealing and prefer to use softer materials. While the handle can be inserted, the smooth, straight design of it leaves me feeling it wouldn't be very stimulating.

Other

Texture:

Smooth

Insertable length:

5"

Circumference:

2 3/4"

Diameter:

1 1/4"

Special Features:

Safety features:

Food-grade material / Hypo-allergenic / Latex free / Non-porous / Phthalates free