Best use:
The Fetish Fantasy series leather love mask by Pipedream is the perfect blindfold for sensory play. This thrilling blindfold will cover your eyes, or the eyes of your lover, with a soft, velvety mask.
Your lover can now be in a state of darkness, and they can be filled with anticipation on what your next move will be on their body. This product is best used by couples for fetish or sensory play, or for someone that needs it used as a nightshade. I used the product for both, and it has moved its way up to my top mask/blindfold that I have in my collection.
This mask can heighten your sensory awareness in many areas. The touch of a hand, or the feel of lips on your skin, may be more extraordinary now with the help of this mask. It intensifies every little touch while this mask is in use, because you are unaware about what is going to happen next. This is a high quality mask that will stay in place when worn, and it will be comfortable to wear at the same time. This can be used by beginners or more advanced users.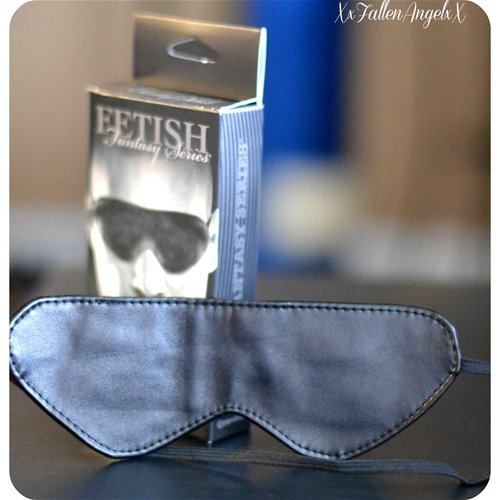 Design / Craftsmanship / Material / Size / Fit:

The design of this mask is the same shape as a lot of the BDSM masks on the market, except this one is smaller, thinner and more lightweight. This doesn't feel as if it's weighing my face down. It fits on males and females with no problem. I prefer this size mask instead of one of the larger, bulkier masks. I am especially fond of the design and, now that this particular mask is in my possession, I have a new favorite that I won't let anyone touch.

This leather love mask is, of course, made of black leather on one side and black velvet on the side that is to be placed on the face. The velvet is very soft on my face, and it didn't itch or scratch me. The velvet does tend to pick up lint, hair, and everything in between, but it can be removed easily with a lint roller or a few pieces of tape.



I slept with the mask on my face for 8 full hours, and it didn't cause any breakouts. The leather has a very faint smell, but it didn't bother me. I'm a person who can't sleep with strong smells around my face, and I slept like a baby with this mask on. If you wanted to try something different, or you like the feel of leather directly on your face, you can turn the mask around and wear it with the velvet side facing out. I haven't tried sleeping that way, because I don't want to risk getting an irritation. You could try it for a short period and see how well it does on your skin.

The mask is stitched together very well. All of the stitches are uniform in size and length. This looks and feels to be a very well made product. The elastic that goes around the head is the 1/8" size, which is a thin elastic. This works better for my head, because it is easier to maneuver it around my ears and hair without pulling my hair or being tight on my ears. The thin elastic gives this a leg up over other masks.

The fit of this mask is spot on for me. It wasn't tight or loose; It was just right. I slept in it and tossed and turned several times, and it stayed in place. This is the only mask that has performed this well for me, and I have purchased many sleep masks. Pipedream did an extraordinary job with this little gem. This is a basic leather mask, but in its simplicity, it becomes a versatile piece that can be used for play or sleep.

The mask itself, without the elastic included, measures 7 1/4" wide and 2 1/2" from top to bottom at each eye piece. The bridge area at the nose measures 1 3/4".

The elastic by itself measures at 13 1/2". The total circumference of the mask is 20 3/4" unstretched. I stretched it by hand and it went out to 26", but I didn't stretch any further than that; I wanted to keep it where it would fit my head, which is 21" in circumference. You can see why this is the perfect fit for me.

If your head size is in the ranges that I listed above, this should fit you perfectly. The mask fit on a male head that was 24" with ease.

Material:

Leather

Material safety

Color:

Belle Jardin

Weight:

0.35 oz

Performance:

As I mentioned above, this mask has performed well for me. It fit on my face perfectly and blocked out 98% of the light. The bridge of my nose flares out a bit towards the bottom, so if my nose was flatter in that area, I would assume that it would block out close to 100% of light.

This mask more than exceeded my expectations. I was definitely wrong about this only being for sensory play! I never expected to be able to sleep in this, and actually sleep comfortably. I thought that it would be wonderful for our fetish play and that would be the end of it, but I decided to take a chance and try to sleep in it, and I'm so glad that I did. I won't sleep in anything else now. This is a 2 in 1 product that highly satisfied myself and my partner. This is really easy to use; I just pull my hair back in a messy bun and slide the mask down on my head, with my right hand holding the top front of the mask and my left hand holding the middle of the elastic. I open up the back of the elastic and position it to the area that I am comfortable with. I have used this several times now, and the elastic is holding up fine. There no strings or hanging threads that could potentially irritate my skin. I really love the fact that the mask is not bulky or heavy.

Care and Maintenance:

The packaging did not come with any directions on how to clean or care for the mask, but I would suggest to take a damp cloth to wipe down the side with velvet. You could also use a hypoallergenic cleanser diluted with water to clean the oils from the face off of the mask if the mask is used often.

For the leather side, you could use a dry cloth to wipe it down but, if you need a more in depth cleaning, they do sell a leather clothing spray. I would only test a small area before using on the full product.

The elastic can be washed with soap and water or wiped down with a damp rag.

I would not submerge this into water, because it could damage the leather if not dried properly afterwards.

I store this in my top drawer, which has turned into my lingerie drawer. If you want this in another type of storage for protection, EdenFantasys sells all of these [https://www.edenfantasys.com/Search.aspx?Q=toy+storage&ST=1&QST=1]

This mask is not high maintenance; it is easy to take care of.

Packaging:

The leather love mask from the Fetish Fantasy series by Pipedream arrives in a small, rectangular box that is 6 1/2" tall and 2 3/4" wide. On the front of the box there is a photo of a man that looks to be bald, and he is wearing the mask with a smile on his face. The box is black and grey and looks to be in a black/white format. Each sides of the box reads Fetish Fantasy Series.

The back of the box has a photo of the mask with the leather side facing up.

The box reads:
"Leather Love Mask
Create thrilling sexual excitement with this beautiful Fetish Fantasy Leather Love Mask.
Try it on your lover or use it as a nightshade for yourself. When you put it on your partner, it softly covers their eyes, keeping your lover in a pleasurable state of darkness and anticipation that heightens their sexual desire. This high quality mask stays comfortably in place with an elastic fabric strap. Heightened sensory awareness can lead to extraordinary love sessions for both you and your partner."

This box could be used for storage, but the packaging is not discreet because of the wording on the back. the box is recyclable, and it has the symbol on the bottom. It is a cardboard type box.

The mask was in a clear plastic package, inside of the cardboard box.

Personal comments:

If you are into sensory deprivation play, or if you are just learning about it and want to give it a try, I suggest this mask by Pipedream. I can't stress enough about the how comfortable this mask is. It's a stress reliever, because I can now sleep longer on the weekends since the sun is not shining in my eyes.

Experience:

My partner and I both adore this product. He now wants one for himself, since I won't share mine with him. For this price, I would buy a few of these just to ensure that we had some in case they weren't in stock anymore in the future. He's not much into sleeping in masks, because he was afraid that they would cause pressure on his eyes since he is a bigger built male, but once I put the mask on him to see what he thought of it, he kicked back on the bed and almost fell asleep. He told me that this mask was one of the only ones that he liked. This really made me smile. This one little mask was already changing his mind!

Other

Safety features:

Phthalates free