Works Well In A Dark Room
This blindfold/eye-mask did not live up to my expectations. Although it is comfortable to wear, it doesn't block vision well and--from what I can see, feel, smell, and read--it is not real leather (though this could be a good thing for some). If you have a small or low nasal bridge, and want a vegan product with a look similar to leather, then this should work well for you.
Published:
Pros:
Attractive shape; Velvet lining; Comfortable strap; Reversible; Nice packaging; Vegan
Cons:
Doesn't block vision around nose; NOT genuine leather
Basics
The
Leather Love Mask (TM)
, from the Fetish Fantasy Series by Pipedream, is a fairly basic black blindfold with an elastic head strap. It can be used to partially obscure vision for fetish play or roleplaying, or it can be used as a sleep mask to block out most light. The basic, unisex style will look good on people of any gender, and it should fit most head sizes comfortably. It's made in China and packaged in the U.S., and would probably work best for those new to fetish/BDSM play who want something simple and inexpensive with which to start out.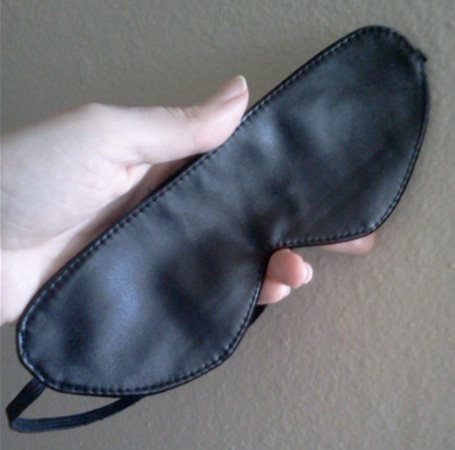 Materials & Texture
The outer layer is made of a leather-like material in a flat black color; it does not have the slight variegations in color shown in the product photo on the box. The word "leather"
is
in the title of this item, but I believe that it's meant
only
as a product name--kind of like the "
Japanese Silk Rope
" from the same company, which is actually made of cotton. This mask does not have the smell of leather, its grain is perfectly even and consistent, it's very thin, and it just feels (and smells) like imitation leather. After searching the box very carefully, I finally found this in
tiny
letters, about a millimeter high, on the bottom: "Colors may vary. Sold as a novelty only.
Material: Polyester.
"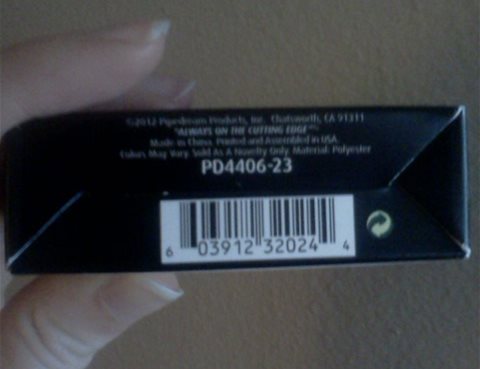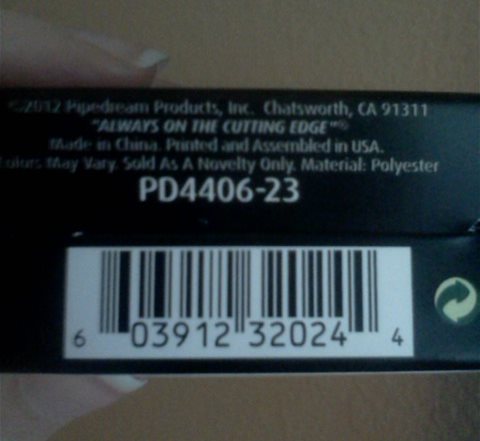 Nowhere on the box does it mention anything about genuine leather. The company's website, however, lists the material as leather, which is very confusing, to say the least. The positive side of this issue is that the mask is much easier to care for than leather, and can be safely embraced by vegans and animal-lovers.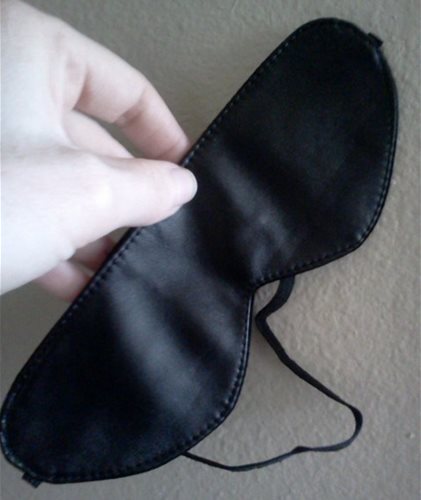 The inner layer is a velvet fabric, presumably also composed of polyester. The velvet is somewhat stiff and thin, but still adds a little touch of class to the mask. Sewn between the two layers--another nice touch, as it leaves no loose ends--is a 1/4"-wide, non-adjustable elastic band for securing the mask on your head. This band is very similar to the elastic used as waistbands on those basic g-strings that come with so many corsets and bustiers. Because the ends of the elastic band are sewn between the layers of fabric, this mask is reversible, and can be worn velvety-side out if desired.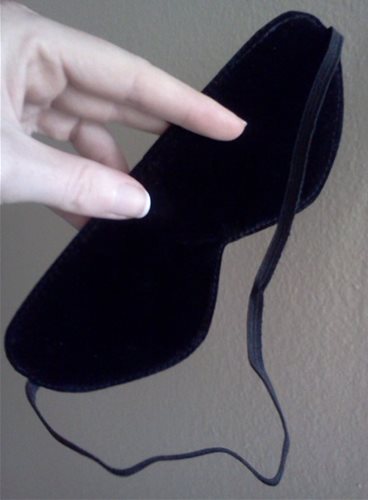 Size & Fit
This eye-mask measures 7 3/8" across its widest point; each eye-covering portion is 2 5/8" tall, and the center over-the-nose portion is 1 7/8" tall. The elastic band measures 20" around, unstretched, and will stretch up to 34" (comfortably to about 28" - 30"). It is quite comfortable and secure on my head, which measures 22.5" at eye-level, and it also fit my partner well, whose head is smaller than average for a female (and decidedly smaller than mine--we can't wear the same hats).
Function & Performance
As a woman of German/Welsh/Scottish descent, my nose has a bridge of approximately average height for a "white female." This mask doesn't conform to my nose and cheeks enough to prevent me from simply looking down and seeing a pretty good field of vision, so it doesn't work for me as a blindfold. The materials are completely opaque, however, so it would probably work better as a sleep mask, as long as light wasn't aimed directly at the underside of the mask. My partner is of Asian descent, and has a very low nasal bridge; it blocked more of the vision field for her, but she could still see a sliver of light between her nose and cheeks. A fluffier lining or a different shape would have made this mask much more practical for vision deprivation.
Packaging & Care
Pipedream did a nice job on the packaging for this blindfold. It comes in a small, sturdy cardboard box, elegantly printed in shades of black, gray, and white. The front shows a man modeling the mask with a mischievous smirk, and the back offers a marketing blurb with usage suggestions.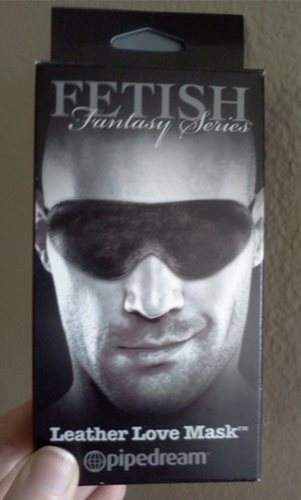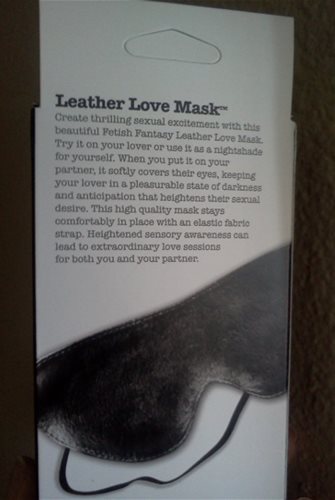 The only issue I have with the box is that it isn't long enough for the mask to lie flat inside, so the mask--in its cellophane envelope--arrives folded in half inside the box. If the box had been made just two inches longer, the mask could have avoided being creased in the center. Because of this, I would not suggest using the box for storage, although it is nice for gift-giving.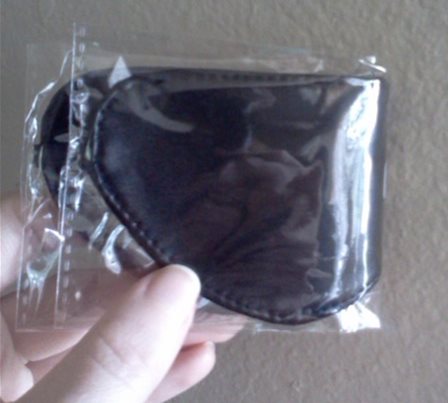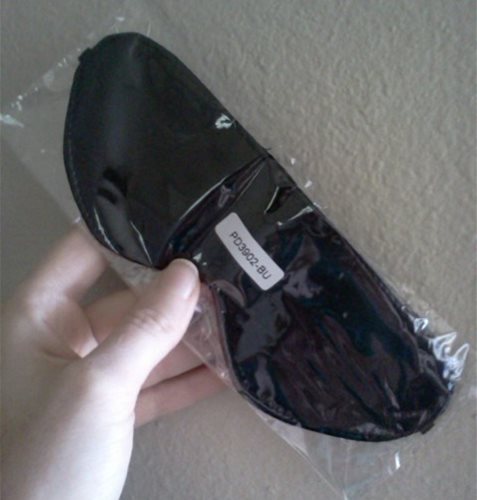 There are no care instructions included at all for this mask. Since it's made of synthetic materials, though, I recommend hand-washing with a gentle liquid soap, rinsing well and laying flat on a towel to dry. You may also want to use a conditioning product formulated for vinyl and polyurethane fabrics.
Experience
I was quite disappointed with this mask. It does not look or feel as high-quality as the photo on the box indicates, and it didn't block enough of my--or my partner's--vision. The two things I liked about it were the comfortable fit and the low price, but these didn't make up for the lack of vision-obscuring function and the fact that it isn't real leather. I also do not like the way the packaging and the company's website make one think that it IS made of leather, until one finds the tiny, tiny print on the bottom of the box; it even fooled the EF staff member who described its material on the product page. My partner and I both tried it on several times, smelled it, felt it, et cetera, but that was the extent of our experience with it--it didn't make it into the bedroom with us.
Follow-up commentary
1 month after original review
Even though I got an excellent discounted price on this mask, my partner and I decided to return it for a refund. Despite the lack of adjustability in the strap, it was comfortable enough; despite its faux-leather composition, it was attractive enough. However, it simply did not do its vision-blocking job well enough.

I still think this "Love Mask" could be enjoyed by people with low nasal bridges who are seeking a low-priced, simple, vegan blindfold that's easy to care for and reversible. It's just not the one for us.
This product was provided at a discounted price in exchange for an unbiased review. This review is in compliance with the FTC guidelines.

Thank you for viewing
Fetish Fantasy leather mask
– blindfold review page!