Pipedream Fetish Fantasy metal ben-wa balls - Vaginal balls from Pipedream

Fetish Fantasy metal ben-wa balls videos
Product Details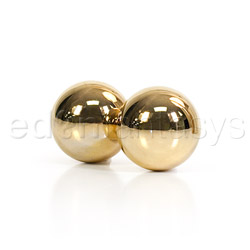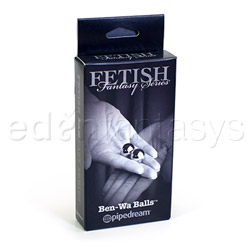 Summary:
These Ben Wa Balls are a great tool for novice or advanced users looking to strengthen their PC muscles and get a pleasurable experience out of doing kegels. Their small size and good weight create more resistance than the average set of vaginal balls. Just make sure you can hold them in for great lengths of time if you plan to wear them in public, because they *will* fall out if you forget to squeeze!
Pros:
Small, heavy, great for those who tend to forget about doing their kegels.
Cons:
Small, heavy, can fall out on the floor, no cords to hold them in.
Best use:
Ben Wa Balls are small, smooth, marble sized balls made of metal that are used vaginally to aid in kegel exercises. Kegels serve in strengthening one's PC muscles for increased pleasure during sex.

These particular balls are for advanced users or for those who already have pretty toned PC muscles, due to their small size and weight (they can fall out easily).

These are not safe for anal, again due to their small size and weight.

Some vaginal balls are designed to add a little bit of stimulation throughout your day. These are not intended to do so, but they definitely create an anticipation of sorts. They can be used for slight temperature play due to their metal material.

To use, simply insert them into the vagina and hold them in by squeezing your pelvic floor muscles together (to find your pc muscles simply act like you are stopping the flow of urine, like when you are going to the bathroom).

Over time, these exercises will tighten the muscles through contractions, leading to stronger orgasms and a more pleasurable experience for your male partner.

They can also be used to stimulate the vaginal walls throughout the day, resulting in a higher sex drive and more pleasurable sex for yourself.
Material / Texture:

These are made of metal which ranks a 9/10 on Eden's material safety.

They are small, smooth, shiny, and dense. There is no smell to these, but they do have a slight metallic taste.

They can be used for temperature play; temperature play can add stimulation and sensation to your experience by aiding in your kegels.

Obviously, these will warm up pretty quick once they are inserted, but putting them in cold can help you keep them in for a while. How? Once inserted, the cold metal can cause your blood vessels to constrict, helping your muscles contract.

Freezing or boiling are not recommended methods for temperature play with these. They can be placed in a plastic bag in the fridge for an hour or so before use. If you prefer them warm you can run them under some warm water for a few minutes before inserting them.

You do NOT want to use anything completely frozen internally. If you prefer to put these in the freezer, make sure you run cool water over them so they can 'thaw' a little bit first (look for condensation building up on the surface). Frost can freeze to your skin, resulting in a very unpleasant experience. An easier method to cool would be to skip the freezer altogether and simply run it in ice water for a little while.

Material:

Metal

Material safety

Texture:

Smooth

Safety features:

Food-grade material / Hypo-allergenic / Latex free / Non-porous / Phthalates free

Design / Shape / Size:

Most ben wa balls are encased in hollow plastic with a retrieval cord to aid in ease of use. The plastic also allows for more designs and a bigger object to insert. The small weighted balls themselves are used to add weight for resistance or pleasure.

This set of Ben Wa Balls are just that---the balls. No fancy bells or whistles. Simply the weighted balls themselves. That could be why they feel heavier than other vaginal balls, despite weighing in at a standard 1 oz each and measuring a simple inch in diameter.

Compared to other popular vaginal balls, these look much less enjoyable, and you might not think they'd work well. They appear to weigh less and be small and plain, but they actually work much better and are more challenging to use.

Color:

Silver

Length:

1"

Insertable length:

1"

Circumference:

2"

Diameter:

1"

Weight:

0.2 lb

Performance:

These are the best vaginal exercisers I have ever had. They create a very pleasurable experience while in use, and they really work for tightening the PC muscles because of their weight and lack of retrieval cord. Since they are so small, you really have to work to keep them in. They can fall out if you don't stay consistent, and what better way to stay motivated than to not want them falling on the floor in front of your co workers??!

A lot of the time, vaginal balls can be easy to stick in and forget. Their large size makes them uncomfortable and can leave you feeling like you have to pee constantly.

These are good in that they remind you they are there all the time without being uncomfortable.

Care and Maintenance:

These are super easy to care for. Since they are metal, they are non porous and phthalate free. They can be boiled or thrown in the dishwasher and, since metal is non-porous, you don't have to worry about where you store them. They can be washed with soap and warm water and rinsed off before each use to ensure they are clean.

Just make sure you keep track of them because they can get lost fast!

Care and cleaning:

Soap and water