Pipedream Fetish Fantasy spread 'em bar and cuff set - Spreader from Pipedream

Fetish Fantasy spread 'em bar and cuff set videos
Product Details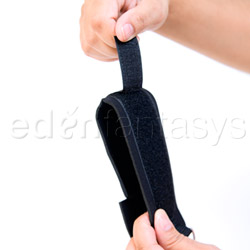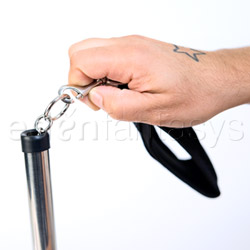 Summary:
The Spread 'Em Bar and Cuff Set comes with everything you need from the storage bag to the spreader bars and even to the cuffs. This comprehensive set even includes a few unexpected extras like a blind fold and collar cuff. Whether you are new to restraint or an old pro, this set can add some versatility to your play.
Pros:
Storage bag included, highly adjustable.
Best use:
The Spread 'Em Bar and Cuff set is an ideal spreader bar set for both beginners and advanced users. The set is best used by couples or in multiple partner settings. The purpose of the set is to restrict the movement of your partner and place them in different positions.

The set includes two spreader bars, 4 neoprene cuffs, an additional larger cuff, a blind fold, a connecting strap, the storage bag and a lock for the storage bag. The larger cuff seems to work well as a collar. Each cuff has a metal ring on it that can be used to connect it to the bars, the connecting strap, a leash or any other apparatus that you have.

With the length of the larger spreader bar, it would be best to use this set in an area that has ample room to move around. It doesn't need to be an overly large area, just somewhere that you or your partner can be placed in various positions with either legs or arms being spread 25 inches apart.
Design / Craftsmanship / Material:

The Spread 'Em set is designed to restrict movement of the wearer but does allow for some small movements. There are two metal spreader bars included, one is 25 inches long and the other is 12 inches long. Each bar is hollow with a metal pin that runs through the middle. The pin has about an inch of chain attached at each end which is the part that comes out of the end of the bar. The chain piece has a small o-ring that is attached to a larger o-ring. The larger o-ring is intended to be the point of attachment for the cuffs or other apparatus. The end of the metal bar has a rubber cap to prevent any cutting or scratching from the exposed metal. The purpose of the chain and o-ring is to allow the wearer to have a small amount of movement when wearing the spreaders. The smaller spreader bar has a single large o-ring in the center that has the connecting strap on it which is adjustable up to 14 inches. The connecting strap is made of nylon and adjusts just like a backpack strap. The end of the connecting strap has a metal o-ring the a snap hook (like the type on the end of a dog leash) to connect to the other o-rings. The larger spreader bar has two large o-rings, each about a third of the way from the end of the bar.

The package says that the connecting strap can be easily removed for versatility, however, there does not seem to be an easy way to do this. The end of the strap that is connected to the o-ring on the spreader bar is a sewn loop. The o-ring does have a small seam where the ends connect but the space is much to small to allow the nylon loop to slip through. Bending the o-ring to allow for removal may cause that ring to be too damaged to be useful during play.

The metal of the bars is shiny silver and feels sturdy. It does not bend, though bearing too much weight on it could damage the bar. The shiny surface does show fingerprints easily but should also be easy to clean.

The included cuffs are made of neoprene and Velcro. Two of the cuffs measured to 10 inches of neoprene with an additional 6.5 inches of Velcro and two of the cuffs measured to 12 inches with an additional 6.25 inches of Velcro. Both are 2 inches wide. They are highly adjustable with all but 3 inches of the outside of the neoprene having the other half of the Velcro for attachment. The collar cuff measures 17.25 inches of neoprene with 6.25 inches of Velcro strapping and is 2 inches wide.

The blindfold is a black nylon mask that is pretty thing but is double lines. The strap is black elastic that seems sufficiently stretchy without loosing its shape after being stretched. The blindfold sufficiently blocks out light but does tend to have a little gapping on the bottom in the nose area.

All of the material portions have that characteristic rubbery neoprene smell to them. This may be something that would dissipate over time and probably won't bother most people. The neoprene cuffs feel soft and comfortable during wear, but be careful not to have skin exposed to the Velcro, as it could cause irritation.

Other than the additional larger collar cuff that is included, the other piece of the set that is not listed on the product card is the storage bag. The storage bag is a sturdy nylon bag that has a smooth interior to keep from scratching the metal bars. The storage bag is big enough for only the pieces included in the kit and nothing additional. The storage bag comes with a small long and 2 keys for the lock. The lock is very basic but would probably serve its purpose if your aim is to keep it from children's prying eyes.

Material:

Metal

/

Neoprene

Material safety

Color:

Black / Metallic

Length:

12" / 25"

Weight:

17.5 oz

Performance:

Putting the Spread 'Em set to use is quite easy. First you need to decide which bar you want to place where. If your goal is to have the legs spread wider, the longer bar is ideal. Simply wrap the cuffs around each ankle, adjusting so they are snug and secure. Using the shorter bar for the arms is more ideal for either attaching to the lower bar to keep your partner in a bent over position or attaching them to something else to keep their hand and arms restrained. If the shorter bar is attached to the wrists but to nothing else, I found that too much movement of the hands and arms was still allowed. The spreader bars allow you to put your partner into a position and ensure that they will be able to hold it better for longer because they aren't going to give into the natural urge to let their limbs drift together or down. It is important to make sure that you have the cuffs adjusted tight enough to keep them from slipping which can allow too much movement or cause discomfort but not so tight as to cut off circulation. Be sure to check any appendage that is restrained by the cuffs throughout play to make sure the circulation is still normal.

Besides the obvious ways shown on the cardboard insert that comes with this product, there are a few other tricks that can be tried. If you have a dungeon or set up that allows for over the head restraint, either bar can be used to attach the arms and have them over the head where your partner can't easily move or use them. Since the cuffs are only secured by Velcro they should not be used to hold a persons weight as this could be unsafe. Another use would be to put the smaller spreader bar behind your partner and use the cuffs to restrain the arms behind the back.

Packaging:

Everything came packaged together in the storage bag which was locked. The keys to the lock were on a simple chain like military id tags are on and was attached to the opposite end from where the lock was. Attached to the bag was a cardboard piece that has a picture of a woman wearing the spreader bars in various positions.

Other

Hook style:

D-ring / O-ring

Special Features:

Safety features:

Food-grade material / Latex free / Non-porous / Phthalates free