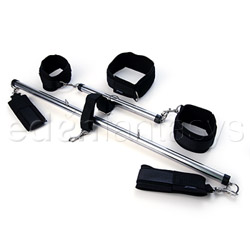 Fetish Fantasy spread 'em bar and cuff set
Spreader by Pipedream
Versitility At It's Cheapest
This is a great beginner set to try out spreader bars and restraints in general as it comes with so many pieces to play with and try out, but they are fairly easy to escape yourself if needed making them not terribly intimidating. For more advanced or rougher play, however, this will disappoint as it is rather cheap, flimsy material and likely to break or bend very easily. I'm afraid this isn't going to last long at all, but it was an enjoyable set to check out and explore.
Published:
Pros:
*versatile
*many components
*beginner friendly
*nice storage bag
Cons:
*cheap material
The spreader bar's use is pretty obvious, it's used to restrain your lover's arms and legs spread apart giving you easy access to them. This one takes it a step beyond your typical spreader bar by adding an additional bar, a connecting strap, a collar and 4 cuffs to the mix. These extra pieces make this a very versatile set, they can be used as just a spreader bar, or you can attach the other bar to connect arms and legs either in front or in back like a hog tie. You can use just the small bar to restrain their arms over their head, or attach all four of the cuffs to the long bar to restrain ankles and wrists all together. The uses are only as limited as your imagination.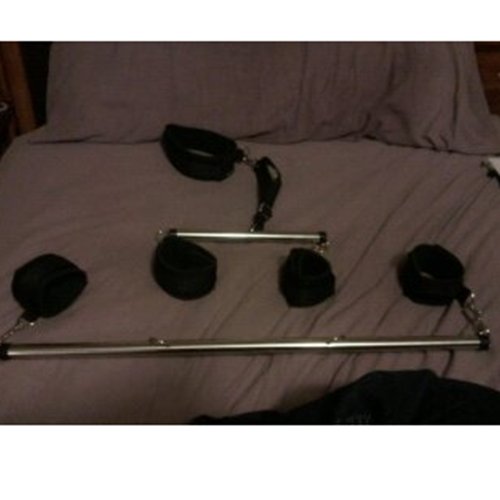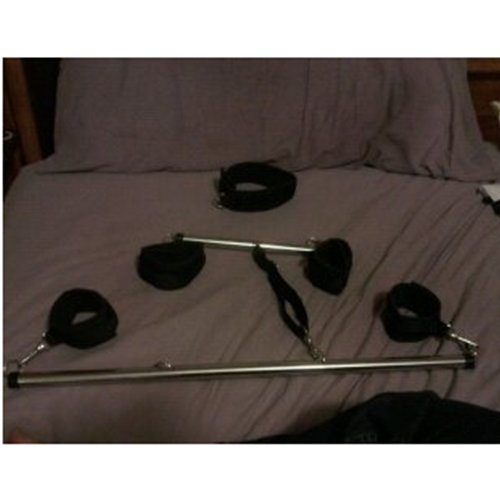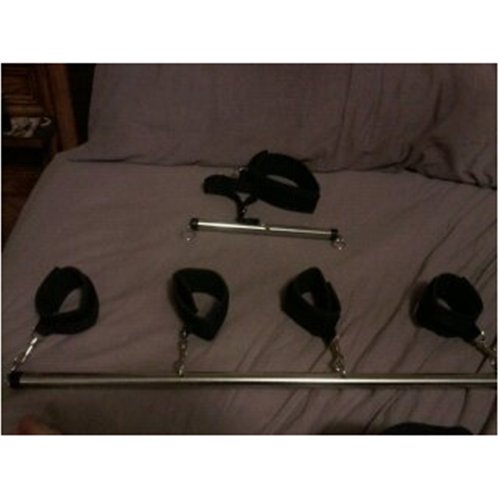 The idea of this set is great! I love how versatile this set it, being able to attach the cuffs and bars in so many different ways is really convenient. If only the craftsmanship and materials were better; the bars feel as if they would bend easily and the rings try to stretch apart when struggling against them even just slightly, this is disappointing as this will probably not make it though a heavy play session.

Ok, starting at the top and working my way down we'll start with the collar and cuffs, which are made of neoprene with Velcro closures and some metal hardware. The collar is 17" long and 2" wide with a medium weight "D"-ring attached, with a 1" wide strip of Velcro attached for an easily adjustable closure. The two wrist cuffs are 10.5" long and 2" wide, also with a 1" wide Velcro strap, and a small, metal, swivel, lobster style clasp for attaching them to the rings on the spreader bars or to each other; the ankle cuffs are the same in all aspects except the length which is 12".

The bars are made of metal, though I'm not clear on what kind, but it is not very durable feeling, I get the impression that one good rough session is going to end in misshapen bars, busted "D"-rings and unattached chains. The shorter of the two bars is 10" long with a large metal ring in the center and 2 smaller rings on the ends for attaching the cuffs to. The smaller rings are attached short pieces of chain which attach to a thin metal rod running thru the center of the bar, this allows for a little bit of movement for the wearer. Attached to the center ring is a 1" wide nylon strap which is adjustable from 10" in length up to 16" giving you a choice of how close you want your lovers hands to be to either the other bar, the collar or to whatever else you choose to attach it to. The other bar is 24" long, similarly made to the shorter bar this one has 4 rings instead of 3, there are the 2 smaller ones attached to chains on the ends and there are 2 larger ones attached to the bar about every 8" along the length giving you several attachment points to choose from.
All in all this is a great beginners set, it's not intimidating, easily escapable and has all the basic pieces needed to comfortably restrain someone. I do wish that it was made of better materials as I'm afraid this won't last us long at all, it's just not made for rough play. But for an introduction to spreader bars and restraints it is a perfectly acceptable and safe set to use. I do love that it comes with its own case, granted the case is just barely big enough to hold the longest bar, it is very convenient for keeping everything together in one place, has loops to hang it by for easy storage and is discrete enough to carry it to a friend's house or a play party without the 'nilla people knowing what is inside.
Follow-up commentary
4 months after original review
This was just a really flimsy, cheap set that we didn't get much use out of. The concept is great, the materials just are far from up to par. It has found a new home with some beginners that aren't as rough as we are!
This product was provided at a discounted price in exchange for an unbiased review. This review is in compliance with the FTC guidelines.

Thank you for viewing
Fetish Fantasy spread 'em bar and cuff set
– sex toy review page!