Booty Parlor Good girl bad girl feather spanker - Crop from Booty Parlor

Product Details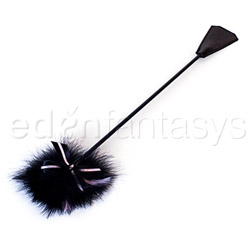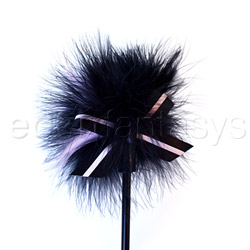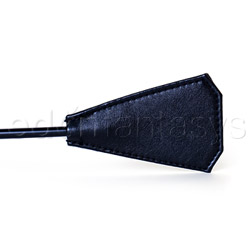 Summary:
Don't let the appearance fool you: this is no cat toy. The good girl, bad girl feather spanker is an effective crop with a feathered end, making this have more than one possible use. Since the crop is leather is leaves a nice sting with making contact, which is everything you want in a spanker.
Pros:
Well made, two uses, effective, and leather.
Best use:
The Booty Parlor good girl, bad girl feather spanker has two uses, since it has double ends. The first is a crop like spanker and the second is a feathered tickler. Having double ends is great for experimentation for those couples looking to add something extra to their sex life, but the quality is good enough for the advanced users to enjoy as well. It is not going to be for those who are into hardcore spanking or rough play. Depending on the sexual position you are in, it can possibly be used during intercourse. The best position for this is doggy style.

The crop like end works really well, creating a nice sting when it makes contact with the body. The amount of this sting will change depending on how hard the crop is swung. Before partaking in any spanking you should communicate with your partner and be sure to set some limits: only you know what you can handle.

The feathered end is great for breaking up the stings or for foreplay teasing. Having the feathers caress the body provides relaxing and erotic excitement. This excitement can be increased when used during intercourse; many will find ticklers more arousing during some kind of sexual act.
Design / Craftsmanship / Size / Material / Features:

The good girl, bad girl feather spanker totals in at 20" long, but 2" of that is smash-able since it is the feathers. It is only available is one design, which is black with some light pink. The feather spanker starts off with a feathered end, which the feathers are glued inside of a plastic cap. This plastic cap is at the end of a flexible plastic stick. There is also a ribbon attached to these feathers and it is tied into a bow. The opposite end is the 2.5" wide crop; this is a triangle shaped piece that has the plastic stick slide in between the double layer of material. It is well in there and passed pulling and bending tests. The crop is almost triangle shaped, but does not have three points; they have been cut off leaving flat edges.

The feathers are mostly black, but there are a few pink ones as well. These feathers are soft and gentle, but they do fall out easily. The ribbon bow that is attached is two black stripes with one pink stripe in the middle. This ribbon is silky, but really only adds to it visually.

The plastic stick is what you have to hold onto. It is flexible, but sturdy. If enough pressure were to be applied to it, it could break. Since the stick handle is flexible it gives you room to make a good swing without moving your hand much.

The leather actually does not have that lovely leather smell, but it is really effective. When it makes contact with the skin it leaves a nice stinging feeling. This can leave welts on your skin, but nothing that will not go away shortly afterwards.

Material:

Feather

/

Leather

Material safety

Color:

Black

Length:

20"

Width:

2 1/2"

Weight:

0.8 oz

Performance:

No matter which end is used this feather spanker gets its intended use done. Over time the feathered end can become less effective, since feathers do tend to fall out, but if stored properly they should last. The crop end works exceptionally well. It manages to provide the desired stinging sensation that a potential user would be looking for. The person doing the spanking is in control, so it will vary as to how much of that stinging feeling would happen.

Care and Maintenance:

The only part that should need cleaning is the leather crop end, which can be done by wiping with a damp cloth, but you can use mild soap if needed.

The feather spanker can be somewhat difficult to store, since it is long it may not fit in a drawer. It would be best to store it in a tote bag in your closet or underneath the bed. The size is suitable for travel if your bag is long enough.

Personal comments:

Overall this feather spanker is well worth it. It is getting four stars, since the feathered end does shed.

Other

Texture:

Smooth

Special Features:

Safety features:

Food-grade material / Hypo-allergenic / Latex free / Phthalates free