California Exotic Inked restraints tattoo wrist cuffs - Wrist cuffs from California Exotic

Inked restraints tattoo wrist cuffs videos
Product Details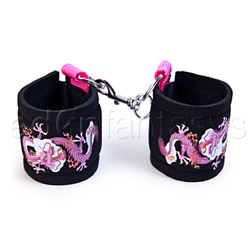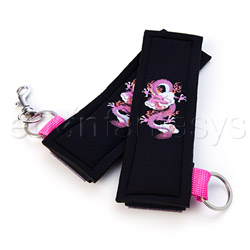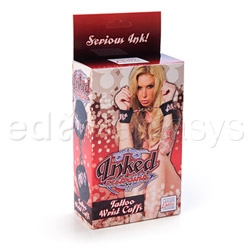 Summary:
An elegant touch to your BDSM collection. A quality set of wrist cuffs for anyone looking for a rough night. These cuffs are strong and can be used with rope for any play you might be looking for. Beware, these cuffs chaff in all the right ways; having your wrist feeling sore in the morning. Great for beginners looking to see how much force they like from cuffs. Excellent for advanced users who like a little fight with their bondage nights.
Pros:
Strength, well made, great design
Cons:
Chaffing from the back of the velcro
Best use:
These wrist cuffs are an excellent addition to anyone's collection of BDSM toys. Very strong out of the box and decently made. The dragons add a wonderful touch, suggesting power in what you are doing. The velcro closure for these cuffs make it easy to adjust to most wrist sizes without worrying about the cuffs coming open. They can be used as ankle cuffs for people who have smaller ankles, but I would purchase their sister set of ankle cuffs for that job. Great use for beginners and advanced kink alike. These wrist cuffs will allow a beginner to test out their strength, seeing how much pull and tug you like in your play. Advance users will love the versatility one can achieve with the O rings and just how much weight you can put on the cuffs. These are even a great design for people who might just want that extra touch on their wrists!
Design / Craftsmanship / Material / Size / Fit:

The first thing I noticed when I got them out of the packaging was that the dragons. These pink power symbols are silk screened on. The cuffs themselves are a black synthetic rubber called neoprene, while the cuff loops are pink color, brighter then the dragon. Being that the cuffs are neoprene, they do have a rubber smell to them.

The rubber is soft, but can only be felt on the outside. Since the inside is lined with the velcro, it takes a while to shape these to your wrist. Depending on your usage, they may never take a true circle shape. The rubber cuff is 8 inches, but it becomes 10 inches when the velcro fastener is out. These cuffs have O rings and a clasp to keep your wrist together. The play you have with this set up is about 5 inches. I would suggest taking the clasp off and using some good rope to extend the reach, or if you wanted to use these for more suspension work. The cuffs are held shut by strong Velcro. I thought that this might cause the cuffs to open if a lot of pushing and pulling was happening. I was surprised when no matter how hard I pulled, they didn't come open. The only issue I found with the Velcro was you can hear it working and it makes for an odd noise when you are playing.

The box says one size fits most wrists, adjusting up to 10 inches. I found when I put them around my wrists I could overlap the material. I find this wonderful, because the cuffs could fit a person with very large wrists. I can use these and then put them on my large partner.

Material:

Neoprene

/

Nylon

Color:

Black

Length:

8"

Closure:

Swivel clip / Velcro

Hook style:

O-ring

Weight:

3 oz

Performance:

These cuffs performed admirable straight out of the package! I found that I could use a good amount of weight with these cuffs and there was only minimal warping. Tied to the head of the futon frame, or arms above my head attached to a hook, these bad boys put up with some heavy stuff! I would suggest using rope with the O rings to allow a little more play room if you use these for suspension purposes. The O rings with the clasp don't provided a decent amount of room on a hook, but are nice if you are using them free form.

The problems I find with the cuffs are the inside texture and the noise. If you use the smallest setting for the cuffs you find that your wrists are surrounded by the velcro fabric. After a few moments of play the cuffs started to rub me the wrong way, leaving red marks and dried out skin from abrasion. The smaller the wrist, the more sore your skin will be when you are done. Also, when used on the smaller wrist, the synthetic rubber makes a tear drop shape. When you open the cuffs up, they make that familiar rip that comes with having Velcro. This makes it quite noisy and may impede on public play.

Care and Maintenance:

Since the wrist cuffs are made out of neoprene, they can stand up to water. Use some soap and water to rinse these off. I would suggest patting them as dry as you can, then letting them hang dry for a few hours due to the nylon cuff loops. You can lay the cuffs out flat for storage and tuck them pretty much anywhere. Completely flat with the velcro fastener tucked up, the cuff is 8 inches. This allows you to slip these cuffs most anywhere. You can also attach the cuffs together at the velcro ends to ensure that they stay together.

Be careful of putting these to close to jelly toys, seeing as the jelly could acquire the rubber smell.

Packaging:

The product came in a flashy box with a tattooed women wearing the cuffs. The box is very straight forward, so when you look at it you know you are getting wrist cuffs. There are no instructions with the packaging.

I wouldn't suggest using this box for storage, seeing as the cuffs are smaller and more versatile without it. The package is a bit deceiving, seeing as the cuffs don't allow for the space they take up on the box. Cuffs come attached at their velcro ends on a plastic bag.

The box is wonderful for gift giving, but only to those who know what they are getting. This one won't slip by your parents so easily.

Other

Size:

One size fits most

Texture:

Smooth

Fits up to:

10"