Very useful despite their pinkness
These cuffs are mostly comfortable, pretty cool looking, sturdy, and very adjustable. For playtime, they're great. For wearing out, these are rather large and obvious when you're wearing them. The main thing I wish is that there'd been some choice in color, as I don't generally wear pink anything. Also, they can chafe if you wear them for too long. However, despite a couple of foibles, I really liked this set of cuffs.
Published:
Pros:
Comfortable, adjustable, sturdy, easy to care for.
Cons:
Pink, edges can be scratchy, not for large wrists.
When I got the Inked Restraints wrist cuffs in the mail, my first thought was that I was glad I waited until the kids were in bed before I opened the box. They come packaged in a large cardboard box with a naked woman on the cover. Granted, she's strategically covered by the cuffs themselves and the company logo, but the box is anything but discreet. Inside the box, the cuffs were packaged in a simple plastic bag. There are no instructions in the box, but the box itself is informative, telling what's in the cuffs and stating that the hardware is nickel-free.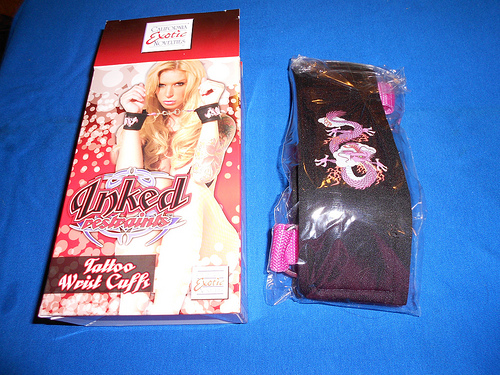 Taking them out of the package, I was amazed how "squishy" they were. I know they're made of neoprene, but I didn't expect them to feel so foamy. I also didn't expect the dragon picture and hardware holders to be so
pink
. I mean, I know the listing said they'd be pink, but they're seriously a bright, Strawberry Shortcake pink. In my opinion, the pink clashes with the orange flame coming out of the dragon's mouth, making it harder to notice.
The item listing says they'll fit up to an 8" wrist, but, considering that the cuffs themselves are 8" long total, I'd say if you want the Velcro to stay closed, you wouldn't want to use them on a wrist or ankle that was bigger than 7" around. Also, when you first take them out of the box, they're rather stiff, but a bit of time and wear makes them much softer and helps them fit better.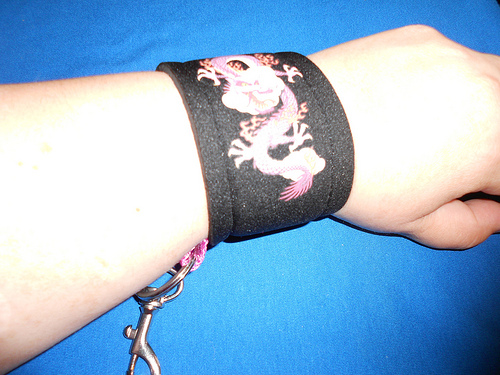 The inside of the cuffs are lined with Velcro: 5 1/2" of loops and 2 1/2" of flat nylon webbing, which attaches the 2" tab of Velcro hooks. The cuffs are about 2 1/2" wide, and the Velcro inside is 2" wide.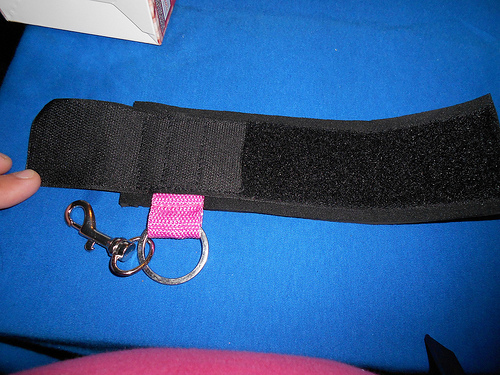 Because of the length of Velcro, you're either going to have exposed hooks sticking out or a flap of the neoprene cuffs sticking up after you fasten them. Because I have relatively large wrists, I end up with the hooks sticking out. That's not too bad, but I have had them stick to clothing, sheets, and other things that Velcro hooks stick to, including my hair. Also, since the entire inside of the cuffs are Velcro, the edges can be scratchy, especially in the gap between the cuff edges.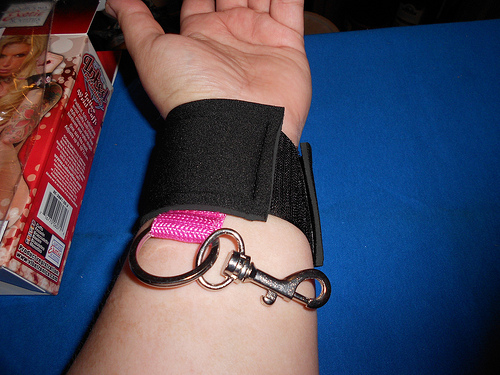 A pair of metal split rings, about 2 inches in diameter, are attached to the edge of the cuffs with pink webbing that feels like nylon. One of the cuffs also comes with a simple toggle clasp attached to the ring. The hardware is sturdy enough to hold up to my moderate pulling when they're hooked together, but I don't think they'd hold up for serious suspension. The rings are large enough that they could easily accommodate a variety of things, including rope, a larger clasp, or some chain if you wanted to customize these.
Remember, these use Velcro, so whoever is wearing them can escape relatively easily. The cuffs take some work to pull apart thanks to the thickness of the Velcro, but if your hands can reach each other, you can easily pull them open or undo the clasp that comes with them.
These are easy to clean, holding up to soap and water or toy wipes just fine. The image on the cuffs is screen-printed on and hasn't faded at all yet since I got them, even after being washed. Eventually dust and lint might build up in the Velcro, but it's so thick that it'd take a lot before it effected how well they closed. Since they're neoprene, they're technically waterproof, but I haven't worn them in the tub or shower. I do know that when they're wet they tend to slide around your wrist easier.
As for storage, you can make a cuff sandwich with the Velcro flaps inside to stick them together. That helps both protect the Velcro and makes it so it'll be easy to find them both later. Mine usually sit on a shelf stuck together like that right next to my collar. They're easily small enough to stash anywhere else you'd want to as well, although I'd recommend making sure they're flat so you don't leave a crease in the neoprene.
Experience
I've used these cuffs both for decoration and foreplay, and they worked well for both. Dragon likes to clasp them around the foot of the bed while I'm on the floor or around a spindle of the bedpost while I'm on the bed, and in both cases there's just enough slack that I can move without getting very far. There is some chafing at the edges of the cuffs because of the stiff nylon edges of the velcro, but it's liveable. I do not, however, like to sleep in these cuffs because they slide around and get uncomfortable after a while if you don't keep adjusting them.

As for display, I wore these all day at the Indy Pride Festival last June. The neoprene was comfortable, and while they were a bit hot, they soaked up sweat to the point I didn't even notice it. Actually, I hadn't even realized I had sweat under them until I pulled them off and noticed the strip of pale, waterlogged skin. Since they're neoprene, cleaning them was a breeze. I just washed them off with dish soap and water, rolled them in a towel to soak up the extra water, and let them dry. They still look as good as new and I think the washing actually left them a bit softer.
This content is the opinion of the submitting contributor and is not endorsed by EdenFantasys.com

Thank you for viewing
Inked restraints tattoo wrist cuffs
review page!