Bad Kitty Lace set - BDSM kit from Bad Kitty

Product Details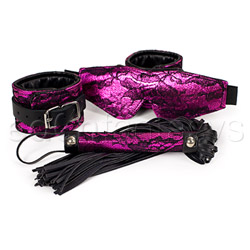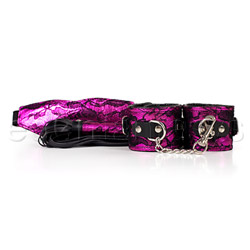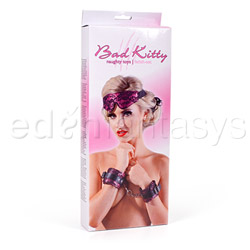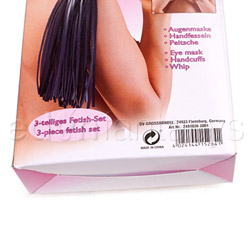 Summary:
This is a decent little beginner's bondage set for mild play. It is synthetic material, but serves its function well. The flogger is weak for more advanced users, but the blindfold and cuffs do their job pretty well. The price is reasonable, and this is a good entry-level kit overall.
Pros:
Pretty looking, well made, practical, good price.
Cons:
Flogger may be weak for most, material on blindfold is a bit stiff.
Best use:
The Bad Kitty lace set is a beginner's bondage set for couples looking to explore some light bondage. It is well made, pretty in appearance, and functional - a perfectly good set for someone just starting out. The set comes with a set of cuffs, a blindfold, and a little flogger.

The cuffs are adjustable, like a belt buckle style. The mask is one-sized and elastic. My head is larger than average, and I was able to slip it on easily, so it should fit most. The flogger is small and light, being synthetic material. They are all adorned with a pretty purple/pinkish, shiny and satiny fabric.

This is good for a beginner who wants to tie their partner to the bedpost and experiment with some light bondage and S&M. Experts will want something more substantial and probably leather.
Design / Craftsmanship / Material / Size / Fit:

The material is Polyurethane, but kind of feels almost like leather. The faux leather feels good against your wrists. The eye mask is slightly stiff compared to ones I've used before that were cloth, but it will mold to shape with wear/use. The flogger is rather light and will not inflict much pain. It's more of a showpiece or intro for beginners, I suspect. It will provide some tease, without worrying about going overboard and hurting your partner.

There is a clasp (like a dog leash) that can connect the cuffs together if you want the arms tied up together, or you can hook them up to the bed (or whatever) separately with arms spread. The materials are not the best or worst I've ever felt. The belt straps have a bit of stretch to them, and I worry they could wear a bit over time if you had them fastened too tight, but with normal use they should be just fine.




Material:

Polyurethane

Material safety

Color:

Black / Purple

Closure:

Buckle

Weight:

1 lb

Performance:

The product definitely met my expectations. I'd prefer a softer material for the mask, but it works just fine and is relatively comfortable. The cuffs are great, functional, and comfortable. We are not into spanking and flogging, so we won't get use out of the flogger. It's not one for someone who is advanced or serious about flogging, for sure. It's designed for light play and beginners in mind, as is the set as a whole. I'd say for what it was designed to do, the kit serves its purpose well.

Care and Maintenance:

These should not require much care, but I'd suggest wiping the insides of the cuffs and blindfold with a damp cloth, and drying before storage. There is not much else to really worry about care-wise. These can be stored in a drawer or pouch.

Packaging:

The packaging is minimal: a cardboard box with a picture of a nude woman, covering her breasts, wearing the cuffs and mask. The backside shows the flogger and some info about the product. It is recyclable and not discreet. You could use it for storage, but there is no need for it.

Personal comments:

The set looks very nice and feels pretty well-made for the price.

Experience:

This set of cuffs, blindfold, and flogger is a nice little beginner set. The cuffs are comfortable to wear and keep you bound, while the blindfold does a pretty good job of obstructing your vision. The flogger is not for anyone into receiving serious pain, but can offer a taste or tease of things to come for a novice or curiosity seeker.

The set is very attractive looking, if aesthetics matter to you.

Other

Size:

One size fits most

Kit includes:

Eye mask, Handcuffs, Whip