Zado Leather whip - Whip from Zado

Product Details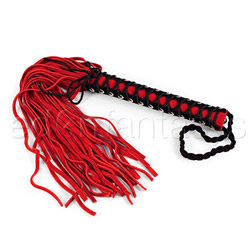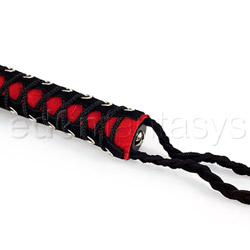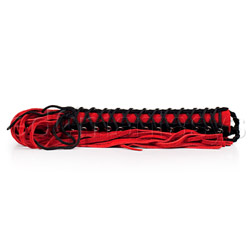 Summary:
Ever wanted a flogger that exuded not only that dark and edgy BDSM-vibe, but also one with a touch of class and style? The Zado, without a doubt, meets that standard! Whether you are into light or hardcore spanking, or are into the BDSM scene or only dabble in it in the bedroom, this flogger will satisfy everyone. It's soft, but can also cause some bite, depending on the Master/Mistress and the sub/partner involved. Don't be shy, and don't be afraid to be rough.
Pros:
Genuine leather, classy, stylish, sexy, for light and rough BDSM play.
Cons:
A very high-maintenance care product that may not be for everyone.
Best use:
Whether you like to use whips for hardcore BDSM play or just to add a little bit of extra spice to the usual foreplay routine in the bedroom, the Zado leather whip has it going on for both scenarios. Beginners won't be intimidated by this whip. The more advanced users won't find it amateurish. The tendrils are soft enough to where you can do light spanking play without creating much, if any, damage, but if you really use it hard and rough enough, it can certainly leave some marks and have your partner or sub begging for more. You can use it on areas such as the buttocks (of course!), the breasts, back, and thighs, at kink parties or in the privacy of your bedroom.
Design / Craftsmanship / Size / Material / Features:

I have had many floggers throughout the years, and I must say the Zado whip is by far one of the most gorgeous and well-crafted ones of the bunch I've come across in quite a while.

It is lightweight. It's aesthetically stunning enough to where, even if you may not use it, it's a flogger worth showing off to your kinky friends. The craftsmanship is exquisite in every way. The handle of the flogger is designed to look as if it was wearing a corset, with string lacing tying it together to create that illusion. The raven black against the crimson red might be a tad cliche, but it is quite a sight to behold and works quite well for this flogger. The tendrils are made of crimson red leather. Not only is it beautiful, but it smells fantastic (that is, if you are a fan of strong leather aroma). The leather is soft in its texture all throughout this product. Anyone who owns leather products knows that leather is not an easy material to take care of, so the better you take care of the leather material, the longer this flogger will last.

Material:

Leather

/

Suede

Material safety

Color:

Black / Red

Length:

24"

Width:

1 3/4"

Weight:

2 lb

Performance:

At kink parties I attended, these are the reactions I gathered from those who saw me flaunting or using this flogger:

-A lot of people commented on how beautiful and soft it was!

-The partners I flogged loved how this flogger could create a strong, stinging impact despite its softness. Whether used on their genitals, back, buttocks, or thighs, it wasn't "too much," but wasn't "not enough," either. It was perfect in whichever speed and roughness level I utilized.

-It also makes a great tickler! After you've spanked your partner, you can use the tendrils for some relaxing after-care play, or use it in between the spanking to titillate and tease your partner before going rough on him or her.

Care and Maintenance:

I like how Zado has included more than enough information as to how to care for the leather material of this flogger. The "hints" they suggest are:

-If the flogger has light dirty marks, use a cloth with soap free of perfume.
-Use special level cleaners (not included) if the spots are persistent.
-DO NOT use aggressive products like benzine; they will wear and tear the material.
-DO NOT store in a plastic bag or in the wardrobe. Most likely it will cause mildew to the leather and rust to the metal parts of the flogger's handle.
-Avoid exposing the flogger to heat and strong moisture.

If proper care is not maintained, the leather will dull and get rough, and eventually harden and crack.

Packaging:

The packaging is very sexy and erotic, without it being tacky or cheesy. The models are gorgeous and exude that essence of class, style, and danger, just like this flogger!

Other

Special Features:

Safety features:

Phthalates free