MMmmmmm Leather!
Leather floggers are a sort of passion with me. I love the smell, feel and sting of a leather flogger and the Leather Whip meets all the criteria I have for what makes an impressive and useful flogger. I think I am going to be liking the Zado line...
Published:
Pros:
All leather
Good fall length
Well balanced
Cons:
Leather can be hard to care for
I love leather and I love floggers so when the two loves of mine came crashing together my buns rejoiced! Yes I also love a good flogging and all the resultant hormones.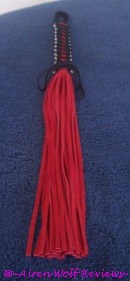 This is a medium length flogger so you won't be left trying to find a vaulted ceiling type room to properly swing the thing! The falls are approximately 15 inches long and about 1/4 inch thick. Now thinner falls can lend a very stingy type of strike but there are over 30 falls so the strike ends up being a nice cross between a stinging strike and a good solid thump. This versatility lends a new dimension to a good flogging as the giver can change up how and where they strike to get a sting or a thump. The sueded leather falls also provide a sensual finish or even beginning to a flogging as they are dragged over the skin.

The handle has a great wrist/hanging strap that can fit any size wrist. I recommend hanging any flogger so that the falls hang straight to prevent the falls from becoming knotted or twisted. The handle has amazing visual appeal with it's lace up looking feature and gorgeous brads. I don't like the way the lace unties during play but that's just a nitpicky little thing that is easily overcome. If you unlace the leather handle cover you can see that the red suede is nailed onto the wooden handle and that it is unlikely to ravel or fall apart with rough use.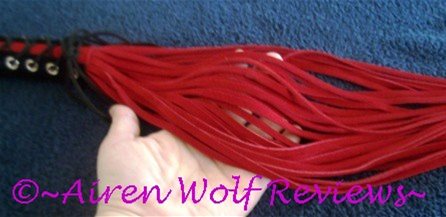 This is a leather flogger and it has that heavenly leather smell. This is a bonus in my book...a really good bonus! It does, however, pose a problem for caring for the flogger. Leather can mold and mildew if it gets wet, and in the sunlight suede and leather can fade or turn blotchy. Suede can shed with use and this is a strikingly red colored flogger. I haven't seen any shedding with my flogger but I have heard from other reviewers that theirs has shed some. The user will want to be careful to store the flogger in a dry area and not get it wet. Since this really isn't the type of flogger that will cut the skin, unless the giver is totally over the top, blood shouldn't be an issue.
I wouldn't recommend leather cleaners because they can be rather caustic and lots of people develop allergic reactions to the chemicals in them. YOu are abrading the skin and leaving a chemical trace with each strike so you can see the real problem. A damp cloth and a thorough drying should be all you need to keep your flogger in tip top shape. If it begins to look a bit dirty shake it outside and let it hang in sme direct sunlight for a few hours. This will refresh your flogger and not fade or sunbleach it.
This product was provided at a discounted price in exchange for an unbiased review. This review is in compliance with the FTC guidelines.

Thank you for viewing
Leather whip
– sex toy review page!