Jimmyjane Little afterglow sampler - Massage candle from Jimmyjane

Little afterglow sampler videos
Product Details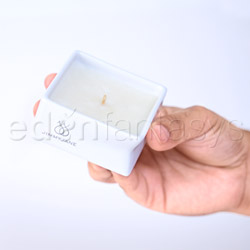 Summary:
The Little Afterglow Sampler Set is a sumptuous smelling assortment of six decadent candles from luxury company Jimmyjane. Arriving in sleek packaging and tied off with a pink ribbon, the sampler makes a perfect gift. And from the porcelain candle votive vessels to the provocative scents themselves anyone would be happy to receive them...including you! Treat yourself or a loved one to a little taste of Jimmyjane's finest sensual products.
Pros:
Natural ingredients, leaves skin feeling soft, beautiful scents, stylish packaging, lasting massage.
Cons:
Scents may be to strong for some.
Best use:
Jimmyjane's Afterglow Sampler includes six small scented candles that can be used for setting the mood and filling a room with a delicious fragrance or as a massage oil. The soy wax melts easily when lit and pools into a luscious and highly scented oil that glides thickly and easily over the body for a truly memorable massage. Made from all natural materials it is safe for even the most sensitive of bodies as well as great for the environment. These candles are just as at home on a mantle while having company over for dinner as they are in the hand of your lover. Versatile and luxurious they are a great investment for everyone from the skilled sensualist to the inexperienced beginner.

While these candles are made from natural materials and are great for the body, they should not be used as lubricant for vaginal or anal play. Oil based lubricants can breed bacterial infections when used internally, and the ingredients used for fragrance may be irritating to sensitive mucous membranes.
Texture / Consistency / Thickness / Viscosity:

Jimmyjane's candles have a very greasy, slick feel to them even when unlit. The warmth of a fingertip will leave a thin trail of oil behind it when rubbed across the surface, and within 60 seconds of lighting a small pool of oil will have already collected. Fifteen minutes of burning will give you a pool sufficient for a full body massage.

The oil pours very easily (and neatly!) from the pointed spout of Jimmyjane's trademark porcelain votive holders. Its spout prevents there being much dripping or run-over along the sides of the jar which means clean sheets and surfaces and oil only where you want it: on the skin. The oil itself appears very thin when being poured but actually spreads thicker and heavier than many seed oils such as sunflower or grapeseed oil. It does leave a slightly waxy residue and those that do not like the sensation of product lingering on the skin may not enjoy this one. However, for most the texture should be very pleasant and not too obtrusive. It's not terribly greasy once worked into the skin a bit although it does not completely absorb into the skin without a very thorough rub down.

Taste / Aroma:

Jimmyjane's candles seem to vary from batch to batch in terms of their intensity. Many reviewers describe strong and almost overwhelming scents, while others mention much more faint effects. This particular set was quite strong in my experience and simply leaving an unlit candle out in the room was enough to fill it with fragrance. Please keep in mind that these are made for aromatic, sensual massages, but the soy wax is not meant to be ingested. It is not as pleasant to taste as it is to smell!

The scents of the set are divided into an unusually clinical looking chart with three sections: wit, charm & kink. There are two scents to each section, each distinct but similar in their profiles. In the wit section are the grapefruit and cucumber water scents. Grapefruit is fizzy and citrus smelling, very realistic and true to the aroma of a freshly cut grapefruit. It's a fun, tangy scent that you might expect from a pot of flavored lip gloss. Cucumber water is a similarly fruit scented with cassava or otherwise melon overtones and subtle hints of greenery. It is also fun, fruity and not terribly sophisticated. Both of these scents are appropriate for those that enjoy lighter, less complex scents and are easy on the heads of those sensitive to strong perfumes.

The next section is charm which contains dark vanilla and pink lotus. Dark vanilla is a simple baked good scent with hints of spice, smelling very much like vanilla extract wafted from a bottle or perhaps angel food cake. It's homey, warm and very comforting. Pink lotus has a non-specific floral scent that is airy and sweet, with a light musky undercurrent. In spite of its ethereal sweetness it maintains a similar warmth and coziness that makes it a very comfortable bed fellow of the vanilla. Both of these scents are slightly more mature, sensual and a bit heavier, but neither are overwhelming and should still be tolerable to sensitive noses.

The final category in this sexy taxonomy is kink, and the bourbon and truffle & gardenia scents belong to this family. The bourbon does not smell even remotely alcoholic or similar at all to bourbon, but rather like the kind of pleasant, smooth department store colognes marketed toward men. It's very musky and very strong and may be overwhelming or unpleasant to those that do not favor powerful fragrances. Truffle & gardenia is similarly powerful smelling and quite like a pungent floral cologne. There is no discernible truffle mushroom scent, which is the intended scent as opposed to a chocolate truffle. This is heavier on the flowery scent than anything else and may offend sensitive noses. These two fragrances easily fill a room and are perfect for setting a pronounced and commanding sensual tone, but beware those prone to headaches! Otherwise these stately and romantic scents are ideal for massage and mood, especially for more seriously sensual sessions.

Fragrance:

Bourbon / Cucumber water / Dark vanilla / Grapefruit / Pink Lotus / Truffle + gardenia

Performance:

Jimmyjane's Sampler Kit will last you quite a long time with roughly 12 hours of burn time to each candle - if the product is burned thoroughly and completely each time all the way to the edges. Jimmyjane's candles sometimes have an off center wick that may cause slightly uneven burning, but if left for roughly 45 minutes lit the wax should become liquefied out to the edges of the porcelain votive. As a massage product the oil is long lasting, staying slick on the skin for around fifteen minutes before a new application is needed. Once absorbed, the skin is left smooth and nourished, although it may retain a bit of heaviness and a slight greasiness. It does not need to be washed off with soap and water although it certainly can be if any residual oil on the skin is bothersome.

Packaging:

Volume:

1.7 fl.oz.

Weight:

2 lb

Other

Burn time:

12 hr

Width:

2 1/2"

Height:

1 1/4"

Special Features: