A Perfect Amount
As candles these little guys fell down on the job. I don't know if my bedroom is just that drafty or what the problem was but it was a disaster on the mood lighting front. HOWEVER, this set gets super high marks for elegance, for the quality of the oils and for the amazingly complex scents of the oils.
Published:
Pros:
Excellent ceramic containers, amazing scents, amazing oils
Cons:
Scents are overpowering and long lasting, Mine didn't burn well at all
We love a great massage oil and even better a warm oil massage. When this set first came out we were still working our way through Kama Sutra And Shunga products so we waited a bit before ordering it. I am sort of glad we did.
The Little Afterglow Sampler Kit from JimmyJane is an amazing little kit and I thoroughly recommend it to anyone who likes giving or recieving a massage. The range of fragrances in this sampler is sure to please just about everyone and the oils are fantastic.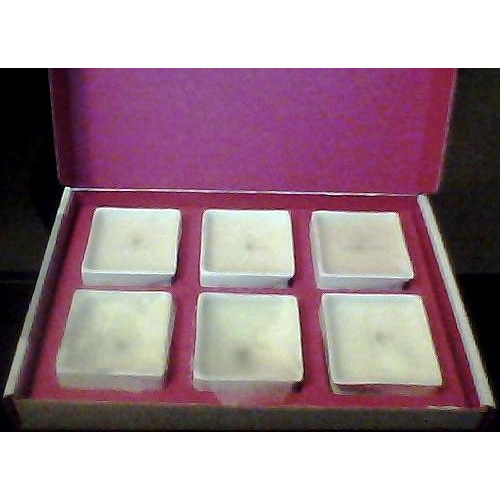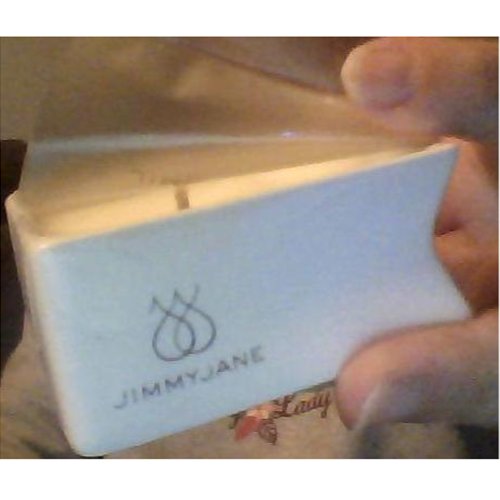 You get a whopping 6 candles (48 grams per) that are in ceramic candle holders that have a pour spout. You also get a lovely little booklet that explains everything you need to know about using the candles. It gives the usual advice:
*Trim the wick to 1/4" before each use to maximise burning potential.
*Burn for 45 minutes in a draft free area before carefully pouring the oil onto the skin of your partner in small quarter sized pools.
*Before you put the candle away be sure to recenter the wick for next time.
What I found was that the wick once trimmed on some of the candles would go out just as soon as about 1/2 of the top of the candle was liquid. It didn't melt evenly no matter how flat the surface it was sitting on and the wick burned clean away in one sitting with two of the candles! I found if I left the wick untrimmed we got more burn time. Your mileage may vary, of course.
That being said I did find that I could scoop out the cold, soft candle wax and use a massage oil warmer to melt the oil and it worked perfectly. I have also placed the ceramic container in a pan of water and brought it to a boil carefully to melt the wax for massage. The melting temperature is low for these candles but the user should test the oil carefully before drizzling it over a partner. We like these candles as massage oil more than as candles to be perfectly honest and we've already got plans on buying another set!
You could also dip up a bit and massage it into elbows and heels if you have dry skin.
The oil is chock full of botanicals and really does leave your skin feeling soft and moisturized. The oil is heavily perfumed, however, and will perfume your skin, your room, possibly other rooms and your bed linens. This is amazing if you like the scent, and not so much if you don't! Fortunately we absolutely love the scents and sleeping in the bed after a massage is just luxury.
We use a
Fascinator Throe
when we do a massage but the fragrances are so complex and powerful that it sort of impregnated the linens.
Now, we do take a shower after using these oils because Sigel and Arch ave very sensitive, allergy prone sinuses but you could simply go to sleep and not have problems with clogged pores or that greasy/waxy feeling on your skin in the morning. The oil washes cleanly away with soap and warm water without leaving any residue.
Experience
The six scents you recieve are broken into three categories: Wit, Charm, Kink. The categories are further broken down into 2 subcategories: Wit becomes Explore and Provoke, Charm becomes Connect and Flirt, Kink becomes Seduce and Intrigue. Each of the candle scents fits one of these sub categories:
*Explore is Cucumber Water- Cucmber Water has a spicy but lightly sweet scent that is very reminiscent of cucumbers. It is cool, tart and clean smelling.
*Provoke is Grapefruit- Grapefruit has a sharp scent that really reminds you of grapefruit but in a very slightly floral way. It is a distinct fragrance and one of our favorites. It is spicy and warm smelling, very provocative.
*Connect is Pink Lotus- Pink Lotus is is very sweet smelling and has a low spice quality to it. It is cool and refreshing. It is one of the scents that smells best if it gets on your bed linens and won't irritate sensitive noses as esasily as the previous two. It is lightly floral and also very refreshing. It reminds me of an oriental garden in the early morning mist.
*Flirt is Dark Vanilla- Dark Vanilla is Sigel's favorite scent but gets overwhelming on bed linens. It has a dry, deep and rich vanilla smell that you can almost taste on the back of your tongue. It has light floral undertones but is one of the least flowery scents in the bunch. It is a very powerful but subtle scent that might leave your tummy rumbling!
*Seduce is Truffle+Gardenia- Truffle+Gardenia is an odd smell combination. You would expect it to be sweet with a sort of warm coco smell but it couldn't be farther from the truth! It has a delicate smell that is on the dry side but has definite floral notes. It's very hard to describe! It becomes more complex the longer you leave it to diffuse into the air. It doesn't transfer to the bed linens as easily as some of the other scents. Rather than being sweet gardenia it has the more delicate smell of actual gardenia flowers without the scent boost that perfumes usually employ. To me it almost smells like crayons just out of the box. Not my most favorite scent even though I truly love gardenias and gardenia perfumes.
*Intrigue is Bourbon- Bourbon is the liveliest scent as far as I am concerned! It has noted of cherry with the back bite of alcohol. Now I LOVE bourbon the smell is as intoxicating to me as the drink is and this candle manages to capture that feeling perfectly. It transfers to bed linens but doesn't irritate sensitive sinuses, in fact the longer you sleep on it the better! I was sooooo reluctant to change the bed after the week was up lemme tell ya. As you can tell I really, really liked this one. Warm, sensual, smooth and relaxing that's how I'd describe this scent.
Follow-up commentary
9 months after original review
An interesting thing happened a few days ago. I was cleaning my bedroom and I realized that this little kit had been stuck on my dresser and wasn't being used. I am not a packrat so I decided that maybe it was time to do away with these candles since Sigel had complained that they were a bit too overpowering.

I set the box off to the side ready to be gifted to a friend or simply tossed. Sigel looked at the pile of stuff to be recycled or tossed and picked up the Afterglow Sampler box. He opened the box and a look of intense rapture flowed over his face. He couldn't understand why on Earth I would toss such an amazing set!

It would seem that when I bought the set he was suffering from an acute sinus infection and the scents were painful. Now that he is no longer hurting from the infection the scents are powerful but not painfully so. We have rediscovered the joys of warm oil massage and I am very thankful that he checked into the "pile".

I would recommend to anyone who has the set and found it wildly overpowering that they give it another try as the scents mellow over time without losing the fresh, spicy qualities that make these candles something really special.
This product was provided at a discounted price in exchange for an unbiased review. This review is in compliance with the FTC guidelines.

Thank you for viewing
Little afterglow sampler
– massage candle review page!