Spartacus Male chastity belt - Cock and balls device from Spartacus

Male chastity belt videos
Product Details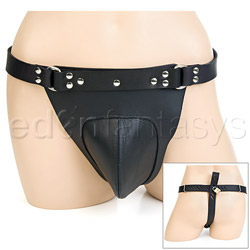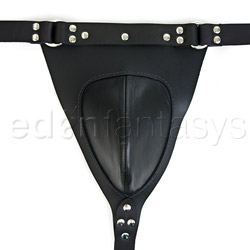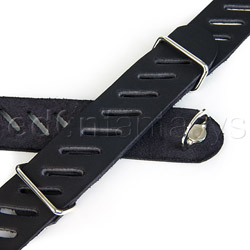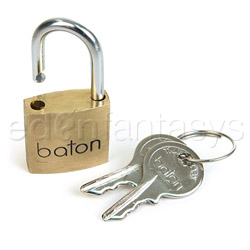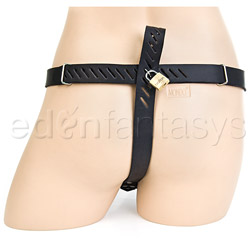 Summary:
This is a male chastity belt designed to prevent substantial, but not all access to a man's cock and balls during foreplay. Naturally, it also prevents sexual intercourse until the male is unlocked. This can be used to tease the man, delay foreplay, or as non-painful torture device.
Pros:
Incredibly soft leather. Fits a wide range of body sizes and works as described.
Cons:
Initially awkward to understand straps and lock. As there are no instructions, practice before use.
Best use:
This male chastity belt is one leather toy that has endless potential. It can be used as a simple toy to change up the routine in the bedroom between either a male/female or male/male couple. It can be used to create a surprise, used to ensure that foreplay is much longer or used to torture a male in a variety of endless and creative ways.

We found that his cock could be touched and teased through the leather or the sides of the pouch, but perhaps not as much contact as he's used to. Perhaps we'll try a tighter fit next time?

When properly fastened, there is no way that my husband thought he would be able to be the contortionist and remove the belt or unlock the lock. The pouch size isn't adjustable, and the fit is determined by the waist and leg straps.
Design / Craftsmanship / Material / Size / Fit:

Made of quality leather and adjustable to a wide range of bodies, this is a product that will last you for many years. It appears that it will fit at least a waist of 31 inches to 53 inches based on my tape measure. The straps are cut with slits to accommodate the extensive range of sizes although with the smaller sizes this does lead to strange overlaps. The pouch for the man's crotch is not adjustable, although it allows for comfort when the cock is both flacid and "some" flexibility and comfort during an erection.

Material:

Leather

Material safety

Color:

Black

Closure:

Lock

Weight:

0.5 lb

Performance:

With an unexpected evening in mind for my husband, he started blindfolded and was given instructions on how to move to step into the chastity belt. Unfortunately, with a lack of instructions from Spartacus, I made certain assumptions about how it was worn. The straps soon slid looser and he we eventually needed to pause and reassess. This meant re-locking him in. It is essential that the lock go through both of the waist and leg straps. The lock is somewhat small for this and it is somewhat of a difficult maneuver to manage. Once in place, however, the waist straps are unable to slide and your creativity can be the boundary.

The male chastity belt also serves as a protective device for the cock. He was hit with a small flail and found that this was "fearful" but quite pleasant.

Care and Maintenance:

This is not an easy item to store discretely. Between a leather cock pouch that does not collapse in any way and three long leather straps, it is a pretty unique item. I recommend either a toy box or hanging in the back of a closet - it will take about 8 inches of space. This may be something that should be considered when purchasing.

I also felt that the storage of the keys is somewhat difficult. It's essential to keep the keys with the lock and the lock with the chastity belt. I ended up attaching a small metal ring designed for keys to one of the metal harness pieces so that I had a place to attach the keys.

Packaging:

At the time that I received this, it was packaged in a simple plastic bag. There were no instructions.

Experience:

My husband and I had a lot of fun with the male chastity belt! It was one of the more unique 'toys' that we've explored in a long time. It certainly removed any uncertainty over timing from his mind - he didn't have any options. There is the necessity of actually staying aware enough to "remove" the lock, but he might have survived it I was in too much of a daze to be able to unlock him!

Other

Size:

One size fits most

Safety features:

Phthalates free

Max stretched diam.:

8"

Style:

Cock sheath