Toy's heart Fella-crystal - Blow job imitator from Toy's heart

Product Details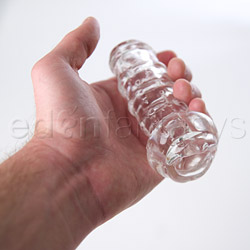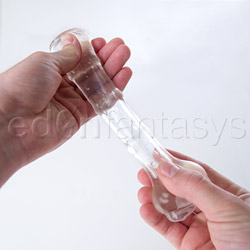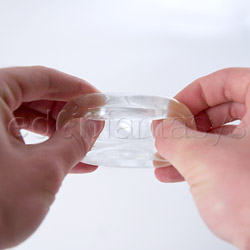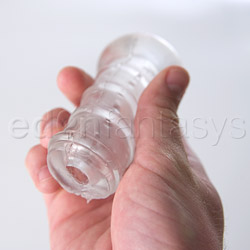 Summary:
Toy's Heart's Fella-Crystal is a straight forward male masturbation sleeve. The opening is mouth shaped. The TPE is very stretchy so it should work well for most guys. It is clear so you can see all the action as it happens. It is open ended which makes it easy to clean and you can slide right through if you want. The exterior has a few ridges and bumps to make it easy to hold even when you've got lube on your hands. The interior is winding and ribbed. It all adds up to a good time.
Pros:
Stretchy, phthalate-free, easy to hold.
Cons:
For some it may be too tight for warm-up.
Best use:
It might not be too big, it might not be too small, but the Fella-Crystal might not be quite perfect either. It's clear, it's stretchy, a lubed up, erect cock slides right inside, what more could one ask for from one's male masturbator? The entry may be a little too tight, especially for large guys, but it is very stretchy, so once you're hard it should be able to accommodate most. The entry is supposed to look like a mouth, and it doesn't do a bad job, really, since the lips are pretty obvious. It is open ended, so instead of bottoming out, you just push out the other end. This means it could almost operate like a cock sleeve, but it is pretty bulky, so it's usefulness in that application is probably limited.
Material / Texture:

The Fella-Crystal is made from clear TPE so it should be phthalate free. There doesn't seem to be any odor with it, so that's a good sign, at least. The TPE is very stretchy. The texture of the exterior material is essentially smooth, but there are some ridges and bumps. These make the toy easier to hold on to even if you happen to get lube on your hand. The inside of the sleeve is where the action is and understandably so. This is where your penis goes, after all. The interior is a winding ridged tunnel which does a good job of stimulating the head and shaft.

Material:

TPE

Material safety

Safety features:

Hypo-allergenic / Latex free / Phthalates free

Texture:

Nubbed / Smooth

Shape / Design / Size / Fit:

The shape of the Fella-Crystal is essentially a shaft that widens at the opening (where the "lips" are). Aside from the rings and bumps, the rest of it is pretty straight. The design does its job well. The outside is easy to hold on to, the inside is very stimulating and the open end makes it easy to clean out after finishing up. The size is middle of the road. It's tight enough so nobody should be swimming in it, but it may be too tight for the largest guys when they aren't hard.

Color:

Clear

Length:

4 1/4"

Fits up to:

1 3/8"

Circumference:

4 1/4"

Weight:

5.5 oz

Functions / Performance / Controls:

Special Features:

Internal nubs and ribs
Super stretchy

Care and Maintenance:

TPE is safe to use with any lubricant except petroleum based lubricants. This means both water and silicone based lubricants are good to go. The TPE is easy to clean as well. Soap and hot water or toy cleaner will both work to clean it up. The TPE is stretchy enough that it can be turned inside out to really clean the inside well. There seemed to be a little extra TPE around the opening from the molding process, but it didn't affect the experience. It was easy to take off though with a pair of scissors or just holding tightly and tearing it off. The whole sleeve could probably be taken apart this way, but normal stretching doesn't seem to cause any issue. The TPR is somewhat porous, so no sharing without a condom, but it's probably not a popular notion to share a masturbator anyway, so that shouldn't be a concern for most.

Packaging:

Fella-Crystal's packaging is kind of unique. The sleeve is housed in a clear plastic case which sticks out of a larger cardboard case which allows for hanging. The plastic case is kept closed with tape since there isn't a good catch on it. If you aren't worried about it getting jostled around too much or if you want to keep it closed with tape or a rubber band, it could be used to store the toy. Make sure the toy is dry before putting it in there those, because it would have a hard time drying after it was "sealed" in there. The cardboard box has a lot of things written, on it, but as with other Toy's Heart products they are mostly in Chinese, so unless you speak Chinese you'll have no idea what they say. There is a scale from one to five where one is soft and five is hard. The toy is rated three on this scale, so presumably it is in the middle of the road for their product's hardness. There is also a topless hentai girl on the box, but she looks pretty innocent, without the large boobs that are common in the genre.

Experience:

My experience with the Fella-Crystal wasn't too extraordinary for a masturbation sleeve. The TPE doesn't feel quite as realistic as some of the more skin-like materials, but it is easier to maintain than those materials, so there's definitely a trade-off. At 4-1/4" The length isn't nearly as long as Fleshlight sleeves, so it is kind of fun being able to push all the way through it. I don't think it's going to replace any of my other sleeves, but it definitely has its place amongst them because it is pretty unique in my collection.