California Exotic Miho deep throat - Blow job imitator from California Exotic

Product Details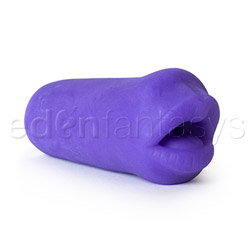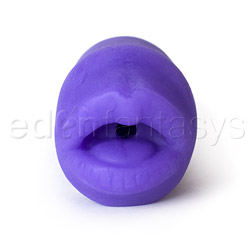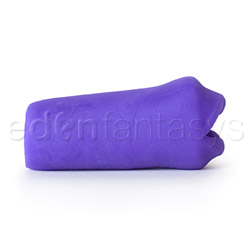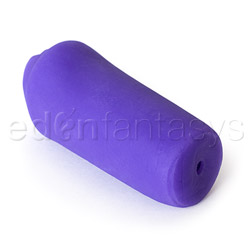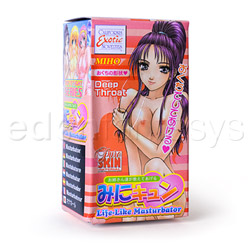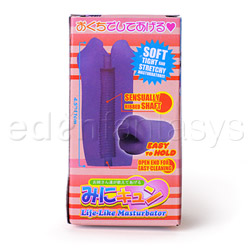 Summary:
The Miho is a simple tool that provides a ton of stimulation. The Miho has other favorable aspects, which include it being light and small, which makes it very travel friendly. The hundreds of tiny ribs may provide too much stimulation for those who prefer less simulation. Miho is to men as what the pocket vibe is for women.
Pros:
Light, easy to use, easy to clean, and very travel friendly.
Cons:
Could provide too much stimulation for some, and has a slight smell.
Material / Texture:

Miho is made from a material dubbed "Pure Skin", and as the name sounds it is specially created with a blend of special compounds to create a realistic fleshy feel.

Due to the porosity of the material, this toy can not be sterilized completely, so it is strongly advised that a condom is used each and every time this toy is used. It is also advised that the toy should be washed before and after each use. This toy should not be shared unless a condom was used by both parties.

Material:

TPR

Material safety

Safety features:

Hypo-allergenic / Latex free / Phthalates free

Texture:

Ribbed

Shape / Design / Size / Fit:

The shape of this stroker is nothing special - it looks very basic and the detail of the lips and tongue are not very realistic, or for that matter anime-listic. The interior design however is a thing of simplistic beauty. There are hundreds of tiny ribs, rings if you will, that do a fantastic job adding a lot of stimulation.

The size, after some thought and analysis is actually very nice; this small stroker is very travel friendly due to the small size. You will "pop out" the other end, which is inevitable, no matter what size you are. I like to think of this toy as a stroker in its purest form, a handheld device that adds greater stimulation. In video game terms this is a Gameboy Advanced, not a Nintendo DS or a PSP. It has all the things that make a stroker great, without all the extra bells and whistles. The graphics are not as good and the characters may not be as in-depth but you can still have one hell of a good time.

Color:

Purple

Length:

4 1/2"

Fits up to:

4 1/2"

Circumference:

6"

Width:

2"

Vaginal depth:

4 1/2"

Diameter:

1 1/8"

Weight:

3.5 oz

Functions / Performance / Controls:

Care and Maintenance:

The cleaning and maintaining of this toy is very simple. Just use anti-bacterial soap and water and leave out to dry. You can also towel dry, just make sure that the toy is completely dry before storing this toy away.

A light powdering with cornstarch will greatly prolong the life of this toy or any toy made from the same material.

Packaging:

The packaging was illustrated in Japan, and features several sexy and naked anime women and Japanese lettering. On the front is a picture of Mihio, a purple haired anime vixen, who is sitting naked and smiling. Also on the front is a mix of Japanese and English text, along with California Exotic's logo and a tag telling us that this product is made from the material Pure Skin.

Personal comments:

Bigger is not always better. As corny as it may sound, it is 100% true when it is said about this product. This little stroker fits in the palm of my hand, and no I am not like a clown or a cartoon character with huge hands. As for the detail of the exterior design, there is not much, not enough to notice in use. If you are looking for something realistic or pretty to look at, then you may want to look elsewhere. If your looking for something to get you to that point quick and effectively then this is the bad boy you want.

I have got to say, giving this a chance was a good decision. At first glance I was skeptical of just about everything this stroker offered. When I first saw the package my skepticism grew exceptionally, and when I took it out of the package my skepticism hit its all time high, so much so I had to stifle a laugh. How could this little purple tube with a tiny hole do anything for me? This is just a run of the mill cheapy from Cal-Exotics! Those were some of my initial thoughts, and I am glad I was wrong.

As an anime fan, I wonder what is the relationship with this stroker and anime, other than the packaging.