California Exotic Red hot lover sensual lips - Blow job imitator from California Exotic

Product Details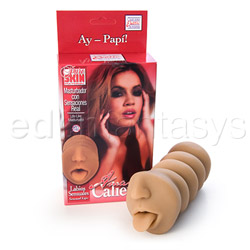 Summary:
Whether you need some extra help while alone or wanna spice things up a bit, this is definitely a great option. It feels great and is easy to use, clean, and store. I was definitely impressed and satisfied with this product.
Pros:
Nubs and ridges, Very fun, Feels amazing, Easy to clean and store.
Cons:
Challenging to hold, Could be a little longer.
Best use:
The Red hot sensual lover lips has a pretty obvious use. When you are alone, or with a partner, you break out the lube, get the lips, and have fun. It's a wonderful handheld masturbator. To start, you just put a large dab of a water-based lube on either the head of the penis, or over the little hole in the mouth. Afterward, you push your "friend" in through the little hole in the mouth and have fun. You just slide it up and down your penis and, eventually (if not distracted by a very horny wife...), it will lead you to an orgasm. This is the first masturbator that I have used, that works, so I don't know if it was just not long enough, or if you aren't supposed to be able to fit completely, but I kept popping out of the other side.

This toy can definitely help you on nights away from your partner. It also can help for if your partner isn't the greatest at hand jobs. This is especially evil if you restrain your partner, and only use the Red hot lover lips on them, but stop before letting them finish. <- Not speaking from experience... *Shuffles feet*
Material / Texture:

The material is TPR, yet on the box it says "Pure Skin Material." It's got a very strange smell, but it's not unbearable. You definitely won't notice it once you start playing. Then again, you probably won't notice much of anything while you're playing. It is very floppy and can get sticky (depending on how much, or little, lube you are using), but it feels really good either way. There are a lot of little nubs and ridges on the inside of the mouth that really help to increase the pleasure.

Material:

TPR

Material safety

Safety features:

Hypo-allergenic / Latex free / Phthalates free

Texture:

Swirled / Velvety

Shape / Design / Size / Fit:

The Red hot lovers lips has a few pros and cons in this section. I guess I'll get the bad out of the way for now. I do think the length on this should be better. I got a little frustrated while playing because I kept popping out of the other side because it made the combination of my penis and the toy look like a pig in a blanket. It was also a little uncomfortable. The spiral twist thing on the outside makes this toy a little challenging to grip. However, its size does allow for two hands, so that helps.

Now, for the pros of the toy. The inside's ribs and nubs are outstanding. I was worried about the size of the hole in the mouth because it is only 1/4" wide; I was worried that I wouldn't fit. Thankfully, it stretched perfectly to fit. There are not as many pros, but trust me, they definitely outweigh the cons.

Color:

Brown

Length:

6"

Fits up to:

2"

Circumference:

8"

Width:

2 3/4"

Vaginal depth:

4 3/4"

Weight:

10.5 oz

Functions / Performance / Controls:

Special Features:

Internal nubs and ribs
Pornstar mold
Realistic design
Super stretchy

Care and Maintenance:

Maintenance is very easy for this toy. All I did to wash it was use mild soap and lukewarm water, and it was perfectly fine. Just put a dab of soap on each side, outside of the holes, and rub a finger inside on each side. Make sure you get in between all the ridges if you finish inside the toy. To store it, I just put the toy back in the bag it came in, and then I put it back in its original box. It doesn't seem to hurt it at all, otherwise I doubt the manufacturers would package it this way.