Pipedream Roto-Bator masturbator - Masturbator from Pipedream

Product Details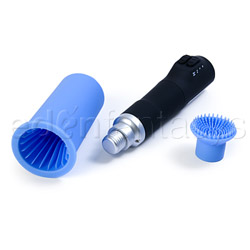 Summary:
The Robo-Bator was a unique experience for my penis, partner, and I. Although it wasn't a perfect fit, it was a lot of fun to experiment with and did feel good for a while. It isn't something that I would use a lot, but if they come out with a larger size, I would like to own that as well.
Pros:
Unique, good materials, easy to use, stimulating
Cons:
takes a long time to dry, isn't for girthy guys
Material / Texture:

The attachments are high quality silicone. It is medical grade (ironically, it lightly smells like hospital) so there are less worries about germies harboring. The material is also very flexible, holds its shape, is very smooth, and not sticky. It just doesn't work with silicone lubes which is a bummer (you will read why later on). Not that you would want to share your masturbator with your frat bros, but this can be sterilized for safe sharing. The rest of the toy is made of a velvety and smooth plastic.

Material:

Plastic

/

Silicone

Material safety

Safety features:

Food-grade material / Hypo-allergenic / Latex free / Non-porous / Phthalates free

Texture:

Nubbed / Ribbed

Shape / Design / Size / Fit:

I have never seen anything like this. The operating part looks like a big electric razor but with a weird end. This end has grooves that allow the attachments to screw in. It is almost as tall as a beer bottle (~8.5") and as thick as it needs to be to fit comfortably in my hand or my girlfriends. It is kind of heavy though, so keep that in mind if you plan on using this a long time.

The main attachment is a hollow cylinder with an inner lining of raised ridges (they are placed every 1/4" or so). They are very flexible and are designed to bend and rotate around the penis. It has a little over 5" of length that can cover the penis. I am longer than this by a few inches, but it still was long enough to be stimulating. The thickness was the problem for me. It is 2 1/4" in diameter on the inside, but then you add the ridges, so this reduces the inside by a 1/4" or so. I fit in it, but with it turned on, my thickness posed problems (read on...). The second attachment is a concave disc that is 2" inches across. It has dozens of raised spines. It can be flattened on any body part or cupped around things like nipples or balls.

Color:

Blue

Length:

13"

Fits up to:

2"

Circumference:

7"

Vaginal depth:

4 1/2"

Weight:

19.7 oz

Functions / Performance / Controls:

There are two functions to the Robo-Bator. One is vibration and the other is the rotation. Both have two levels-low and high. All of them are loud. This is too loud to use in a dorm or an apartment with a roommate or if you are one of those guys who wants to keep this kind of thing from his partner. The rotation only worked for me on the highest level (but this may be due to size) and the vibration could be felt on either level but vibration isn't my thing. We turned it off to save battery and make the rotation as strong as possible. Both are controlled easily by pushing sliding buttons. They work independent from one another which is nice.

Functions:

Rotating / Vibrating

Special Features:

Powered By:

Aa-4

Control type:

Built in control pad

Care and Maintenance:

You can sterilize the silicone by dipping it in boiling water for a minute or so, but don't submerge because of the plastic part. If you are not sharing, using a toy cleaner and rubbing the cylinder in your hands to create a washboard sound (or ticker sound from the wheel from The Price is Right) is good to clean the inside and dislodge any semen. I didn't cum in mine, but I did have pre-cum and it came out easily. Drying was the hard part. It takes forever! I recommend putting a paper towel inside to absorb the water. Also, like I said earlier, don't use silicone lube.

Packaging:

The packaging is very nice. It comes in a satin lined and padded hard cardboard box that opens like a shoe box. Inside, the toy is very nicely displayed and stored. The top only has a small logo of Pipedream in the corner so it is discreet if you want to leave it in a closet or on a night stand etc. There is a cardboard sleeve over all of this, but it can be ditched. It contains info about the product and some whimsical pictures of a cartoon silhouette using the product.

Experience:

We lubed me up with some water based lubricant and then put some inside the toy. Sliding the toy on didn't hurt at all, and at this point, it didn't feel too tight. She turned on both the vibration and rotation to the highest level. At first, the rotation stopped and wouldn't go unless she kind of nudged it. This is why girth is a problem. I think if I could use silicone lubricant, it might make it rotate easier and not create the painful friction I experienced after a while.

It did feel good though. It felt like a very slow hand job. I had my girl play with my balls and thighs at the same time (Girls beware! Your hair can get caught and rotate up into or around the toy). I got close a few times, but then my size would get in the way of actually finishing. I think it slowed down the rotation too much. It also twisted my penis (and a bit of my ball sack) a bit, which was awkward after awhile. Pumping the toy up and down wasn't as great as leaving it down either.

Using the other attachment, is hurt on my penis but felt okay on my balls. It was best for my girls nipples, but was painful on her delicate lady parts. We still had a hell of a lot of fun exploring this mystery toy together and I honestly would give it 5 stars if it were a bit bigger. I am going to hold onto this in hopes that they come out with other attachments that fit larger guys.