Fleshlight Alien - Masturbator from Fleshlight

Product Details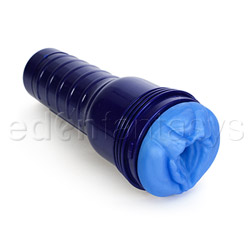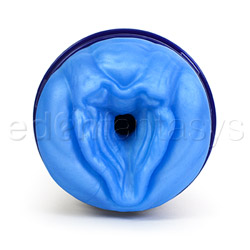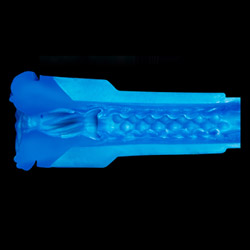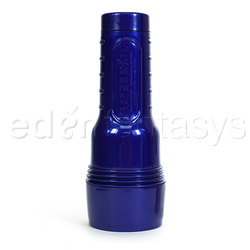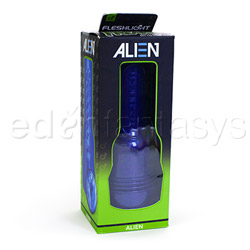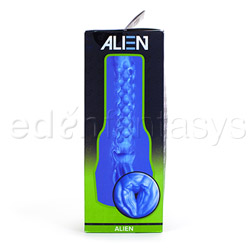 Summary:
Forget about little green men, Fleshlight says aliens are blue, and given how this thing feels, I'll go along with them. The Fleshlight Alien is a blue Superskin sleeve wrapped in a blue plastic case that is disguised to look like a giant flashlight. The interior texture is a unique blend of Vortex, Lotus, and STU textures that is very stimulating. If an alien race came to earth with pussies like this, most guys would be saying "take me to your leader" before they knew what was good for them.
Pros:
Unique look, unique feel, good for interplanetary relations.
Cons:
If you aren't an equal opportunity lover you may have a problem, care is a little bothersome.
Best use:
Na'vi pussy, that's what.

So is this what's covered up in that tail of theirs? I couldn't see much difference between the male tails and the female tails, but if this is what the female tails look like, then I might want to get me some tail!

So, other than the outer appearance, is there any difference from other Fleshlights? Well, yes and no. It is made out of Superskin just like all other Fleshlights, but the interior texture is completely unique.

The use of the Fleshlight Alien is just like any other Fleshlight. It has a removable cap on the entry end and a screw cap on the exit end to adjust suction. Put your cock inside, adjust suction to the desired level, and stroke away until you're finished. Clean it, let it dry, and you can have some more Na'vi tail whenever you want.
Material / Texture:

As with all Fleshlights, the sleeve itself is made out of Superskin and it is housed in a plastic case that resembles an oversize flashlight. Superskin does have a slight odor to it, but you've got to put your nose right up to it in order to smell it, and normal use doesn't get the sleeve anywhere near your nose. The material is very soft and skin like which is what has always been a big selling point for Fleshlights. The interior texture of the Alien is completely unique starting out with a couple inches of a Vortex canal followed by the ridge in the middle of the Lotus texture and finishing off with the intense STU texture. It all results in a unique yet very stimulating and satisfying Fleshlight experience. If the texture sounds awesome but you can't stand the thought of doing it with an alien, you're out of luck, because this texture is not available in any human based sleeves at this point.

Material:

Superskin®

Material safety

Safety features:

Hypo-allergenic / Latex free / Phthalates free

Texture:

Noduled

Shape / Design / Size / Fit:

The pictures of this thing really let you know a lot about how this thing looks. I personally think it looks pretty cool and give kudos to the creative designers who put it together because placing two clits at 11 and 1 provides a pretty cool look that is somewhat different and yet close enough to reality to not be disturbing. As with all Fleshlights, the exterior is shaped like a big flashlight the handle of which has bumps to provide leverage for control. The entry is not too tight similar to other vagina openings and the Superskin is very accommodating so just about any guy should be able to use it without issue. Since I am not a huge guy, sometimes I like to experience more of the back end of the texture and with some care I can penetrate the opposite end of the Fleshlight. The STU texture is very stimulating on this end and provides a different experience, almost like two sleeves in one.

Color:

Blue

Length:

11"

Fits up to:

Any size

Vaginal depth:

7 3/4"

Weight:

2 lb

Care and Maintenance:

Since Superskin is very porous, cleaning is a little tricky. Not difficult, really, just something to pay attention to. No soap is to be used on the sleeve so washing is really just rinsing. After rinsing the sleeve needs to be left open to dry before storage or the material could start growing mold on it. If your sleeve does start developing a growth problem, all is not lost. You can use rubbing alcohol to clean the mold off or if you just want to give your sleeve a deeper cleaning. Only water based lube is to be used on a Fleshlight and the Alien comes with a sample of the company's Fleshlube which is a thin water based lube that works very well. The lube washes away when rinsed which is all part of the plan. The porosity of the material means that the toy is not to be shared because it could transmit diseases. This means your friends should get their own Alien if they want to experience interplanetary relations.

Packaging:

The Alien Fleshlight comes in a metal cylinder with a lid. It has a large sticker on the side letting the buyer know the contents as the rest of the cylinder is identical to that provided with any standard Fleshlight. The cylinder is good for storage if you don't mind the extra space it takes up, but once the caps are secured on each end of the Fleshlight it stores just fine on its own without the cylinder. The package has instructions included inside the cylinder. The sleeve also has a plastic tube inserted in the center for shipping which should definitely be removed before use as it could cause some unnecessary pain to your genitals if it isn't.

Experience:

I really enjoy the Fleshlight Alien. I have always been a Sci-Fi fan. I enjoy many Sci-Fi series that are out there and I liked Avatar. I thought the Fleshlight Alien was very inventive when I first became aware of it and I'm glad I have one of my very own. The exterior is humanoid enough not to be disturbing and with a little imagination pretty attractive, actually. The interior texture is simply out of this world (pun intended) in my opinion. I thoroughly enjoy shower sex with my Alien. This is a great sleeve for the Sci-Fi fan in your life.