Toy's heart Shakers Vol.1 - Masturbator from Toy's heart

Product Details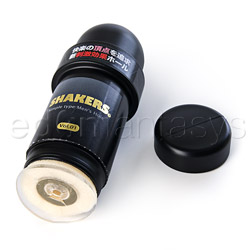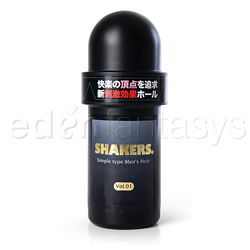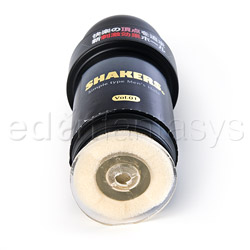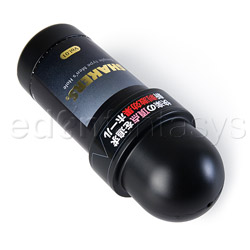 Summary:
The Shakers Vol. 1 provides an inexpensive, non-explicit, single-use (or several times if you use condoms) male masturbation sleeve, that provides three different stimulating textures (two styles of nubs and a section of ridges) in a tight-yet-soft TPR sleeve.
Pros:
Stimulating, not realistic looking, no smell, pthathlates-free, inexpensive.
Cons:
Single-use or limited multiple uses with condoms. May not fit large penises comfortably.
Best use:
The Toy's Heart Shakers Vol. 1 masturbation sleeve is an inexpensive, disposable, and good-feeling single or short-term use sleeve in a tasteful, non-explicit design. Once you have lubricated the toy and your penis with either the included water-based lube or your favorite water or silicone-based lube the Shakers Vol. 1 provides a snug fit and three distinct texture regions (two styles of nubs and a section of ridges) that provide distinct sensations as you either travel through them during thrusting or spin the toy

Most people will probably use the Vol. 1 as a hand-held masturbator, but the ridge around the outer casing helps to hold it in place if you prefer to put it between pillows or mattresses for hands-free use. It is suitable for solo or couples' play, and the generic shape might make this toy a good choice if you're trying to bring toys into a relationship.
Material / Texture:

The Shakers Volume 1 consists of a plastic shell that holds a soft TPE sleeve that is supported by foam rubber. The sleeve has no noticeable scent and sports three distinct texture regions: thin nubs, ridges, and finally back to nubs, with a combination of small and thick nubs at the tip. Both the texture and the texture changes were definitely noticeable during use, and the soft material ensured comfort. The sleeve is very soft and squishy, and is quite sticky if it is not adequately lubed (either with the included lubricant pack or a water or silicone-based lube of your choice).

Material:

Plastic

/

TPE

Material safety

Safety features:

Food-grade material / Hypo-allergenic / Latex free / Phthalates free

Texture:

Nubbed / Ribbed / Smooth

Shape / Design / Size / Fit:

The black tube of the Shakers Vol 1 is generally easy to hold and comfortable in the hand, although the ridge might be in the way for some people. Once everything was lubed it was easy to insert my penis into the Shakers' sleeve. While the size is adequate for many people, men with large penises might have trouble - the dimensions of the Shakers Vol. 1 are given as 1-3/4" diameter and a stroke depth of 5-1/2", and the rigid plastic housing doesn't allow for any extra..

This toy's shows its Japanese heritage. There is nothing overtly sexual about the design of the Shakers series, no sculpted labia, mouth or anus - just a flat, clear disk with a hole in the end of the black shell. Even so it doesn't quite count as discreet, since the hard-to-remove labels proclaim that this is a "simple-type mens hole" in English and, presumably, Japanese.

Color:

Black / Clear

Length:

6 1/4"

Fits up to:

1 3/4"

Circumference:

7"

Vaginal depth:

5 1/2"

Weight:

4.8 oz

Functions / Performance / Controls:

The Shakers Vol. 1's performed quite well during use. While it doesn't have any "controls" to speak of, it can be used in several different ways to vary the stimulation: short strokes within one texture region, long strokes crossing several texture regions, and rotating the toy. The outer casing is too stiff for there to be any way to easily change the tightness of the sleeve, but the Shakers Vol. 1 had a good compromise: tight enough to be stimulating, but not so tight as to make insertion difficult.

The big thing to keep in mind with this toy is cleanup. There is no way to disassemble the Shakers Vol. 1 to clean out the sleeve, and it is very difficult to clean the sleeve while it is in the toy. If you're planning to use this toy multiple times or share it a condom is the only way, and for multiple uses you would want to seriously consider a silicone lube.

Special Features:

Internal nubs and ribs
Lubricant included

Care and Maintenance:

The Shakers Volume 1 is really a single-use disposable sleeve. With condoms and silicone lube you can stretch it to a few times, but there really isn't any way to conveniently clean it up. The foam rubber makes it difficult to impossible to clean with the sleeve in place, and when the sleeve is removed there isn't any way to put it back together, since it's glued in.

Because of the difficulty with cleaning and the porous nature of the TPE material it is best to use a condom if you want to share this toy.

Included with the Vol. 1 is a packet of water-based lube, if you choose not to use this lube you can use any water-based or silicone-based lube.

Packaging:

The Shakers Volume 1 ships in a plastic box containing the sleeve and a packet of lubricant. The sleeve itself is sealed with an end cap and factory paper label seal. While it ships with instructions, the majority of them are in Japanese and not translated, though it is easy to figure out how to use the product.