Toy's heart Style mark II - Masturbator from Toy's heart

Product Details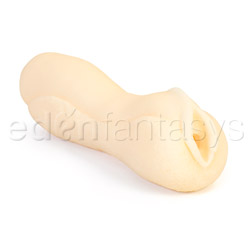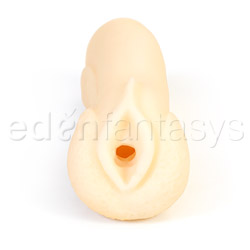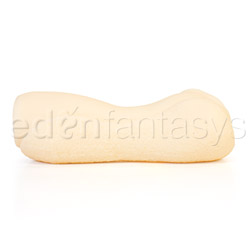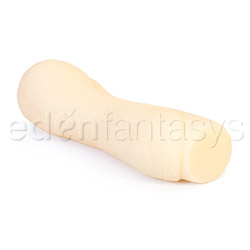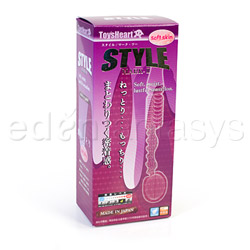 Summary:
The Style Mark II is a very nice and compact stroker that is fantastic for travel and for those who want to try something new. The Style Mark II does its best to simulate vaginal intercourse and does a fine job, at that. Unfortunately, the material the Style Mark II is made out of is not the most durable: while it does stretch fairly well, there are signs of wear after just the first use.
Pros:
Life like feel, provides great sensations.
Material / Texture:

The Style Mark II feels very realistic, just like skin, and is made from TPE (Thermoplastic Elastomer). TPE is a hypoallergenic and phthalate free thermoplastic blend that can be made into a wide variety of textures. TPE is more porous than Silicone, but less porous than Cyberskin. Due to the porosity of TPE this toy can not be completely sterilized, so it is strongly advised that a condom is used each time this toy is used; it is also advised that the toy should be washed before and after each use. This toy should not be shared unless a condom was used by both parties.

Since the Style Mark II is made from Thermoplastic Elastomer, you can only use water based or silicone lubricants. Petroleum based oils will damage the material. Out of the package, the Style Mark II is not sticky and does not have a smell of any kind.

Material:

TPE

Material safety

Safety features:

Hypo-allergenic / Latex free / Phthalates free

Texture:

Nubbed / Ribbed

Shape / Design / Size / Fit:

The Style Mark II is about six inches in length and fits very well in the hand. It is also very travel friendly; this toy can easily be placed in a traveling case or bag. This toy is very easy to hide.

The internal texture attempts to mimic the feel of a real vagina. The entrance starts out looser and then gets very tight as you move on; at the end of the toy, the tunnel expands once again. This toy's love tunnel can be broken down into three parts: the first part of the chamber is ribbed, while the second is nubbed, and the third has vertical ribs. The textures, as well as the changing tightness, create a very unique sensation as well as a mild suction.

The exterior is less realistic than the interrior; the entrance is small, but easy to penetrate. The exterior is very porous, but is designed so that the toy will not fly out of your hands when using. While it is thick in spots, the toy is not very heavy. The toy remains light and compact.

Color:

Beige

Length:

6 1/4"

Fits up to:

2 1/2"

Circumference:

6 1/2"

Weight:

10.5 oz

Functions / Performance / Controls:

Special Features:

Lubricant included
Super stretchy

Care and Maintenance:

The cleaning and maintaining of this toy is very simple. Just use anti-bacterial soap and water and leave out to dry. While air drying is more ideal, you can also towel dry; just make sure that the toy is completely dry before storing it away, to avoid any formation of mold that can occur if storing away wet or moist. You should coat this toy with a light coat of corn starch - this will help maintain the flesh-like feel of the toy, as well as extend its life. Once your toy is completely dry, you can place the toy into a zip lock baggy and then store in a dark, cool, and dry place until you are ready to use it again.

Unlike some toys, you should not attempt to flip this inside out to dry.

Packaging:

The Style Mark II comes in a small cardboard box that is not much bigger than the stroker. The purple box has white and pink lettering: about 98% of the box is in Japanese. On the front of the box is a graphic designed to show off the internal texture and design. On the very bottom of the box is a little tag/watermark that says "Made In Japan". On the side of the package, underneath the words "Style Mark II," are the words "Soft, moist, lustful sensation".

Personal comments:

The Mark II is a very nice toy. The sensations are mild: on a scale of one to five, the sensations are a solid three. The sensations provided are neither to strong nor too mild. The average or less than average man will find this toy very comfortable, while the more endowed of men may want to look for something more accommodating. While the material does stretch fairly well, the material is not the most durable.

The Style Mark II is an affordable toy, and its low cost and low maintenance make this a very good toy. After the first use, though, there were some signs of wear, so the life of this toy is in question. The signs of wear were not very bad, and I could see this lasting a few months with regular use, maybe less for those who would use it every day.

There is certainly an appeal to a Japanese toy; however, it would have been nice if the box and the included lube had more English wording. There was no ingredient list on the included sample lube, so those with allergies may want to stay away.

This is certainly a good toy for those who want a cheap and effective toy that they can use in a hurry, as well as those who travel. I am giving this a four star rating.