Tenga Tenga flip air lite black - Masturbator from Tenga

Product Details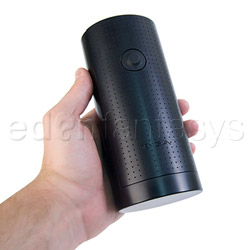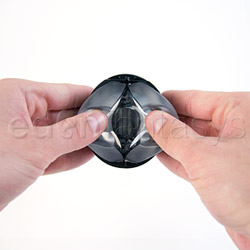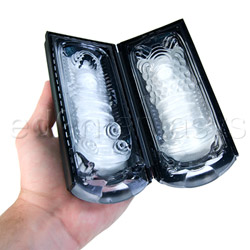 Summary:
The TFLB has an awesome array of textures, is easy to clean up, and can sit out without attracting attention. This is now my go-to for hinged penile enjoyment. Put this on your wish list or save up for it, you won't be disappointed! (read the instructions!)
Pros:
Textures, size, and clean up.
Cons:
Hard to figure out at first and loud.
Best use:
A little bigger than your fist, and a lot harder, the TFLB feels so much better than your hand alone. After you wash it and let it air dry (or not, your call), take the little black nipples off the side. These are supposed to act as seals for the air valves. They actually prevent the control valves on either side from working properly. The next step is to remove the cap, slide it off and flip it around the other way so the cap is now covering the top. By flipping it around, you're preventing it from popping open when you use it. Now, open the little bottle of unmarked water based lube that comes with it and put a couple dollops on either side (the inside, silly). Apply lube to yourself (or the penis you'll be using) and insert said penis into the TFLB. To make insertion easier, depress both buttons on either side to let air escape out of the sides. Now that you're snuggled into it, you can control the pressure inside. Play around with the suction as you like.

The inside nubs, bumps, and flaps stimulate the aforementioned penis. I haven't figured out which side is the top and which is the bottom, either side feels good. Stroke up and down or lay on your stomach and pump, in the usual way.
Material / Texture:

Inside: TPR Silicone. Phthalates free, hypo-allergenic, latex free, super hyper-mega happy rainbows. (Ok, I added a little at the end)

The inside is swirled, nubbed, ribbed, and soft. On one side there's a set of four swirls that feel great under the glans, one of my favorite spots.

The TPR is no different than any other TPR you've seen or used. It tastes and smells slightly like plastic. The smell and taste are about as noticeable as the water; you can sense it's there, but it won't do much for you.

The Tenga FLB would happily go all the way with a new toy user or an experienced toy-herder.

Material:

TPR Silicone

Material safety

Safety features:

Hypo-allergenic / Latex free / Phthalates free

Texture:

Nubbed / Ribbed / Velvety

Shape / Design / Size / Fit:

I loved the design! Where one product had a problem staying together during use, the Tenga Lite Black over came this problem and one-upped it. The cover slides off to reveal the opening and then flips around to double as a slide closure that not only keeps the product closed during use, it also creates an air and water proof seal.

The dimensions listed for the product is accurate. I'm an average sized guy and can easily bottom out on it, but the TPR has enough give that it isn't uncomfortable. If you're a larger sized guy, you might have to sacrifice a full envelopment for tip stimulation.

The size of the Tenga Lite Black is about the size of a 16 oz. can of pop (aka soda). This is an easy fit for a suitcase or duffel bag. For airport concerns, there are only a couple of metal pieces in the whole unit (the air valves), so it shouldn't raise any eye brows. The water based lube on the other hand...use your best judgment.

If my roommate didn't know that I review sex toys already, she wouldn't know what it is just sitting there on my dresser. It just looks like a black cylinder.

Color:

Black / Clear

Length:

6"

Fits up to:

1 3/4"

Circumference:

8"

Vaginal depth:

5"

Weight:

14.5 oz

Functions / Performance / Controls:

I'm not a suction enthusiast, but the TFLB accommodates. The air pressure control valves, once I realized they were there and how they worked, become the highlight of the product.

One thing to note: Regardless of air pressure, this is LOUD. Think of the loudest blow job you've ever heard and you're not too far off.

In theory, you could use this in water; however, since water based lube is recommended, I wouldn't suggest it unless you're willing to risk silicone lube on it.

Special Features:

Disposable
Internal nubs and ribs
Lubricant included
Travel

Care and Maintenance:

After use, make sure you keep the open end up so nothing runs out (ewww...).

To clean: rise out with warm water and anti-b soap (like almost every other toy you own). After cleaning, let it air dry (no hair dryers!).

As stated above, water based lubes pleaseandthankyou. Make sure you check Eden's guideline to materials.

Packaging:

Tenga packaged the flip lite beautifully. Upright in a clear plastic box and on top of a sample of lube and instructions, the the Tenga flip lite black is poised for pleasure. Ok, not poised, but easy to take out of the box.

Reminder: the caps over the air control valves prevent their use. Make sure you take them off before use.