Toy's heart Bubble shake function - Masturbator from Toy's heart

Product Details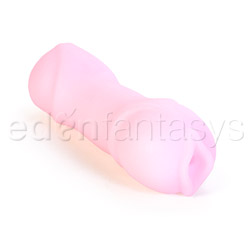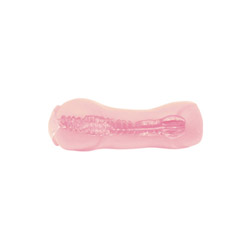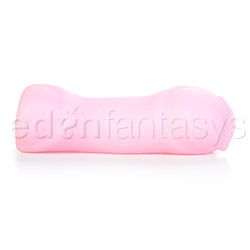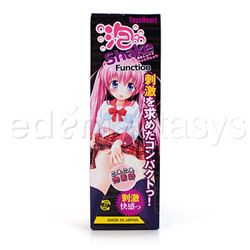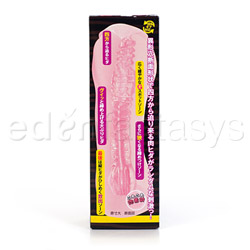 Summary:
For the Hentai fans or just those looking for a realistic feeling pocket pussy, ToysHeart brings you the Bubble Shake Function. A super soft TPE material wraps your penis and gives you three areas of pleasure to use and enjoy. The small size is good for travel while the stretchy material will stretch to cover most guys. A closed end means suction and containment of lube and bodily fluids.
Pros:
Super soft/stretchy material, three distinguishable sections, easy to reverse for cleaning.
Cons:
Could be tighter at the entrance.
Best use:
Pocket pussies are great for those times when "Rosie Palm" just won't cut it. Really, what could be better than or easier than applying some lube and stroking away with something that fits in a coat pocket or hand bag?

The Bubble Shake Function is a Hentai themed pocket pussy that gives you the opportunity to get your rocks off with a big eyed, pink haired anime school girl. Her three areas of textured goodness gives the user the ability to choose the stimulation they want; from the thick entrance, the narrow mid section to the end chamber, every inch of this toy is made to please.

Use her solo or with a partner, in the shower or on the couch, Bubbles could care less as long as you give her the pleasure of your cock.
Material / Texture:

TPE is used for this pocket pussy. A light pink color greats your eyes and plush softness greets your cock. There is a light chemical odor but it is not noticed during use. There is also a very light taste but nothing to stop you from a bit of cunnilingus. The outside has dumbbell type shape; the ends are "Bubbled" while the center section is narrow for a sure grip.



Material:

TPE

Material safety

Safety features:

Hypo-allergenic / Latex free / Phthalates free

Texture:

Nubbed / Ribbed

Shape / Design / Size / Fit:



The entrance is vaguely shaped like a pussy in that it has the labia minora molded in. No clit to play with here, just a pair of lips to wrap around your cock. Inside those pink lips is a small 1/4" hole that easily stretches to accommodate most guys. Beyond the entrance is a short section with a texture that is best described as wrinkles (in fact all of the texture is like this): they are not ribs or bumps like some toys but rather raised lines of material that follow no set shape. After this section the interior opens up for a short distance. This area is designed to give the feel of the G-spot. Next we have a narrow passage ending with a larger area before the closed end.

Overall the toy is 6" long and 2" across at the two ends. While the entrance is only a quarter of an inch, it will easily stretch to fit all but the biggest guys. The six inches will work for average guys but will stretch up to 10-11 inches if needed. Below is a picture with of the toys stretched over the Njoy Eleven, you can see the stretchy characteristics of the material. You can also see area where the material is getting very thin: prolonged use of this kind will surely lessen the life of the toy.



Color:

Beige

Length:

6 1/2"

Fits up to:

Any size

Width:

2"

Vaginal depth:

5 1/2"

Weight:

0.5 lb

Functions / Performance / Controls:

Aside from the standard function of a stroking toy, due to the closed end this one also will provide some suction. Simply squeeze out the air before inserting your penis. Since the material is soft it will not suck start a Harley but it can be felt nonetheless. A fun way to experience this suction is to hold the entrance at the base of your penis and stretching the the toy. This not only increases the suction but also makes the feel tighter.

Care and Maintenance:

TPE is porous but not as bad as some of the other "Realistic" feeling materials out there like SuperSkin. As such, some special care is needed. First off, no sharing between different users without a condom as you cannot sanitize TPE. Use soap and water or a good toy cleaner to clean your pocket pussy. You can use a finger or a dildo to wash the inside or turn it inside out. Dry off the toy before storing in a cool dry place to prevent mold or mildew.

You can use water or silicone based lubes but not oil based. Oils will degrade the material over time so stay away from them.

Store in the box it comes in, a bag or even an old sock. Keep it away from other materials to avoid a reaction between dissimilar materials.

Packaging:

The box, as you can see on the product page, has an Hentai school girl on the front. She has her legs spread and is fingering herself. Not the most discreet, eh? The box is adorned with Japanese text with only a few English translations. These include; "Shake Function", "Made in Japan", "ToysHeart" "Intense Stimulation", "Phthalate Free" and "TPE". There are four picture diagrams showing you how to use it accompanied by Japanese text. These are; Apply lube, squeeze out the air, stroke and clean. Pretty basic for sure but most folks will know what to do anyways.

The box is just big enough to hold the toy, so it is minimal. It will work for storage or you can recycle it if you want.

Personal comments:

I prefer a more noticeable texture to my toys, so this one surprised me on how good it worked. This one borders on one of the most realistic feeling toys I have used. It is not as tight as the real thing and of course there is not warmth, but it's pretty close nonetheless. You have to give credit to the Japanese for their attention to details in mimicking the real thing. Now if they could just use a better material and firmness in the right places.

The length was good for me and only slight stretching was needed for full balls deep penetration. As stated above, holding the toy at the base of my shaft and stretching the toy was my favorite use with it. The wife attempted to use it on me but the lack of firmness and tired hands did not produce an end result. No worries for me though, it was a great start to our love making.