NMC Ltd Golden lips - Masturbator from NMC Ltd

Product Details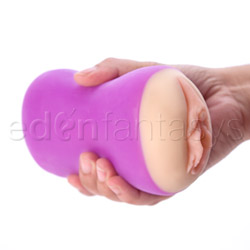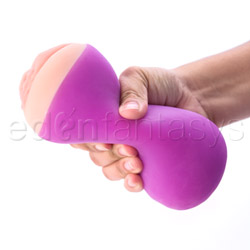 Summary:
The Golden Lips has some great features that are sure to please. Dual density material gives a firm surface to hold and a realistic feel for your penis. Non sticky material means no corn starch and cleaning is a snap. A tight realistic entrance and a nodule styled texture is sure to bring great pleasure.
Pros:
Dual density construction. Non tacky material. Incredible user controlled suction.
Cons:
May be to tight for some.
Best use:
The Golden Lips is a cool new masturbator being offered by NMC Ltd. A very nice looking vagina entices your senses and begs to be penetrated. Once you do the inner texture stimulates and massages your whole penis as you stroke and work the user controlled suction, it is sure to bring you to an orgasmic conclusion.

The material, shape and size allows you to use this masturbator anywhere the mood strikes you and is suitable for beginners or more advanced users.
Material / Texture:

This toy is made of Loveclone RX (TPR). NMC's TPR is a non-tacky formulation that eliminates the need of using cornstarch to keep the feel like new. TPR is compatible with water or silicone based lubes, so you can use water based for easy clean up or silicone for play in the shower or tub.

The outer casing is very firm and a lovely shade of purple. This has some drag to it but this makes holding on to it much easier, yet it does not attract dust and lint. The inner material is colored in a white skin tone with a pale pink vagina that is very soft and lifelike, especially when warmed.

There is a light odor to the softer TPR but the firm/purple areas has no smell to it, and only when it is right up next to your nose.

The texture inside is made up of nodules, these are shaped like cones with a finger of material protruding out the top. These are set in eight rows and are spaced 1/4" apart forming a ring. There is thirteen rings total and they start and end about a half an inch from the entrance and end of the vaginal canal.

Golden lips is eager to please any penis, no matter the experience level.

Material:

TPR

Material safety

Safety features:

Hypo-allergenic / Latex free / Phthalates free

Texture:

Noduled

Shape / Design / Size / Fit:

The vagina is very realistic, even the clitoris just begs to be played with, sticking out of it's hood. When you get done caressing the outer vagina, its time to take the plunge into penis bliss. The entrance is very small, but fear not, as long as you are fully erect it will stretch to fit with minimal effort. Just past the entrance the nodules provide great intensity as they engulf your penis for some intense stimulation.

At the end of the toy there is a small "Finger hole", this allows you to have suction, if you so desire. And suction it will provide, like a vacuum! The firm outer material helps to provide even pressure throughout the toy, not just the end or tip of your penis like some masturbators that have suction do.

Golden Lips with accommodate 6" in the vaginal canal and up to 1 3/4"diameter (5" circumference) with no problems. So for the average guy this will fit like a glove.

The oval, hour glass shape assists with keeping a good grip during use. It is 9" in circumference at the ends and 7 1/2" circumference in the middle. The size will be good for larger hands while still being usable for smaller hands.

For obvious reasons it is not discreet but the size helps to make it easily stored. With a over-all dimensions of 6 1/2" X 3 1/2" fining a place to store should not be a problem.

Color:

Beige

Length:

6 1/2"

Fits up to:

1 3/4"

Vaginal depth:

6"

Weight:

1 lb

Functions / Performance / Controls:

Care and Maintenance:

After you are done using these "Golden Lips", and you can recover a bit, clean up is a snap. Simply use a toy cleaner or mild soap and warm water. Due to the TPR being somewhat porous, complete sanitizing is not possible, so if you plan to share make sure to use a condom. This also makes it easier to clean.

The hole in the end helps out by providing a way to flush out the toy. Due to the firmness of the outer material you can not turn this toy inside out for cleaning, if it wasn't for the hole at the end, cleaning would be a lot harder. Makes drying faster too. It is best to use your finger's to "scrub" the inner area, add some cleaner and put one finger in each end, that way you are sure to clean as best as possible.

You can store it in the box it came in or a plastic storage bag. Just be sure to keep separate from PVC or other soft materials, as they will not get along, at all. Do not use oil based lubes as the material will degrade with use.

Packaging:

Golden Lips comes in a standard cardboard box that is not much bigger than the toy. The front is adorned with a model in a bra and panties that she is holding in a suggestive pose. At the bottom you will find a cut-away view of the inner texture and there is descriptions around the toy telling you what every thing is for. On the back of the box there is the same model in the same pose and there is three pictures of the toy; one from the side, one that shows the realistic vagina and one that shows the inner texture. These have descriptions of the picture below each. On the sides you will find (in 5 or 6 different languages) the standard disclaimer, compliance with European standards for safety and material composition.

The box will be easy for wrapping but not the most discreet. Inside the box the toy is in a plastic bag that is sealed. The toy has a light dusting of powder that rinses off easily.

Personal comments:

I would have to say that any penis over 1 1/2" diameter possibly will not enjoy this toy unless it likes it really tight. Also due to the tight entrance your partner may have a hard time getting your tool in, this could be good or bad.

Experience:

When this toy came in the mail and I pulled out the box, the picture of the inner texture really turned me on. Add the very nice vagina and small tight hole and I could not wait to use it. A quick clean and off I went to let my penis feel what the brain was telling my penis it would feel like. Lets just say my member was "throbbing" with anticipation.

Then the fun began. The hole in the vagina is small, real small. Even with lube it took both hands and a firm grip to get the head of my penis in, after that it's easy going. The texture is really nice but not very pronounced, I think this is due to me being at the end of the size limit as far as girth. I think that for smaller guys the texture would provide better stimulation. Still it did it's job well and I enjoy using it.

Then there is the suction, by far the best suction I have felt. In fact during my last use it actually left a few small hickeys on the tip of my penis, presumably from the hole at the end. I felt no pain during use but still, this vagina SUCKS! And I mean that literally and in a good way.