Toy's heart Real love shake - Masturbator from Toy's heart

Product Details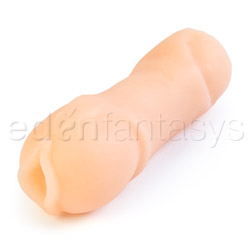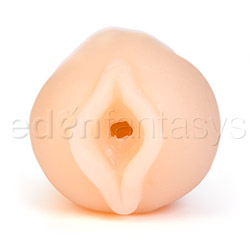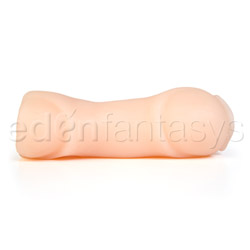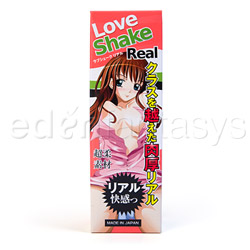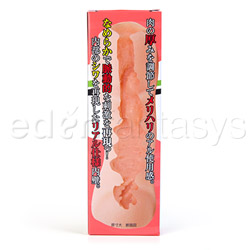 Summary:
You don't need to spend a lot to get a satisfying penis sleeve. You need a good fit, some attention to the texture of the interior, and a plushy feel that lets you forget that your hand is involved; on all of those counts, the Love Shake is a winner. Once your penis is inside of it, you will just be a few shakes away from a very satisfying orgasm.
Pros:
Very realistic feel, interior bumps and ridges provide great texture.
Cons:
Very slight odor, not the most discreet looking sleeve.
Best use:
The Real Love Shake is a 6" long flesh colored masturbation sleeve (or pussy sleeve as it says on the box). One one side it has an opening styled with vaginal lips. It is closed on the other end. Like all masturbation sleeves, you apply a bit of lube to the opening and to the penis and then you slide the Real Love Shake up and down the shaft. I never thought of it as "shaking", but that is what you are doing, so the name Love Shake is appropriate. The material is very plushy and the interior is textured with a variety of bumps and ridges to enhance the feeling of friction. It may not have a realistic look, but it does have a realistic feel. The material is flexible, so it will expand to fit any sized penis. It can be used anywhere and by anyone who wants to heighten the sensation of jerking off.
Material / Texture:

The Love Shake is made with TPE, which is a semi-porous synthetic. The material is extremely soft- luxuriously so- I felt like my penis was being swaddled when I first slid in it. It is very squishy, but you do not really feel the firmness of your hand. That gives it a more realistic feel since it is easy to imagine that it is not your hand that is controlling the action. However, despite the plushiness, it keeps its shape nicely (one of the benefits of TPE). The interior is filled with random bumps and ridges that are pleasurable both for the fact that they are there as well as the fact that they are not in any predictable pattern (at least you won't be able to predict the pattern until you have used the Love Shake a few times). There is a slight synthetic odor, but nothing that is really bothersome. Its softness makes it very inviting for anyone, including beginners.

Material:

TPE

Material safety

Safety features:

Hypo-allergenic / Latex free / Phthalates free

Texture:

Nubbed / Ribbed / Smooth

Shape / Design / Size / Fit:

There is no magic to the shape- it is a 6" cylindrical sleeve. The size is perfect- it will fit the average penis easily, and expands to take in even girthy guys. It will stretch past 6" for longer men, but since the focal point of a sleeve is on the head of the penis, even the longest guys will feel that they don't need more than 6 inches of coverage. While it is small enough to travel with easily, the penis shape, the flesh coloring and the lips at the opening will make most people think this is a sex toy, even if they don't know exactly what a penis sleeve is. So, don't leave this out on the coffee table when the neighbors are over.

Color:

Beige

Length:

6"

Fits up to:

2"

Circumference:

6 1/4"

Weight:

7 oz

Functions / Performance / Controls:

Special Features:

Free samples
Internal nubs and ribs
Super stretchy
Texturized

Care and Maintenance:

The Love Shake is easy to take care of- you can clean it with soap and water. You can easily flip it inside out to wash away the cum. Store it in a cool dry place to preserve its lifespan. It will fit nicely in a drawer or toychest. TPE is compatible with both water based and silicone lubes. Don't use too much, because you don't want it to be so slippery that you can't keep a grip on the sleeve.

Packaging:

The box is very colorful (although not very discreet), in Japanese Anime style, but you won't get much information from the packaging because virtually everything is in Japanese. Not a problem though- you won't really need instructions. The Love Shake comes with a little packet of lube as well. The box is only slightly larger than the toy, so it is a useful way to store the Love Shake.

Experience:

The plushiness and the textured interior of the Love Shake worked to give me a great experience using it. It was one of the more realistic feeling sleeves I have used and it felt so good that I didn't last long before reaching orgasm.