Zado Neon and leather restraints - Restraints from Zado

Neon and leather restraints videos
Product Details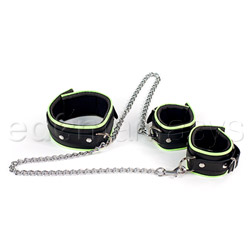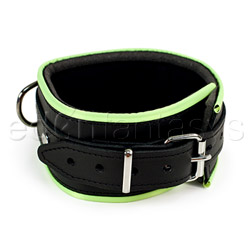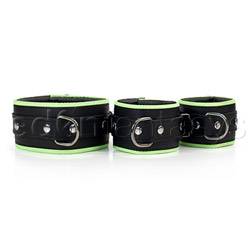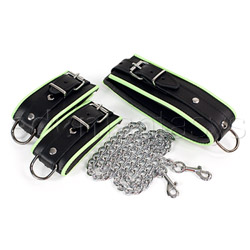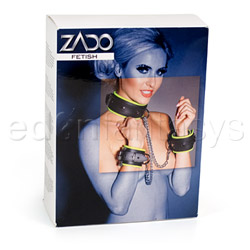 Summary:
Take your lover to the dungeon, and let them know you are in control with Zado's Neon Restraint Kit. This restraint kit comes complete with a padded leather collar and cuffs with a metal connecting chain. Ideal for heavy play, these restraints let you take control while being comfortable for your sub to wear. Whether you are new to bondage play or a connoisseur, this kit is sure to be a great addition to your toy box.
Pros:
Padded leather restraints, versatile and ideal for heavy play.
Cons:
The collar may be a bit wide for those with shorter necks.
Best use:
Zado strives to produce quality bondage gear. Their gear isn't only practical and comfortable, but it also provides the imagery and feel of heavy play. With chunky heavy cuffs and a metal chain, this kit is sure to let your submissive know that you're in control.

This kit comes complete with a collar, two cuffs, and a metal connecting chain. Can you imagine the possibilities? Use each piece separately, or mix and match; with attached D-rings you can let your imagination run wild. Bind your lover's arms behind them, over their head, or allow a bit of freedom with their arms in front. The chain is equipped with swivel clasps; just click, and your lover is trapped and sure not to break free.

Not only for heavy play, Zado's Neon Restraint Kit is ideal for beginners, too. Since the restraints are padded, they give you the feel of heavy play without the pain or marks. When choosing restraints to get your feet wet with, this basic kit is just what you need. Because it's versatile and will expand with you as you delve deeper into bondage, these restraints are sure to be a welcomed addition to your toy box.
Design / Craftsmanship / Material / Size / Fit:

Zado's Neon Restraints are made from quality leather and lined with foam padding. The padding is perfect for those who like to play hard, but don't want the cuffs cutting into their skin or leaving red chaff marks. No need to worry: the padding is a nice thickness to protect you, while not compromising that heavily bound feeling. The padding is attached well with stitching, and is unfinished on the edges. Well made, this padding should not pick or come off after prolonged use. The leather used for these cuffs is good quality, and feels like it's already broken in. On the thinner side, it's easily flexible. Like most leathers, these restraints have that nice, crisp, leather smell. The edges of the leather are bound with neon binding tape. This adds a nice touch of color. At the same time, this makes the cuffs even safer for heavy play, since it protects the leather from cutting into the skin.

Zado's restraints have heavy duty hardware and a metal chain. The collar and cuffs both have nickel free metal rivets and an attached D-ring. The D-ring is well attached, and is sturdy for all your bondage desires. However, these cuffs are not intended for suspension play. Remember to always play safe and use products as they are intended.

Fully adjustable, the restraints have several adjustment holes along the strap.

Measurements:
Collar - 15 1/2 inches long and 2 1/2 inches wide, 8 adjustment holes, fits neck sizes 15 to 20 inches around
Cuffs - 9 1/2 inches long and 2 1/2 inches wide, 6 adjustment holes, fits wrists 9 to 15 inches around
Chain - 36 inches long with two swivel clips, links are 1/2 inch long

Material:

Leather

/

Metal

Material safety

Color:

Black / Yellow

Closure:

Buckle / Swivel clip

Weight:

2 lb

Performance:

These restraints are comfortable, sturdy, and ideal for heavy play. However, they are not well suited for suspension play.

The chain adds a nice twist to your play, by allowing you the ability to bind your lover in a variety of ways. Use it as a leash or tether; your lover can pin you however they desire.

No need to worry about your sub tugging and pulling - they are sure to not break free. In addition, no matter how rough you play, the foam padding protects delicate skin.

Also equally as sturdy, the collar is well made and should be comfortable for most wearers. For those with shorter necks, the width of the collar may hold your head in an uncomfortable position; however, for training your slave, the design of this collar is ideal.

All in all, Zado's Neon Restraint Kit is a fun kit for all types of play. Use the pieces together or separately; the D-rings allows you to use your imagination and explore. No matter what your level of play, this is sure to be a great addition to your toy box.

Care and Maintenance:

Since leather is a natural product, it takes a bit of extra care. To ensure that your leather does not become dull or cracked, spot clean and dry it as needed. To spot clean, use a soft, damp cloth and perfume-free soap. After cleaning, be sure to thoroughly dry before storing. Do not store in damp areas or in sunlight. Although these restraints come packaged in a plastic bag, it's not suggested to store them in this manner, since leather should be able to breathe to prevent mildewing. In addition, to protect the luster of the rivets, cover them with clear nail polish.

Other

Size:

One size fits most

Safety features:

Food-grade material / Latex free / Non-porous / Phthalates free

Kit includes:

Collar, Hand cuffs, Chains