Sportsheets Noir blindfold - Blindfold from Sportsheets

Product Details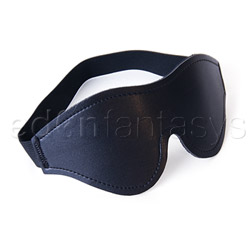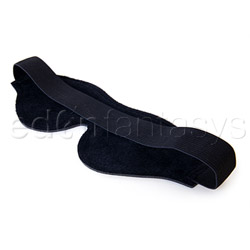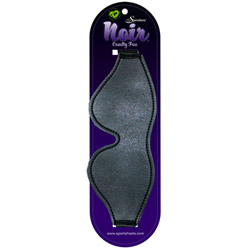 Summary:
Is it a compliment to this toy to say that I often forget that I'm even wearing it? I think it is. The comfortable, soft way it sits on my face and keeps me from seeing what's going on around me is a huge bonus. It's easy to use, easy to clean and it's a definite keeper for our toy box.
Pros:
Comfortable, lightweight, strap won't catch, vegan.
Cons:
Elastic may not hold up to use, fake leather is more delicate.
Design / Craftsmanship / Material / Size / Fit:

I have to say that this doesn't look like much at first. Some leather-like material with some elastic. But the good thing about blindfolds is that you don't spend your 'fun' time looking at them -- you spend your fun time wearing them. And this is the most comfortable blindfold I've worn in a very long time.

Bonus points for:
-Soft, velvety inside. It rests on your face without cutting into the skin at all.
-Elastic stretchband with NO hardware. Almost all blindfolds/collars/gags get caught in my long hair in one way or another. This one has nothing that will catch at all. Not when you put it on, not while you're wearing it, not when you take it off. Perfect.
-Cutting out all of the sights and light. Occasionally, a little light sneaks through at the bottom, but for the most part, these work well for sensory deprivation.

The one bad point is that the fake leather is a little... it's not that it's not well-made, it's just that it's not as durable as real leather. The bottom of one of the sides got bent up during play, and now it's permanently creased like cardboard. Also, the elastic might stretch over time and become too loose to hold properly, but so far it's holding up just fine.

Material:

Faux-leather

Color:

Black

Weight:

1.7 oz

Performance:

As mentioned, this works really well for cutting out vision and light. Sensory deprivation at its finest. This is especially true because there's nothing on the blindfold itself to distract -- the inside is a soft velvety material that doesn't draw attention to itself, the strap is subtle, the leather-like material doesn't scratch or cut. It's very lightweight and comfortable.

Again, it's not the prettiest looking thing, but once it's on, it does exactly what it's supposed to.

Experience:

I like this blindfold much more than I expected. I wish it was prettier -- not sure that it's all that flattering -- but it's lightweight, comfortable, and it does its job. I would gladly wear it for hours while being teased, tortured and tossed about.

Other

Size:

One size fits most

Safety features:

Phthalates free